Nokia's N-Series with Skype angers mobile operators
February 27th, 2009

photo: jurvetson
Mobile Choice reports today that Nokia's plans to integrate Skype into it's future N-Series multimedia smartphones has angered mobile operators O2 and Orange who are worried about lost of call revenue. Both O2 and Orange may refuse to carry the new phones, although T-Mobile and 3 have supported Nokia's decision.
From the consumer point of view, it's fantastic to see Skype being integrated into smartphones. It's a fantastic feature and can lead to huge cost savings for the consumer.
Mobile operator 3 have already experimented with their own Skype-enabled phones: SkypePhone and INQ1. However, Skype on Three's phones have a crippled version of Skype which does not allow SkypeOut to be used. In other words, if you want to make a call to the public telephone network, your choice to make this call through VoIP (and at a much more competitive rate) has been intentionally crippled – you must make the call through Three's network.

photo: KhE 龙
One gadget I've very seriously considered purchasing is the Nokia N810. It allows you to browse the internet, make calls on Skype&Gizmo (and the rest of the world through SkypeOut), make video calls, track position with GPS and to download and play a vast wealth of multimedia content. The N810 is everything you would expect from a phone but with one caveat – it doesn't connect to the celluar networks. You can only use it on wifi. Whilst the N810 is everything I'd want from a phone, it doesn't actually contain a real phone – and I don't like the idea of having to squeeze another gadget into my pockets. One could imagine the N810 with a cellular connection being a very very popular phone – but chances are mobile operators won't allow it because it's too much of a threat to their business model.
Anyway, it's fantastic news for the consumer that Nokia are beginning to integrate Skype into their handsets. It'll be interesting to see which networks carry the phones but I'm sure that mobile operators which allow use of Skype on their networks will have customers flocking to them.
About Ken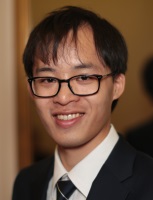 My passion is helping people to get the most out of their mobile phone. I've been blogging at Ken's Tech Tips since 2005.
Aside from writing about mobile technology, my interests are in software development, digital marketing and physics. Outside of the blog, I work with numerous technology companies helping them to explain their product and helping them to market it to consumers. Please get in touch for more information.