You can get a SMARTY data SIM card for 4G broadband & mobile wi-fi, with plans from £6 per month and unlimited data for £20 per month.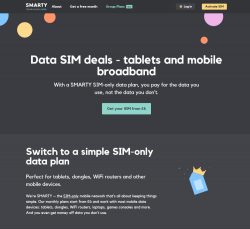 Getting a SMARTY data SIM card is one of the best value ways of getting a SIM for 4G mobile broadband or home broadband.
You can get a data SIM card from £6/month on SMARTY which can be used in a wide range of devices including your tablet, mobile broadband dongle, mobile wi-fi hotspot (MiFi), 4G router, laptop and more.
Get Smarty Data SIM Card (from £6/month) →
In this article, we'll review SMARTY's data SIM deals, including the plans available and how much data you'll get. We'll also look at the devices in which you can use a SMARTY SIM card along with the coverage and download speeds available on the service.