EE is now offering an unlimited data plan, from £34/month with 4G coverage and from £44/month with 5G coverage.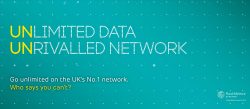 In the UK, EE is now offering unlimited data on their range of Pay Monthly handsets and SIM cards. Following in the footsteps of other mobile networks like Three and Vodafone, the new unlimited data plans allow you to download as much as you like without needing to worry about running out of data mid-month.
The new unlimited data price plans start from £34/month on a SIM-only basis, or from £44/month if you'd like access to faster 5G coverage. If you're looking for a new handset on a Pay Monthly contract, unlimited plans start from £59/month (or from £64/month with access to 5G).
In this article, we'll review EE's unlimited data plans. We'll start by looking at the unlimited data plans that are available, including what you'll get on each one in terms of download speeds and Swappable Benefits. We'll then see how EE's unlimited data plans compare to rival mobile networks, before looking at the coverage available and how to keep your existing phone number.