Download speeds of 2Mbps are available on Vodafone's Unlimited Lite plans and on the Reserve Data feature of EE Smart plans.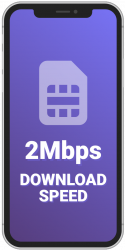 In the UK, you'll get download speeds of up to 2Mbps when you choose a Vodafone Unlimited Lite plan, or when you use the Reserve Data feature on an EE Smart plan.
In general, you'll still be able to do most things with a 2Mbps connection, including browsing the web, using social media and messaging applications, listening to music online and watching video in standard-definition quality. You won't be able to watch HD-quality video and web pages may load a little more slowly compared to on faster connections.
In this article, we'll look at 2Mbps download speed connections in the UK. We'll start by looking at the mobile phone plans from Vodafone and EE that give you a download speed of up to 2Mbps. We'll then look at individual activities and applications, asking whether you're able to use them on a 2Mbps connection.