In the UK, 5G coverage has already been announced for more than 50 towns and cities. Find out when 5G networks will launch in your area.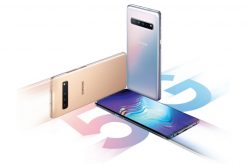 The introduction of 5G mobile networks is rapidly gaining pace, with more than 50 UK towns and cities already having a confirmed launch date for 5G.
In this article, we'll help you to keep track of when 5G coverage will be available in your area and which 5G mobile networks you're able to use. We're monitoring the the latest 5G announcements from EE, O2, Three and Vodafone in order to keep this guide up-to-date for your town or city.
If you're living in a 5G coverage area and would like a 5G-ready price plan, see our guide to 5G SIM-only deals. At the time of writing, you can get a 5G price plan from £15/month. This will also work on 3G & 4G networks until 5G coverage finally launches in your area.