Vodafone has launched their Black Friday 2020 deals with discounted SIM cards, mobile phones and home broadband. See our round-up of the top Vodafone offers.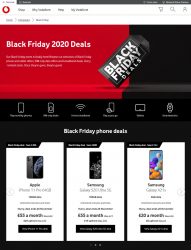 Vodafone have launched their Black Friday 2020 deals with a range of discounts and offers on SIM-only plans, mobile phones and home broadband.
If you're looking for a low-cost SIM card for your mobile phone, you can now get a £6/month Vodafone Basics plan with 3GB of data (with unlimited UK minutes and unlimited UK texts included). Plans with endless video and 5G have also been made available from £12/month on Vodafone's sub-brand VOXI.
On mobile phones, a range of handsets have been discounted by Vodafone including the iPhone 11 Pro which is available with a £406 discount. You can now get it on the Vodafone Red 100GB plan for £55/month plus £29 upfront (previously £69/month plus £99 upfront). Discounts are also available on the Samsung Galaxy S20 Ultra 5G, the Google Pixel 4a and the Apple Watch Series 6.
On home broadband, Vodafone has discounted their Superfast 2 Broadband to just £21.50/month, with an average download speed of 63Mbps. If you're an existing Vodafone Pay Monthly mobile customer, this could be available for as little as £18.50/month with a Vodafone Together discount. You can also get 6 months of free Vodafone Gigafast full fibre broadband.
See all Vodafone Black Friday Deals →