The BenQ WiT is a curved LED lamp designed to illuminate your desk so you can work and read in the evening.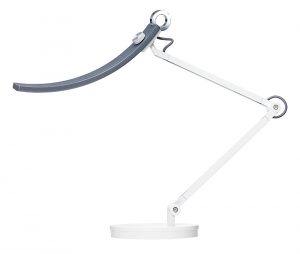 On this website, it's not very typical for us to be reviewing desk lamps or other everyday household gadgets. Typically, our thing is more mobile phones and tablets along with the mobile networks and tariffs behind them.
However, as we approach the Christmas giving period, we also wanted to have a look at some other gadgets that can enhance your digital life and that can solve some everyday problems.
As someone who spends a lot of time working at a computer, getting the right lighting environment has been a constant challenge for me. During the summer, I'm fairly lucky to get lots of natural light around my working environment. However, as the days get shorter and as we approach the winter, the amount of natural lighting has drastically reduced. Therefore, when BenQ offered me the opportunity to try out their new high-tech desk lamp, I jumped at the opportunity to see whether it could help me out.