In the UK, only some mobile networks allow you to tether or use personal hotspot. Find out the tethering policy for each UK network.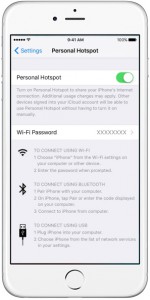 Tethering or personal hotspot refers to the process of sharing your smartphone's internet connection with another device. It's often used as a convenient way to get your laptop or tablet connected to the internet whilst you're on-the-go.
Almost all smartphones today have the functionality for you to tether to another device or to enable a personal hotspot. This includes the Apple iPhone and Android-powered smartphones. However, there is a limitation in that only certain mobile networks will allow you to tether in their terms and conditions. For this reason, it's important to find out the tethering policy for your mobile network before choosing a new tariff and using the personal hotspot feature.
In this article, we'll compare the tethering policy on different UK mobile networks. We'll also highlight some of the best value deals currently available with tethering support.