Lebara Mobile doesn't currently offer eSIM on their UK plans. Find out more and discover the Lebara eSIM alternatives.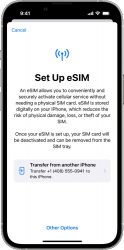 Over the past few years, eSIM technology has become increasing popular in the UK. It allows you to get connected to your mobile network without having a physical SIM card inside your phone. It also eliminates the need to wait for a physical SIM card to arrive through the post, and allows you to use dual-SIM functionality on many modern smartphones.
Although Lebara Mobile is well-known for offering low-cost SIM-only olans in the UK, they unfortunately do not offer these on eSIM at the moment. This means you'll need to use a physical SIM card in your phone to get access to the Lebara's UK mobile service.
In this article, we'll look at the current status of eSIM technology on Lebara Mobile UK. We'll also look at some of the alternative options if you're looking to get an eSIM on your mobile phone today.