Ken's Tech Tips is the no-nonsense guide to mobile technology and broadband providers in the UK.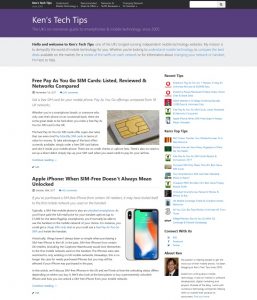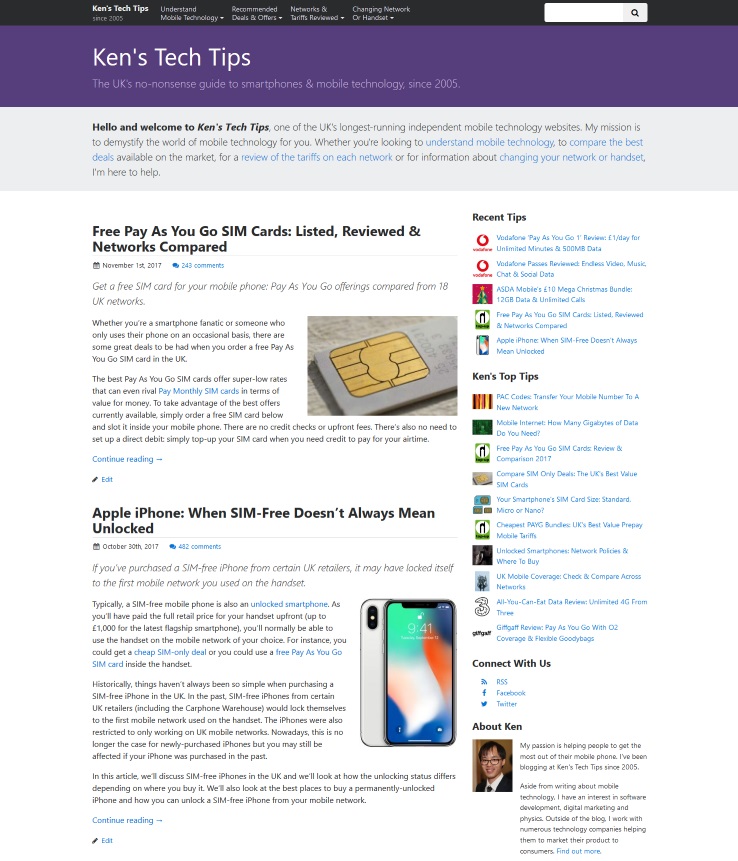 My goal is for Ken's Tech Tips to be the UK's most helpful and informative website about mobile and broadband providers.
I want to empower every single person to make an informed choice about their next mobile network or broadband provider, without all of the complexity and jargon you'll often find in our industry.
I initially set up the website in 2005. Thanks to the ongoing support from readers in the UK and from all around the world, we've now published hundreds of in-depth guides, receiving more than 30 million page views and over 10,000 reader comments and contributions.
Thank you again for continuing to visit my website and for all of your ongoing support and contributions.
How Are Our Guides Produced?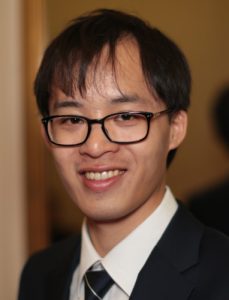 All of the guides you'll find on this website have been written by Ken.
Everything is written to the best of my knowledge, and based on my own research. However, I sometimes get things wrong (or things can often change quickly, given the industry we operate in). For this reason, if you do spot an error or omission, please do get in touch and let me know.
Please also double check and verify the information that's provided directly with the individual provider before you sign up.
How Do We Generate Revenue?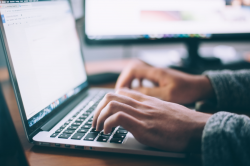 I'm committed to keeping Ken's Tech Tips a free website for everyone to use. At the same time, I put in thousands of hours of work maintaining the website each year (from researching individual providers, to producing new guides about the industry and keeping older ones up-to-date). It's also the product of more than 15 years work.
As such, Ken's Tech Tips needs to be able to generate revenue in order to fund and sustain it. Here are the key things to know about how we generate revenue on our website:
Our editorial independence is really important to us. We cover lots of different providers on our website, highlighting both the benefits and the shortfalls of their service. However, I'll only recommend products and services that I think are worthy of my recommendation. I don't accept guest posts or content written by other people so you can rest assured that everything you read has been researched & written by us.
Once our content is completed, we use software to turn normal hyperlinks into affiliate hyperlinks. Affiliate hyperlinks work in the same way as normal hyperlinks, giving you the same (or better) pricing than going direct. The key difference is that affiliate hyperlinks will allow the retailer to track the sale back to our website.
We also use comparison engine technology to show you deals relevant to the guide. For instance, if you're reading an article about 5G mobile technology, we might embed a comparison table showing you the latest 5G SIM card deals. These comparison tables will normally use affiliate hyperlinks.
When you purchase through an affiliate hyperlink, we might receive a commission from the retailer. To give you complete transparency over which hyperlinks are affiliated, we'll mark all affiliate hyperlinks with an asterisk at the end. It's the same approach you'll see on other websites such as MoneySavingExpert (of which I'm a huge fan!).
We won't ever sell your data. For more information about the data we collect and how we use it, see our privacy policy.
Contact Me
It's always great to hear from readers of the website! Find out how to get in touch.