Virgin Media's new Gig1 fibre broadband service offers download speeds of more than 1Gbit/s in selected areas.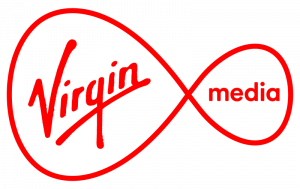 In the UK, Virgin Media has launched their new Gig1 fibre broadband service. Claiming to offer the UK's fastest home broadband service, customers can get an average download speed of 1,104Mbit/s (1.104Gbit/s) on the service. Average upload speeds of 54Mbit/s are available on Virgin's Gig1 service.
You can get Virgin's Gig1 service if you're connected to the Virgin Media network and living in Southampton, Manchester, Reading or the surrounding areas of each. The service currently covers around 1 million homes, with Virgin expecting it to reach 15 million homes by the end of 2021. The service comes with Virgin Media's new Hub 4 router and starts from £62/month on an 18-month contract.
In this article, we'll review Virgin's Gig1 broadband service, including the download speeds you're able to get and the towns and cities where the service is available. We'll then look at the included Hub 4 router, before looking at the Gig1 price plans and how they compare to other broadband internet providers.
Virgin Gig1 Broadband Speeds

Virgin Media's new flagship home broadband service is their Gig1 fibre broadband service. With average download speeds of 1,104Mbit/s (just slightly faster than 1.1Gbit/s), it's the fastest home broadband service currently available to consumers in the UK.
For comparison, the download speeds available on Gig1 are about 18 times faster than a normal FTTC (fibre-to-the-cabinet) broadband connection. It's also nearly 4 times faster than the ultrafast home broadband products from BT and Sky (using G.fast technology).
| Broadband Service | Average Download Speeds | Average Upload Speeds |
| --- | --- | --- |
| Virgin Media Gig1 | 1,104Mbit/s | 52Mbit/s |
| Full Fibre FTTH (e.g. Vodafone Gigafast) | 900Mbit/s | 900Mbit/s |
| Virgin Media M500 | 516Mbit/s | 36Mbit/s |
| Virgin Media M350 | 362Mbit/s | 21Mbit/s |
| Ultrafast G.fast (e.g. BT & Sky) | 280Mbit/s* | 45Mbit/s* |
| Virgin Media M200 | 213Mbit/s | 12Mbit/s |
| Virgin Media M100 | 108Mbit/s | 6Mbit/s |
| Superfast FTTC (e.g. BT & Sky) | 60Mbit/s* | 18Mbit/s* |
| Virgin Media M50 | 54Mbit/s | 3Mbit/s |
| Standard ADSL Broadband | 11Mbit/s* | 0.8Mbit/s* |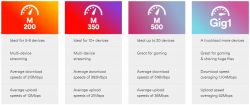 The average upload speed on Virgin's Gig1 service is 52Mbit/s. Whilst this is a lot faster than the upload speed on other fibre broadband connections, it's significantly slower than the upload speeds found on full fibre/fibre-to-the-home services such as Vodafone's Gigafast Broadband.
Behind the scenes, Virgin's Gig1 service is making use of DOCSIS 3.1 technology, running on top of Virgin Media's existing cable network. Rather than being a full fibre or fibre-to-the-home (FTTH) service, it uses the existing co-axial cable connections from Virgin. Because of this, it doesn't require new fibre optic cables to be laid all the way to your home.
Areas with Gig1 Broadband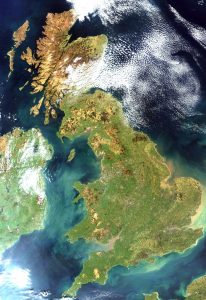 At present, Virgin's Gig1 service is available in around 1 million homes. The following UK towns and cities have been enabled for access to Gig1:
Southampton
Manchester
Reading (includes Calcot, Caversham, Earley, Tilehurst & Woodley)
Pangbourne
Twyford
Shinfield
Theale
Newbury
Bracknell
Wokingham
Thatcham
Basingstoke
High Wycombe
If you're unsure whether your address is covered by Gig1, you can check by visiting the Virgin Media website. Enter your postcode within the box in the top-left corner of the page that reads "What services can I get?".
Virgin have said that the Gig1 service will gradually be rolled out to the entirety of their network, covering all 15 million homes by the end of 2021. You can register your interest on the Virgin Media website if you're living in an area without access to Gig1 broadband.
Hub 4 Router & WiFi Booster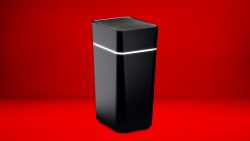 Customers signing up for the Gig1 service will receive Virgin's new Hub 4 router (model number TG3492LG-VMB). The new router supports 802.11ac wi-fi, with 3×3 MIMO at 2.4GHz and 4×4 MIMO at 5GHz. There are also 4 Gigabit Ethernet sockets for connecting a wired device to your network.
When you sign up for Virgin's Gig1 service, an engineer will visit your home to install the service. During the initial installation, they'll assess the quality of the wi-fi signal in your home. If there's a wi-fi coverage blackspot (e.g. because the signal isn't strong enough to reach the other end of your home), they'll offer you a Gig1Fibre WiFi Booster device. There is no additional cost for a WiFi Booster and you can have up to 3 WiFi Boosters at your registered address.
It isn't possible to access the Gig1 service on Virgin Media's older Hub 3 router. This is because it lacks support for the DOCSIS 3.1 standard used by Virgin to offer their new Gig1 service. If you're an existing Virgin Media customer upgrading to Gig1, you'll be given a new Hub 4 router when you upgrade to your new plan.
Gig1 Broadband Plans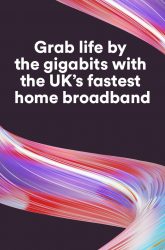 The Gig1 fibre broadband service costs £62/month on an 18-month contract when you take it on a broadband-only basis. Virgin offers a fixed monthly price for the first 24 months so you're guaranteed not to experience any price rises during this time. There's additionally a £35 activation fee if you need a Virgin Media line activated at your address.
When you sign up for the Gig1 service, you'll receive a Hub 4 router to use for the duration of your plan. You'll also receive up to 3 Wi-Fi Boosters at no extra charge if an engineer deems it to be necessary during the service installation.
Service
Data Allowance
Contract Length
Upfront Price
Monthly Price

Virgin Gig1

Unlimited Data
(1,104Mbit/s average speed)
18 month contract
£35.00
£62/month
For £67/month, you can get a home phone service with your Gig1 broadband service. It's also possible to add a range of TV plans as well as a Virgin Media mobile SIM card if you take an Oomph bundle.
Comparison to Alternatives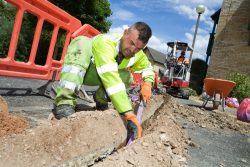 In terms of download speed, Virgin Media's Gig1 service is best compared to full-fibre/FTTH services such as Vodafone Gigafast and Hyperoptic Broadband.
For comparison, Vodafone's Gigafast full fibre service uses the Cityfibre network and is available in around 1 million homes. At the time of writing, you'll pay £48/month for a 900Mbit/s connection which is symmetric (so offering the same upload speeds and download speeds). This is cheaper than Virgin's Gig1 service and offers better upload speeds, but is available in different locations.
It's also possible to compare Virgin's Gig1 service with the ultrafast home broadband services from BT and Sky. These offer up to 300Mbit/s download speed so are still substantially slower than Virgin's Gig1 service. However, they're typically priced at around £50/month so you might be able to save a bit of money with them if you don't need the fastest available download speeds. They may also be available in locations where Virgin Media's Gig1 service is not available.
More Information
For more information about Gig1 Fibre, please see the official Virgin Media website.