Sky Stream allows you to watch Sky TV through your broadband connection. There's no satellite dish required and it works with your existing TV.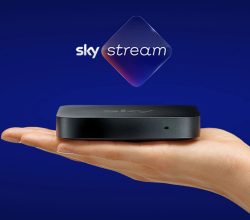 If you're looking to watch Sky TV without the need for a dish, Sky Stream allows you to watch Sky TV through your broadband connection. The successor to Sky Q, it works with your existing television, unlike Sky Glass which requires you to buy a new set. There's also a new 31-day plan on Sky Stream, giving you lots of flexibility to change or cancel your plan.
In this article, we'll look at Sky Stream and Sky Q, looking at how the two services compare to each other. We'll also look at the channels available, the picture quality, and the playlist and recording features.
Sky Stream vs Sky Q: At a Glance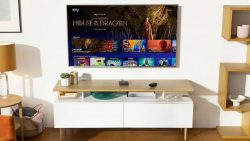 Sky has now released their next-generation Sky Stream box. Designed to be the successor of Sky Q, it does away with the need for a satellite dish. Instead, all of your Sky TV channels are delivered through a broadband connection (subject to a minimum download speed of 10Mbps).
At present, you can get Sky Stream from £26 per month on an 18-month plan (or £29 per month on a 31-day plan). This includes the Sky Entertainment channels, along with a Netflix subscription. You can create playlists on your box, incorporating live TV recordings, catch-up TV and content from your apps.
The following table shows a side-by-side comparison of Sky Stream and Sky Q:
Sky Stream
Sky Q
Monthly Price:
From £19/month
From £33/month
Contract Length:
18 months
31 days (£3/month extra)
18 months
Channels:
Up to 150 channels
300+ channels
Features
Includes Netflix:
Yes
Yes (with Ultimate TV)
Picture Quality:
HD (standard)
Ultra HD 4K (with £5 add-on)
SD (standard)
HD (with £8 add-on)
Ultra HD 4K (with £12 add-on)
Dolby Atmos Support:
Yes (with Ultra HD)
Yes (with Ultra HD)
Apps:
Yes
Yes
Recording:
No, use playlists instead
Yes, up to 500 hours
Voice Control:
Yes
Yes
Multiscreen:
With additional Stream boxes
With Sky Q Mini boxes
Dimensions:
10.8 x 10.8 x 1.8cm
33.0 x 21.0 x 3.5 cm
Technology
Reception Method:
Internet
(broadband required)
Satellite Dish
(plus internet for on-demand & apps)
Requires Broadband:
Yes
10Mbps for HD
25Mbps for UHD
No for live TV
(required for on-demand & apps)
Release Date:
October 2022
February 2016
Availability:
98% of UK homes
Check availability →
Most UK homes
Check availability →
If you're looking for a new TV that has the Sky Stream technology inside, it's worth considering the Sky Glass TV as well. With Sky Glass, you're getting a 4K television with a Quantum Dot display and a built-in Dolby Atmos sound system. Sky's streaming technology is built in to the TV so there's no need for a separate Sky Stream box when you're using Sky Glass.
Sky Stream & Sky Q Channels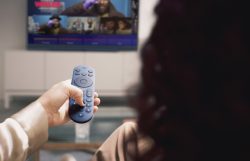 Whether you choose Sky Stream or Sky Q, you'll get access to the UK's most popular channels included within your base TV plan. This includes the BBC, ITV, Channel 4, Channel 5 and Sky entertainment channels. You'll also get Discovery, National Geographic and more included.
Comparing the two services side-by-side, Sky Q retains a slight advantage in that you'll get more channels overall. On Sky Stream, you can get up to 150 channels, depending on your plan. In contrast, Sky Q gives you more than 300 channels as standard.
Most of the missing channels on Sky Stream are fairly niche (e.g. music, international and timeshift channels). However, it's worth checking if there are any particular channels you're fond of. For instance, some premium sports TV channels like MUTV and LFCTV are only available to Sky Q customers.
Over the past year, Sky has gradually been adding more channels to the Sky Stream service. We are therefore expecting the gap between the two services to close over time.
Both Sky Stream and Sky Q come with a Netflix subscription included when you choose an Ultimate TV plan. You'll get Netflix in standard-definition quality on one device at a time (the Netflix Basic plan) but you can upgrade this to Netflix Standard or Netflix Premium if you like.
Setup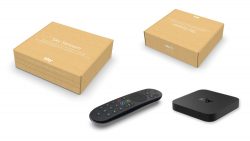 With Sky Stream, there's a simple plug-and-play setup. If you've ever set up an Apple TV, Chromecast or similar streaming devices, it's pretty much the exact same process setting up a Sky Stream box.
Once you've placed your order for Sky Stream, the box will be sent out to you in the post with next-day delivery. When it arrives, you simply need to plug it into back of your TV using the provided HDMI cable. You can then connect it to your home wi-fi network and you're ready to go. There's a £20 set-up fee for Sky Stream (£39.95 if you choose the 31-day rolling plan) and the box is yours to keep.
With Sky Q, there's a bit more hassle getting things set up as you'll need to get a satellite dish installed on the outside of your home. That can be a bit of a hassle as it requires an engineer visit. Additionally, it might not be possible to get a dish in all homes (for instance, you might be living in a flat or in a conservation area where satellite dishes are not allowed). You'll normally pay £20 to get Sky Q installed in your home. Once it has been set up, the satellite dish is your property. However, you'll need to return the Sky Q box when cancelling your service in the future.
Because it only requires a broadband connection and not a satellite dish, it's far easier getting Sky Stream set up in your home. The option of a 31-day rolling plan also gives you lots of flexibility as you can choose to only have Sky TV at certain times of the year (e.g. during the football season).
Picture & Sound Quality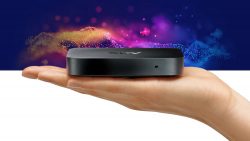 On Sky Stream, you'll get high-definition (HD) included as standard, where available. This is an upgrade from the Sky Q box where you'll only get standard-definition (SD) video (with a paid upgrade to HD costing you £8 per month more).
On both systems, you can pay to upgrade your channels to Ultra HD (4K) video. This also allows you to use Dolby Atmos surround sound if you have a compatible audio system. It's cheaper upgrading to 4K quality on the Sky Stream box, though Sky Q customers will get a corresponding upgrade to Netflix included.
Streaming Reliability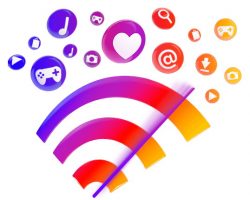 With Sky Stream, you're 100% reliant on your broadband connection. It's worth bearing that in mind if your broadband connection has a habit of going down every so often. You'll lose access to your TV channels if you don't have an internet connection.
On Sky Stream, you'll also need sufficient bandwidth for all of the devices in your home (e.g. your Sky Stream experience could be affected by someone downloading something else in another room). According to Sky, you need 10Mbps if you're watching in HD and 25Mbps if you're watching in Ultra HD.
On Sky Q, all of your live TV channels are received over a satellite connection. For this reason, they're not affected by disruption to your home broadband (though your Sky Q apps and other on-demand content will still be affected).
If you're a sports fan, it's also worth bearing in mind that Sky Stream can have additional broadcast delays. As a rule of thumb, you can expect a delay of between 10 seconds and 45 seconds compared to the live action when you're watching on Sky Stream. This delay is just 1-2 seconds on satellite broadcasts through Sky Q. The result is you might see the action a little bit delayed and there's a risk of goals being 'spoiled' (e.g. from app notifications).
Playlist VS Recordings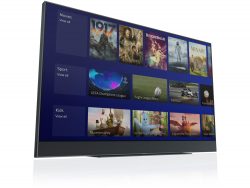 With Sky Stream, it isn't possible to record live TV. Instead, you can create a cloud-based playlist with your favourite shows, movies and other things you want to watch. It will then fetch the things you want to watch from the relevant on-demand service such as BBC iPlayer, ITV Hub, All 4, Netflix, etc). The benefit is there's no need to schedule recordings in advance. However, you're also subject to rights agreements (e.g. certain shows might disappear from catch-up after 30 days).
With Sky Q, you can schedule your own recordings to be stored on a hard drive inside your box. You can store up to 500 hours of recordings on your Sky Q box and they won't expire, unlike the catch-up content available on Sky Stream.
More Information
Please see Sky's official website for more information about the Sky Stream and Sky Q box.