Vodafone offers a range of business mobile plans with added features like HR & legal support, device support and a virtual landline number.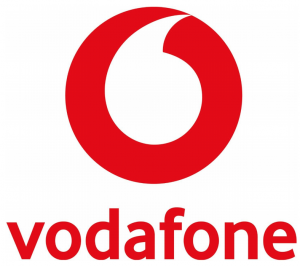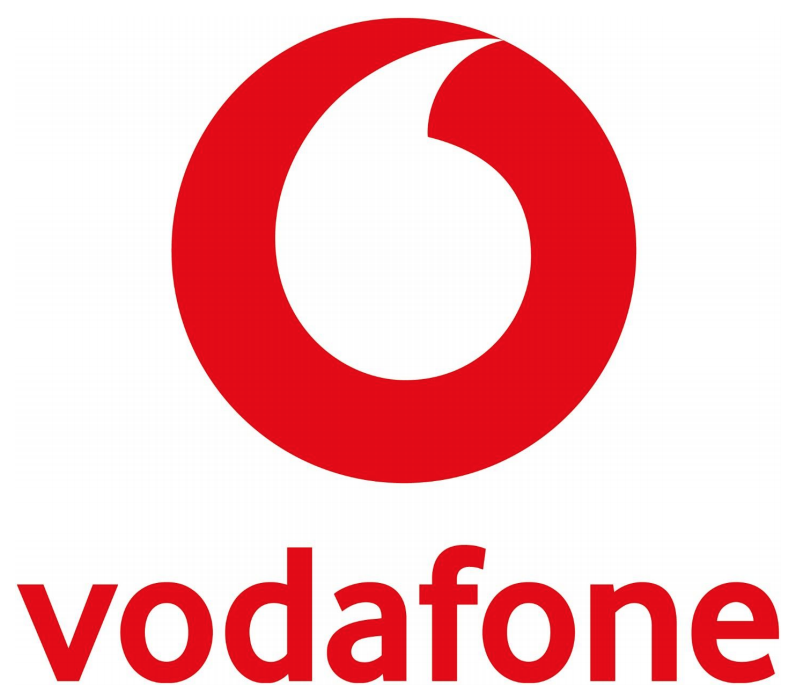 If you're a freelancer, sole trader or small business owner, it may be worth getting a business mobile plan rather than a personal mobile plan.
On Vodafone, you can now get a business mobile plan for the same cost as a standard personal mobile plan. You'll still get access to all of the normal consumer benefits like 5G coverage, unlimited data, VeryMe Rewards and Entertainment add-ons. In addition, you'll also be able to add business-specific features and you may be able to claim the cost of the plan back through your business (including the VAT if your business is registered).
In this article, we'll review Vodafone's business mobile plans including Pay Monthly handsets, SIM cards and mobile broadband plans. We'll look at some of the business-specific features and how the business plans compare to standard personal plans. Finally, we'll look at the coverage that's available on Vodafone and how you can keep an existing phone number when moving to the network.
Vodafone Business Plans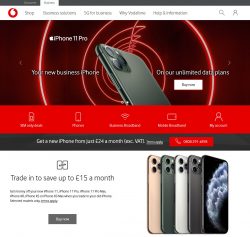 In the UK, Vodafone offers business mobile plans in addition to standard consumer mobile plans. The business-specific price plans on Vodafone include the following:
You can find Vodafone's business-specific plans through the Vodafone Business website. Alternatively, you can also find them through Vodafone's regular consumer website. When looking at price plans, simply tap the toggle in the top-right corner of the page that reads "Buying as a business? (Exclude VAT)".
Vodafone Business Plan Features

On Vodafone's business plans, you'll get all of the regular features that are available on consumer price plans. In addition to this, there are some optional features that might be beneficial to users in a business. This include access to HR & legal support, device support with inclusive cloud storage and a virtual landline phone number.
HR & Legal Support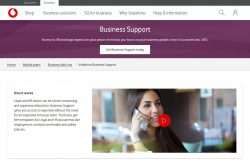 Vodafone's Business Support feature can be added to any business mobile plan for an extra £4/month. The feature is designed for freelancers and other small business owners who don't have their own in-house team for dealing with legal and HR.
The Business Support service gives you access to legal and HR document templates like employment contracts and health & safety policies. You'll also get access to a helpline staffed by legal and HR experts with a free initial consultation about any questions you have.
Device Support & Cloud Storage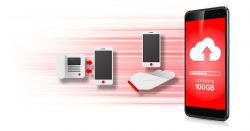 For £2/month, you can add Vodafone's Device Support service to your business mobile plan. This gives you access to a tech expert for questions or for help on your connected devices (including your smartphone, tablet, printer or other smart home devices). The service is available from 8am-9pm on weekdays and from 9am-9pm on weekends.
As part of the Device Support service, you'll also get 100GB of secure cloud storage which can be used for backing up files or for sharing files across multiple devices. You'll also get access to Vodafone's Device Support app which has a number of features to diagnose issues with your device.
OneNet Anywhere: Virtual Landline Number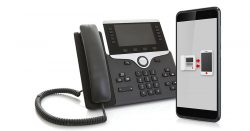 A popular feature of Vodafone's small business plans is OneNet Anywhere, which gives your business a virtual landline phone number.
The virtual landline number from OneNet Anywhere can be chosen from any UK geographical area code. It's often used to give your business a more professional look whilst still allowing you to make and receive phone calls on-the-go. All phone calls to the virtual landline number are routed to your mobile and outgoing phone calls will have the landline number set as your Caller ID.
Optionally, if there are multiple people in your business, you can decide to have a virtual switchboard on your number, or you can have multiple mobile phones ringing at the same time when someone calls your virtual landline. Within your company, you'll also be able to divert and transfer calls at no additional cost if everyone is on a Vodafone business plan.
Other Benefits
Other business-specific features that can be added to your plan include Prime Contact (priority access to Vodafone advisors with extended opening hours) and PayPal Here (allowing you to take contactless card payments).
On Vodafone Business, you'll also get all of the regular benefits found on personal phone plans including:
5G Coverage: If you have a 5G-ready device, you'll be able to access Vodafone's 5G coverage. This is available on Vodafone Red price plans with 5GB or 20GB of data and on Vodafone Unlimited price plans.
Unlimited Data: You can get unlimited data on a choice of three plans: Unlimited Lite (giving download speeds of up to 2Mbit/s), Unlimited (giving download speeds of up to 10Mbit/s) and Unlimited Max (giving uncapped download speeds).
VeryMe Rewards: Weekly discounts, offers and giveaways from brands like Asos, Costa Coffee, Chili and Greggs.
Entertainment: You can add Entertainment to your plan for an inclusive subscription to Amazon Prime Video, Sky Sports Mobile TV, NOW TV or Spotify Premium.
Inclusive Roaming: On all Vodafone business plans, you'll get inclusive international roaming in 48 European roam-free destinations. On Vodafone's Unlimited Max price plan, you'll get Global Roaming Plus which allows you to use your mobile phone at no extra charge in 77 destinations (including Europe, the USA, Canada, Mexico, Australia, New Zealand and more).
Vodafone Personal VS Business Plans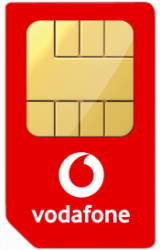 Vodafone sells two different types of price plan: personal phone plans and business-specific phone plans. The latter is normally recommended if you're trading or working as a small business (including freelancers, sole traders and other small business owners).
When choosing a business plan, you'll still get all of the regular benefits that are available on personal phone plans. On top of this, you can then add the business-specific features.
Unlike many other networks, Vodafone doesn't charge any extra for their business price plans. You'll pay the same amount as on Vodafone personal price plans (or even less as the VAT can be reclaimed if you're a VAT-registered business). You may also be able to claim the costs of the plan against your business rather than having it as a personal expense.
You can compare the cost of personal and business plans using the toggle on Vodafone's website. For instance, on their SIM-only deals page, tap the "Buying as a business? (Exclude VAT)" toggle in the top-right corner of the page, just above the list of available plans.
Network & Coverage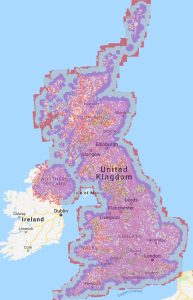 In the UK, Vodafone offers 99% population coverage on their 2G, 3G and 4G mobile networks.
Before signing up for a Vodafone business plan, it's worth double-checking to make sure there's coverage in your area. You can do this by entering your postcode on Vodafone's online coverage map:
Check Vodafone Coverage (vodafone.co.uk) →
The coverage map will also give you an estimate of the download speeds that might be available. To see these estimated speeds, tap on the "Data speed info" button after entering your postcode.
Our guide to Vodafone's UK network coverage has further in-depth information about this topic.
5G Coverage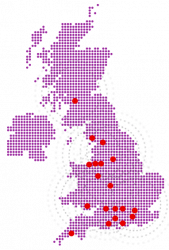 Customers with a 5G-ready smartphone on Vodafone Business can access 5G coverage on any 5G-ready price plan (including Vodafone Red 5GB, Vodafone Red 20GB and all unlimited data plans).
Vodafone's 5G network is currently available in the following towns and cities:
Now Live
100 towns and cities are live on Vodafone 5G (October 2021)
Aberdeen, Alexandria, Ambleside, Aughton, Basingstoke, Bebington, Belfast, Birkenhead, Birmingham, Bishopbriggs, Blaydon, Bolton, Bootle, Bournemouth, Bradford, Bristol, Cardiff, Cheadle, Cheltenham, Chesterfield, Clydebank, Crawley, Crosby, Dewsbury, Dinas Powys, Droylsden, Dudley, Dundee, Eccles, Edinburgh, Eston and South Bank, Felling, Gateshead, Glasgow, Gloucester, Gosforth, Guildford, Hebburn, Helensburgh, Horwich, Huddersfield, Hull, Huyton-with-Roby, Isle of Scilly, Jarrow, Killingworth, Kingswood, Lancaster, Leeds, Lisburn, Liverpool, Llandudno, London, Longbenton, Manchester, Mangotsfield, Middlesbrough, Morley, Mosborough, Newbury, Newcastle, Newtownabbey, North Shields, Oldbury, Paisley, Penarth, Pendlebury, Plymouth, Portsmouth, Prescot, Prestwich, Pudsey, Rawmarsh, Reading, Rochdale, Rotherham, Salford, Sheffield, Shipley, Solihull, South Shields, Southampton, Stockport, Stockton-on-Tees, Stoke-on-Trent, Stranraer, Stretford, Sunderland, Sutton Coldfield, Swansea, Swinton, Tynemouth, Urmston, Wallasey, Wallsend, Warrington, Washington, Whitley Bay, Wolverhampton, York
Check 5G Coverage on Vodafone →
If you're not able to access 5G coverage on your phone, you'll still be able to access 2G, 3G and 4G coverage.
Tethering & Personal Hotspot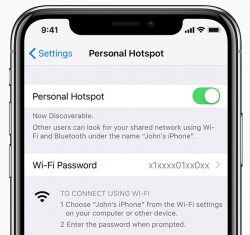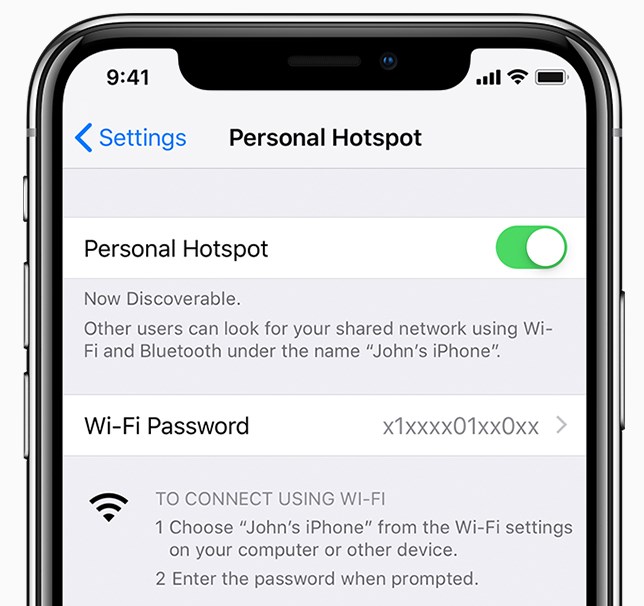 Tethering or personal hotspot refers to the process of sharing your smartphone's internet connection with another device (e.g. with your laptop or tablet). It's a good way of getting access to mobile broadband on-the-go without needing to carry around a separate device.
You can tether and use personal hotspot on all of Vodafone's business price plans. If you're using the Unlimited Lite or Unlimited price plans, it's worth remembering the download speed limits will apply across of your tethered devices.
For more information, see our full guide to tethering and personal hotspot on UK mobile networks.
International Roaming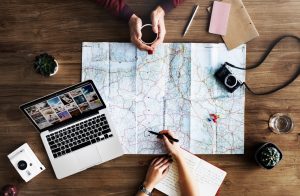 On all of Vodafone's business price plans, you'll be able to use your mobile phone abroad through international roaming.
In 48 European destinations, you'll be able to use your UK allowances at no additional charge. In a further 104 destinations, you'll have access to Vodafone Business Traveller which allows you to use your UK allowances for an extra £5/day.
Customers with an Unlimited Max price plan will get Vodafone's Global Roaming Plus service included. This gives you inclusive roaming in 77 destinations, including most of Europe, the USA, Canada, Mexico, Australia, New Zealand and more.
For more information, see Vodafone's Business Traveller webpage.
Keeping Your Phone Number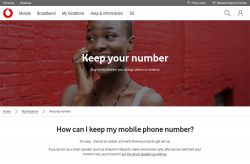 If you're moving from another mobile network to Vodafone, it's a straightforward process to keep your existing phone number. This is regardless of whether you're moving from another business plan or from a personal phone plan.
Start by ordering your new mobile phone or SIM card from Vodafone's website. Once you've done that, you can request a PAC Code from your old network. This can be obtained through your mobile network's website or app or by texting PAC to 65075.
Once your new business phone or SIM card arrives from Vodafone, you can give the PAC Code to them through this online form. They'll schedule the transfer of your phone number once you've done this, normally for the next working day.
For a step-by-step guide on how to transfer your phone number to Vodafone, please select your current mobile network from the drop-down menu below:
PAC Code Finder: Transfer Your Phone Number to Vodafone
More Information
For more information, please see Vodafone's website for businesses.