Vodafone offers small business mobile plans with 5G at no extra cost, VeryMe Rewards and optional business add-ons.

If you're a freelancer, a sole trader or a small business owner, Vodafone offers business mobile phone and business SIM-only deals.
On Vodafone Business, you'll get access to 5G coverage at no extra cost on all plans, along with discounts and offers through VeryMe Rewards. There's also a range of optional business add-ons, full eSIM support and Vodafone OneNumber for your smartwatch.
As an exclusive offer for readers ordering through this link, you'll get a £100 Amazon.co.uk gift card when you order a Vodafone business pay monthly phone.
In this article, we'll review Vodafone's business plans. We'll start by looking at the best Vodafone Business deals and at the benefits of choosing a Vodafone business plan. We'll also look at the coverage you can expect on Vodafone Business, and how you can keep your current phone number when you switch to their service.
Vodafone Business Deals
At present, Vodafone has a range of special offers available on business SIM-only deals and business pay monthly phones.
See Vodafone Business SIM Only Deals →
If you're looking for a new business smartphone, you can save on the following devices:
As a special offer for customers ordering through this link, you can get a £100 Amazon.co.uk gift card when you order a Business Pay Monthly phone from Vodafone.
To qualify, you'll need to order through the link above, selecting your reward and providing your details prior to signing up.
Get a free reward on Vodafone Business →
Unlike many other mobile networks, Vodafone doesn't charge a premium when you choose a business mobile plan over a personal phone plan. In fact, it will often work out cheaper to buy a business mobile plan as you may be able to claim back the cost of the plan through your business.
Vodafone Business Features
VeryMe Rewards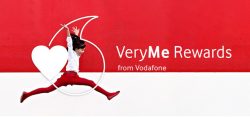 As a Vodafone Business customer, you'll get access to VeryMe Rewards. This is Vodafone's exclusive customer loyalty programme, giving you access to freebies and treats each week from brands such as Costa Coffee, Vue, Thortful and Candy Kittens.
As part of VeryMe Rewards, you'll also get an Eat Local membership included. Powered by the Gourmet Society, this gives you discounts and offers at independent restaurants and cafés across the UK. This includes 2-for-1 meals or a 25% discount on food and drink.
Business Add-Ons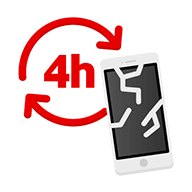 When you choose a Vodafone Business plan, there's a range of optional add-ons available. These include:
eSIM Support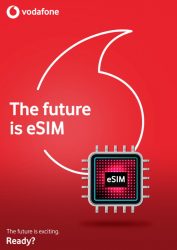 If you're looking for a business SIM-only deal, Vodafone offers their business plans on eSIM at no extra cost. This will allow you to unlock the dual-SIM functionality on newer iPhone, Samsung Galaxy and Google Pixel phones. You can then have two phone numbers at the same time on your device (e.g. both your business phone number and your personal phone number on one device).
To get an eSIM on Vodafone Business, start by choosing one of their business SIM-only deals. During the checkout process, you can choose the "eSIM" option. Unlike other major networks, there's no need to get a plastic SIM card first, meaning you can get started on an eSIM the same day you sign up.

EVO for Sole Traders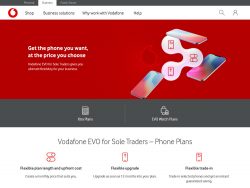 If you buy a mobile phone as a sole trader business, you can get it on Vodafone's EVO for Sole Traders.
Unlike traditional 24-month contracts, Vodafone's EVO for Sole Traders allows you to choose the length of your phone plan (between 12 months and 36 months). You can upgrade your phone at any time as soon as you're 12 months into your plan and there's the option to trade-in an eligible handset for an instant saving on your new phone.
You'll also get up to 4 Xtra Plan benefits included on your Vodafone EVO airtime plan such as a Device Care service and unlimited MMS picture messages.
Vodafone OneNumber & Smartwatches for Business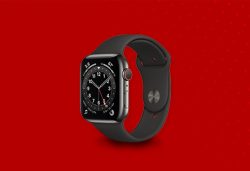 If you'd like to add a business smartwatch to your plan, you can use Vodafone's OneNumber service to stay connected on it.
In many cases, it isn't always convenient to bring your mobile phone with you (for instance, when you go to the gym or when you go for a run).
With Vodafone OneNumber, you're able to leave your smartphone at home and get access to your messages and notifications on a smartwatch instead. You'll also be able to make and receive phone calls using your normal mobile number so there's no need to worry about missing anything important.
You can get an Apple Watch on Vodafone Business to go with your iPhone. Alternatively, you can get a Samsung Galaxy Watch to go with your Android device. Vodafone's Smartwatch Connectivity plan costs just £5.83/month (exc VAT) and allows you to share your data, minutes, texts and phone number across your smartwatch and mobile phone.
V-Hub Small Business Support
Vodafone also offers small business support through the V-Hub section of their website. This contains an online knowledge centre with information on a range of topics from remote working to setting up your own website and online shop. You can also chat to a V-Hub small business adviser for one-to-one support, or you can sign up for a range of online workshops and webinars.
Business Awards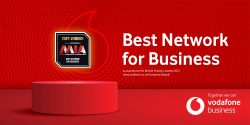 According to Vodafone, they've won "best network for business" in the annual Mobile Industry Awards 2021. This was in recognition of their SMB support, customer service initiatives and investment in new network technology.
Network & Coverage
99% Population Coverage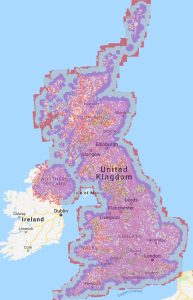 In the UK, Vodafone offers 99% population coverage on their 2G, 3G and 4G networks.
Before signing up for a Vodafone Business plan, it's worth double-checking the coverage in your area. You can do this by entering your postcode on Vodafone's online coverage map:
Check Vodafone Business Coverage (vodafone.co.uk) →
The coverage map will also give you an estimate of the download speeds available in your area. To see these estimated speeds, tap on the "Data speed info" button after entering your postcode.
For more information, see our guide to Vodafone's UK network coverage.
5G Coverage At No Extra Cost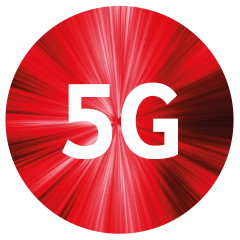 As long as you have a 5G-ready phone, you'll get access to Vodafone's 5G network at no extra cost on all Vodafone Business plans.
When you're using a 5G phone in a 5G coverage area, you can expect faster download speeds (around 150-200Mbps on average). You'll also benefit from more network capacity and lower amounts of latency when you're connected to 5G.
At present, Vodafone offers 5G coverage in 100 UK towns and cities, with further locations being added all the time. You can also access 5G coverage when travelling abroad in more than 200 locations across Germany, Italy, Spain and the Republic of Ireland.
Business Roaming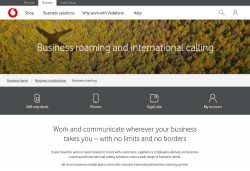 As a Vodafone Business customer, you'll have access to their business roaming service. According to Vodafone, they offer roaming in more destinations than any other UK provider. They're also the only UK network to offer 5G coverage when roaming.
Selected Vodafone Business plans come with inclusive roaming in either 51 European destinations or 83 worldwide destinations at no extra cost. In other places, you'll normally be able to roam for a fixed daily charge.
Keeping Your Phone Number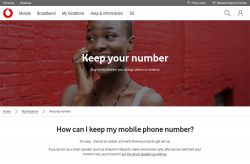 If you're switching from another mobile network to Vodafone Business, it's a straightforward process keeping your current phone number.
Start by requesting a PAC Code from your old network. You can get one through your mobile network's website or app, or by texting PAC to 65075. Once you have it, you'll be able to order your Vodafone Business plan online.
Once your new mobile phone or SIM card arrives, you'll be able to set it up and provide your PAC Code to Vodafone. The transfer of your phone number will then be scheduled, normally for the next working day.
For a step-by-step guide on how to transfer your phone number to Vodafone, please select your current mobile network from the drop-down menu below:
PAC Code Finder: Transfer Your Phone Number to Vodafone
More Information
For more information, please see the official Vodafone Business website. You can also see their SIM-only deals and Pay Monthly phone plans.