Full fibre broadband offers a more reliable internet service with gigabit download speeds. Find out how it works and compare full fibre providers.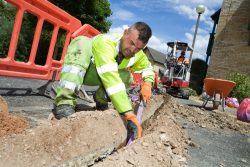 The next-generation of broadband technology has started rolling out across the UK. It offers better reliability compared to regular fibre broadband and download speeds of up to a gigabit per second (that's 1,000Mbps or 1Gbps). Full fibre technology is about 15 times faster than regular fibre broadband which only uses a fibre optic connection to a street cabinet near your home.
At present, around 8% of UK households are able to access a full fibre service with gigabit download speeds. The largest full fibre broadband providers use the Openreach FTTP network (currently BT, EE, Sky, TalkTalk and Vodafone). They're followed by Virgin Media who offers full fibre broadband in around half a million homes (plus gigabit-capable broadband in nearly 7 million homes through the Gig1 cable broadband service). Other major full fibre providers include Hyperoptic (covering half a million homes in 39 UK towns and cities) and Vodafone Gigafast (covering homes in 12 UK towns and cities). A number of smaller regional internet service providers also offer full fibre broadband.
In this article, we'll take a look at full fibre technology in the UK. We'll start by asking how it works and how it compares to regular fibre-to-the-cabinet broadband. We'll then look at the UK's full fibre providers, the download speeds available and the different infrastructure providers.
What is Full Fibre?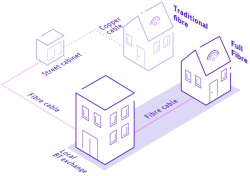 Full fibre is the next generation of broadband technology in the UK. Also known as fibre-to-the-home (FTTH) or fibre-to-the-premises (FTTP), it uses a fibre optic connection all the way into your home.
What we traditionally know as fibre broadband in the UK should more accurately be described as a fibre-to-the-cabinet (FTTC) service. Here, a fibre optic connection runs between the telephone exchange and a green street cabinet near your home. The final part of the connection (the 'last mile') between the cabinet and your home uses a traditional copper phone line cable.
As fibre-to-the-cabinet broadband uses copper for the final part of the connection, download speeds will typically only be able to reach about 67Mbps (with an absolute maximum of 80Mbps if you're living close to the cabinet). The copper part of the connection is also more susceptible to faults which can cause your connection to slow down or fail.
With full fibre broadband, you can get download speeds of 1,000Mbps (1Gbps), which is around 15 times faster than fibre-to-the-cabinet broadband. It also offers better reliability. Full fibre also has the potential to deliver even faster download speeds in the future such as 10Gbps.
Full Fibre Broadband Providers
At present, the following internet service providers offer full fibre broadband in the UK:
If you have an Openreach full fibre (FTTP) connection in your home, see our guide to the best Openreach FTTP deals.
Lots of the providers listed in the table also offer other types of broadband (e.g. fibre-to-the-cabinet or cable broadband). You should therefore double-check to ensure you're ordering a full fibre service (FTTP) before you sign up.
Full Fibre Speeds
Download Speeds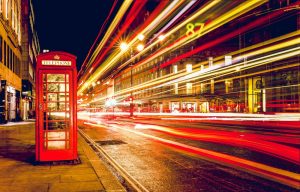 Most full fibre broadband services currently offer up to gigabit download speeds (that's 1,000Mbps or 1Gbps). Compared to traditional fibre broadband services which use fibre-to-the-cabinet (FTTC) technology, it's around 15 times faster. That means lightning-fast download speeds, like downloading an entire HD-quality movie in only 34 seconds.
On most ISPs, the cost of your full fibre service will depend on the download speed you choose. For instance, BT charges £34.99/month for their Full Fibre 100 plan which has download speeds of 150Mbps. This increases to £54.99/month if you want their fastest Full Fibre 900 plan with download speeds of 900Mbps.
Upload Speeds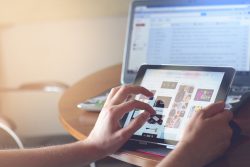 On many full fibre providers, you'll get symmetrical upload speeds. This is where upload speeds are equal to download speeds (something that isn't possible on regular fibre broadband).
With symmetrical upload speeds, you can upload to the internet at the same speed you download. This is useful for things like video conferencing, cloud storage, online backup, sharing photos & videos. Upload speeds do vary by provider, however, so it's important to check this before you buy.
For instance, the two largest providers, BT and Virgin, currently offer an asymmetrical service where upload speeds are much slower than download speeds. Meanwhile, providers like Hyperoptic, Vodafone Gigafast and some of the smaller providers offer symmetrical speeds on most full fibre plans.
Home Network & Wi-Fi Speeds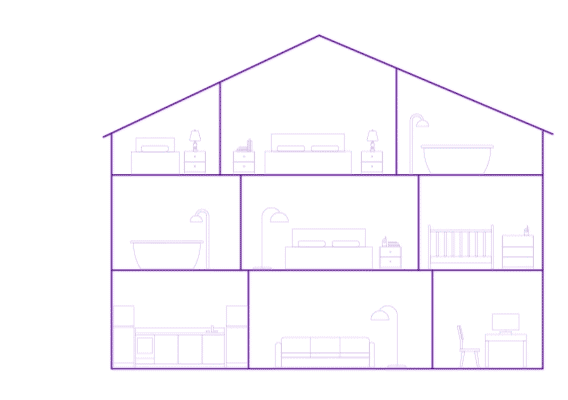 With full fibre, you'll normally be able to get gigabit download speeds. However, it's worth noting that this is the download speed as measured to your home hub or router. The final step involves getting the broadband service from your router to the actual device you're using (e.g. your smartphone, tablet, laptop or smart TV).
For the best performance, we'd normally recommend using a wired Ethernet connection. You can normally access the fastest available speeds using an Ethernet cable and there's no need to worry about wireless interference or coverage.
For devices that connect to your router using Wi-Fi, you'll normally need to be using Wi-Fi 5 technology (802.11ac) or Wi-Fi 6 technology (802.11ax) to benefit from higher speeds. Normally, the download speeds available using Wi-Fi will drop-off fairly quickly with distance from your router and with the number of devices that are connected. It may therefore be worth investing in a mesh wi-fi system such as BT Complete Wi-Fi or Google Wi-Fi to maximise the download speeds you can get.
Full Fibre Network Infrastructure Providers
Openreach & Virgin Media
Historically, the UK has only had two fixed-line network infrastructure providers:
Openreach is part of the BT Group. They've historically operated the UK's copper phone line network as well as the infrastructure that delivers fibre-to-the-cabinet (FTTC) broadband to around 90% of UK homes. Most fibre broadband internet providers make use of the Openreach network. This includes BT Broadband, EE, Plusnet, Sky Broadband, TalkTalk and Vodafone.
Virgin Media operates a cable-based network, through which they offer broadband internet with up to gigabit download speeds (along with TV and home phone services). At present, other providers are not able to make use of Virgin's infrastructure. However, the upcoming launch of Liberty Networks as a spin-off company from Virgin Media will enable other providers to start using infrastructure from this network.
Alternative Networks (Altnets)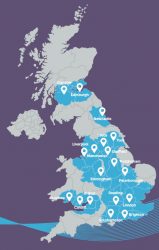 With the launch of full fibre, there are a number of new entrants into the market. These entrants are collectively known as alternative networks (or sometimes altnets for short).
Alternative networks such as Cityfibre and Hyperoptic build their own full fibre networks. This allows them (or their partner ISPs) to offer full fibre broadband without using Openreach or Virgin Media infrastructure. The homes that are covered by each network infrastructure provider will be different so you'll need to check your availability separately on each one.
More Information
See our guide to home broadband in the UK for information about home broadband works, the different options available and in-depth reviews of each provider.