Vodafone's Super WiFi gives you a guaranteed Wi-Fi signal in every room of your home. Find out how it works and see the best deals with Super WiFi.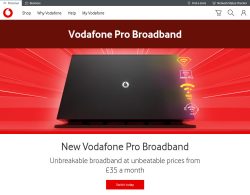 In the UK, Vodafone now offers the Super WiFi service for customers choosing a Pro Broadband plan from £35/month. It makes use of Vodafone's Super WiFi Boosters and the latest mesh networking technology to give you a more reliable WiFi connection in every room of your home. This is backed by Vodafone's WiFi Guarantee and support from their WiFi Xperts.
In this article, we'll look at Vodafone's Super WiFi service including how it works with your home broadband connection and the benefits of using Super WiFi. We'll also look at the WiFi Guarantee, WiFi Xperts and the broadband plans with Super WiFi included. Finally, we'll also look at the other features of Pro Broadband and how you can switch your broadband provider over to Vodafone.
Vodafone Super WiFi
What is Super WiFi?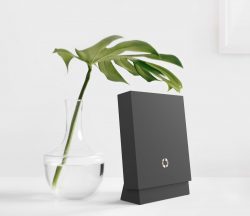 The demand on our home broadband connections has never been greater. Many of us now work, study, stream and game on multiple devices at the same time. This means it's important to have reliable access to the internet whichever room you're in and whatever you're doing at home.
When choosing a home broadband service, it's important to remember that getting fibre broadband into your home only takes you half way there. You'll also need to have a strong and reliable WiFi connection so all of the devices you have can get connected to the internet.
According to Vodafone, more than three-quarters of all households report an issue with the WiFi coverage in their home. This means you might experience slow downloads or buffering due to your WiFi connection ( there might be nothing wrong with your actual fibre broadband connection).
To help with this, Vodafone has launched a new service called Super WiFi. It uses mesh networking technology to give you whole home wi-fi and it's included on all Pro Broadband plans.
Super WiFi Features & Benefits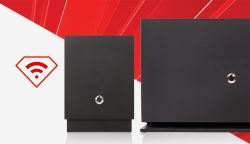 There are four main benefits of using Vodafone's Super WiFi service:
You'll get better speeds and guaranteed WiFi in every room of your home. Super WiFi uses mesh networking technology to improve the speed and range of your home WiFi network. With the Super WiFi Boosters, you can use your devices in every room of your home with a guaranteed minimum download speed of 10Mbps. Unlike older WiFi repeaters, the Super WiFi Boosters won't cause additional congestion on your network which slows everything down.
You'll get one seamless WiFi network covering your whole home. Your Vodafone Super WiFi Booster and Vodafone WiFi Hub router will work together to give one seamless WiFi network covering your whole home. There's no need to change networks as you walk around your home. Your devices will automatically connect to whichever booster or hub gives the strongest signal.
There's no need to run any wires around your home. In the past, it's been necessary to use a wired connection between your router and an extender to avoid slowing down your network. With Super WiFi, it isn't necessary to run any wires around your home. This is because your Super WiFi Booster and the WiFi Hub router communicate wirelessly with each other without slowing things down.
It's easy to set up and manage your Super WiFi Boosters. You can easily set up the Super WiFi service yourself, using the Vodafone Broadband app to install and manage your boosters. There's no need to manually configure the boosters as they can all be managed in the app. Vodafone uses cloud-based algorithms to continually improve the performance of your network.
To start with, Vodafone will send you one Super WiFi Booster when you sign up for Pro Broadband. If required, you can then get another two Super WiFi Boosters at no extra cost if you're still unable to get Wi-Fi in every room of your home.
WiFi Guarantee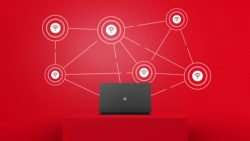 Vodafone's Super WiFi service is backed by a WiFi Guarantee. If you're unable to get WiFi in every room of your home with a minimum speed of at least 10Mbps, you'll be able to cancel your Vodafone Broadband service without any termination fees.
The minimum guaranteed speed of 10Mbps in every room should be enough for most things you'd want to do with your home broadband service. This includes streaming HD video without buffering, playing console games online and joining group video calls. You can also browse the web smoothly using a 10Mbps connection.
WiFi Xperts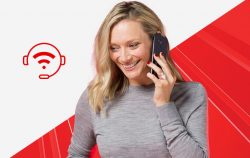 In addition to the Super WiFi service and the WiFi Guarantee, Vodafone Pro Broadband customers will have access to a team of UK-based WiFi Xperts.
According to Vodafone, their dedicated WiFi Xperts are available on the phone to assist you with any problems you have related to your home internet connection. They're available from 8am to 9pm on weekdays and from 8am to 8pm on weekends and bank holidays. You can contact the WiFi Xperts by calling 0333 304 0191.
In addition to helping you with broadband or WiFi issues, Vodafone says their WiFi Xperts will proactively monitor your connection. They'll contact all Pro Broadband customers in the first 10 days to ensure everything is working and set up to your satisfaction. They can also contact you at other times if they find an issue with your connection.
Broadband Plans with Super WiFi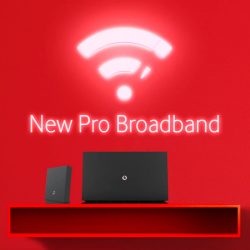 Vodafone's Super WiFi service is included on all Pro Broadband plans. These are available from £35/month for Pro Superfast 1, increasing up to £60/month for the Pro Gigafast 900 plan.
The following table shows Vodafone's Pro Broadband plans with Super WiFi included:
| Service | Average Speed | Contract Length | Upfront Price | Monthly Price |
| --- | --- | --- | --- | --- |
| Pro Superfast 1 | 35Mbps download | 24 month contract | £0 | £35/month |
| Pro Superfast 2 | 63Mbps download | 24 month contract | £0 | £37/month |
| Pro Superfast 100 | 100Mbps download | 24 month contract | £0 | £39/month |
| Pro Ultrafast 200 | 200Mbps download | 24 month contract | £0 | £45/month |
| Pro Ultrafast 500 | 500Mbps download | 24 month contract | £0 | £50/month |
| Pro Gigafast 900 | 900Mbps download | 24 month contract | £0 | £60/month |
Check Vodafone Pro Broadband Plans & Speed →
Depending on where you live, not all of the Pro Broadband plans may be available at your address. At present, the Pro Superfast 1 and Pro Superfast 2 plans are available in around 91% of UK homes. However, the faster plans such as Pro Superfast 100, Pro Ultrafast 200, Pro Ultrafast 500 and Pro Gigafast 900 are only available in homes with access to full fibre (FTTP) broadband from Vodafone.
To see which Pro Broadband plans are available where you live and for a personalised estimate of the download speeds available, enter your address on the Vodafone website.
For an extra £8/month, you can upgrade to Vodafone's Pro Xtra broadband. This gives you an Apple TV 4K box for streaming high-definition movies, TV shows and box sets on your television. You'll also get inclusive anytime calls on your landline and the promise of no mid-contract price rises.
Other Pro Broadband Features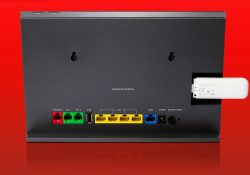 Alongside Super WiFi, there are a number of other benefits to choosing a Vodafone Pro Broadband plan:
4G Broadband Backup. On Pro Broadband plans, your connection will automatically switch to a 4G-based backup should there be a problem with your fibre broadband connection (e.g. due to a fault on your phone line). The switchover will happen seamlessly at your hub so all of your devices will stay connected to the internet without you needing to do a thing.
Access to Ultrafast & Gigafast plans. If full fibre technology (FTTP) is available where you live, you'll get access to Ultrafast plans and Gigafast plans when you choose Pro Broadband.
Faster Fibre Promise. If full fibre technology isn't yet available where you live, you'll still benefit from Vodafone's Faster Fibre Promise. This will give you an upgrade to FTTP broadband at no additional cost when it becomes available where you live.
Norton Anti-Virus Security. You'll get a 12 months subscription to Norton 360 Premium on Pro Broadband plans. This gives you anti-virus software to use on up to 10 devices. It also has a number of other security features such as a secure VPN and parental controls.
Vodafone Together Discount. If you're a Vodafone Pay Monthly mobile customer, you can get up to a £3 per month Vodafone Together discount.
For more information, read our Vodafone Pro Broadband review.
Switching to Vodafone Broadband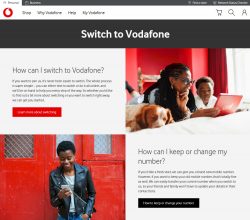 If you're switching broadband providers from another company to Vodafone, it's easy to transfer your service over.
Start by ordering your Vodafone Pro Broadband service online. When you do this, you'll be given the option to keep your current phone number. Alternatively, you can get a new phone number if you like. You'll be given the go-live date for your new Pro Broadband service when you order (this will typically be in around 2 weeks time).
Whilst you're waiting for your Vodafone Broadband service to go live, you'll continue getting broadband from your old provider. In the meantime, your new WiFi Hub router and Super WiFi Booster will be sent out to you through the post. You'll need to plug them in on the switchover date to complete the transfer of your service.
In most cases, it won't be necessary to contact your old broadband provider as Vodafone will do this for you. The main exception is if you're a Virgin Media customer. If this is the case, you'll need to contact them to cancel your old service.
For step-by-step instructions on how to switch to Vodafone Broadband, please select your current provider from the drop-down menu below:
Switch to Vodafone Broadband
Your step-by-step guide to switching
More Information
For more information about Vodafone Super WiFi, see Vodafone's official website. Alternatively, you can also read our full Vodafone Pro Broadband review.