giffgaff offers 20GB data on their £10 golden goodybag and 15GB data on their regular £10 goodybag.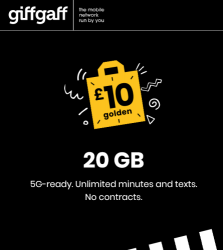 giffgaff has increased the amount of data that's included on their popular £10 and £12 plans.
You'll now get 20GB of data on the £10 golden goodybag. This is available with no contract and no need for a credit check. You'll also get 1GB of extra data from the third month onwards, increasing your data allowance to 21GB per month. 5G is also available at no extra cost on this plan.
Get 20GB Data on the £10 Golden Goodybag →
As an alternative to the £10 golden goodybag, you can also get the regular £10 goodybag which now includes 15GB of data.
In this article, we'll look at the latest changes to giffgaff's goodybag bundles. We'll start by comparing the £10 goodybag plans and what you'll get included on each one. We'll also look at some of the features of giffgaff in more detail, including the flexible bundles, the extra data and the coverage available.
giffgaff £10 Goodybags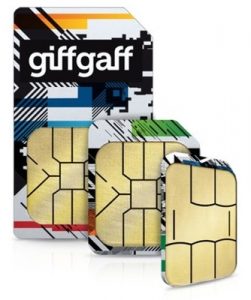 From the 7th December 2022, giffgaff has increased the amount of data included on many of their plans. You now have a choice of the following £10 per month plans:
The following table shows a side-by-side comparison of the two plans:
£10 Golden Goodybag
£10 Goodybag (Regular)
Price:
£10 per month
£10 per month
Contract Length:
No contract – cancel anytime
No contract – cancel anytime
Inclusive Allowances
Minutes:
Unlimited
Unlimited
Texts:
Unlimited
Unlimited
Data:
20GB data (was 15GB)
15GB data (was 12GB)
Goodybag Features
No Credit Check:

✔

No credit check required

✔

No credit check required
1GB Extra Data:

✔

21GB (from third month)

✔

16GB (from third month)
5G Coverage:

✔

✔

2G, 3G & 4G Coverage:

✔

99% coverage (using O2)

✔

99% coverage (using O2)
Purchase Method:

Recurring purchase (from saved card details)

Recurring purchase (from saved card details)
Manual purchase (from top-up voucher or credit)

More Information:
giffgaff Website
giffgaff Website
Besides the increased data allowance, the main difference is you'll need to set up the £10 golden goodybag to automatically recur. This involves having credit or debit card details saved on your giffgaff account, with your plan automatically renewing each month (unless you choose to cancel the renewal).
Getting A giffgaff Goodybag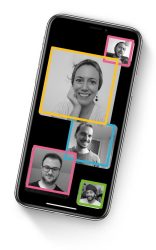 If you're new to giffgaff, you can order a SIM card to get started on the new plans. Once you've ordered, your SIM card should arrive on the next working day. You just need to slot it inside your mobile phone and choose your goodybag to get started.
Alongside the new £10 goodybags from giffgaff, you can also choose from the following goodybag bundles:
Tariff
Minutes
Texts
Data
Monthly
Cost

Unlimited

Unlimited

2GB

£6.00

Unlimited

Unlimited

5GB

£8.00

Unlimited

Unlimited

20GB

£10.00

Unlimited

Unlimited

26GB

£12.00

Unlimited

Unlimited

35GB

£15.00

Unlimited

Unlimited

100GB

£20.00

Unlimited

Unlimited

100GB


+ Always On
£25.00

Unlimited

Unlimited

Unlimited

£35.00
giffgaff Features & Benefits
No Contract & No Credit Check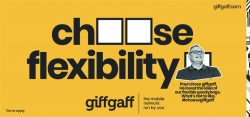 You can sign up to use giffgaff's goodybag plans without the need for a contract or credit check. This is because the service works on a pre-paid basis: you only need to pay for one month's usage at time.
If you're using the recurring goodybag functionality, this will still allow you to change or cancel the automatic renewal whenever you like.
Because it's a pre-paid product with no need for a credit check, it isn't possible to run up unexpected charges outside of your allowance. This makes it perfect if you're giving a SIM card to your kids. You can also use it if you aren't able to pass a UK credit check (e.g. if you're under 18 or if you've recently moved to the UK).
1GB Extra Data

As a bonus, you'll get an extra 1GB of data added to your goodybag each month from your third goodybag purchase onwards. This means:
You'll get 21GB of data per month on the £10 golden goodybag (increased from 20GB per month).
You'll get 16GB of data per month on the regular £10 goodybag (increased from 15GB per month).
The extra data will be added automatically – there's no need for you to opt-in to get it.
5G Coverage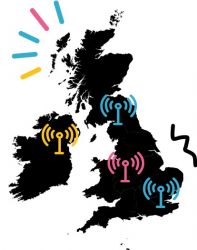 If you have a 5G-ready phone, you'll get access to giffgaff's 5G network at no extra cost. This gives you download speeds that are five to ten times faster than 4G. There's also more network capacity and lower amounts of latency on 5G.
You can access 5G coverage in the following 193 UK towns & cities:
Now Live
193 towns and cities are live on giffgaff 5G (November 2023)
Aberdeen, Allesley, Altrincham, Ambleside, Ashford, Aughton, Aylesbury, Banbury, Banstead, Basildon, Basingstoke, Beaconsfield, Bedford, Belfast, Bilston, Birkenhead, Birmingham, Birstall, Blackburn, Blackpool, Blaydon, Bolton, Bournemouth, Bradford, Bradley Stoke, Bridge of Don, Brighton, Bristol, Brombourgh, Burton upon Trent, Bury St Edmunds, Byfleet, Calverley, Cambridge, Cardiff, Chadwell St Mary, Chatham, Cheadle, Chelmsford, Cheltenham, Chertsey, Chesterfield, Chilworth, Chipstead, Clacton-on-Sea, Colchester, Coventry, Danderhall, Darlington, Dartford, Derby, Dewsbury, Dinas Powys, Doncaster, Dudley, Dundee, Dunstable, Durham, Dyce, Eastbourne, Edinburgh, Egham, Epsom, Esher, Eton, Falmer, Gateshead, Gatton Bottom, Gillingham, Glasgow, Gloucester, Gravesend, Grays, Great Yarmouth, Grimsby, Guildford, Halifax, Harlington London, Harlow, Hastings, Hebburn, Hemel Hempstead, Hextable, High Wycombe, Horwich, Hove, How Wood, Huddersfield, Hull, Inverness, Ipswich, Iver, Jarrow, Joyden's Wood, Kemprow, Kettering, Lancaster, Leeds, Leicester, Lincoln, Lisburn, Liverpool, Llandudno, London, Longford, Loughborough, Lowestoft, Luton, Maidenhead, Maidstone, Manchester, Mansfield, Middlesbrough, Milton Keynes, Molesey, Monifieth, Morley, Musselburgh, New Denham, Newbury, Newcastle, Newcastle-under-Lyme, Newtownabbey, North Shields, Northampton, Norwich, Nottingham, Nuneaton, Oldham, Orpington, Oxford, Penarth, Peterborough, Plymouth, Plympton, Portsmouth, Potters Bar, Rainham, Reading, Redhill, Richings Park, Rochdale, Rotherham, Royal Leamington Spa, Royal Tunbridge Wells, Rugby, Salford, Sheffield, Shelf, Shepperton Green, Shinfield, Shirehampton, Slough, Solihull, South Shields, Southampton, Southend-On-Sea, St Albans, Staines-upon-Thames, Stapleford, Stevenage, Stockport, Stockton-on-Tees, Stoke-on-Trent, Stranraer, Sunbury, Sunderland, Swansea, Swindon, Tatling End, Thornaby-on-Tees, Thorpe, Thundersley, Trumps Green, Tynemouth, Virginia Water, Wakefield, Wallasey, Waltham Abbey, Warrington, Washington, Watford, Wavertree, West Bromwich, Weybridge, Whickham, Whitley Bay, Wickersley, Windsor, Wolverhampton, Worthing, Wythenshawe, York
giffgaff's 5G coverage is powered by O2's 5G network. For this reason, you can get a 5G signal from giffgaff in all of the same places as 5G on O2.
O2 Coverage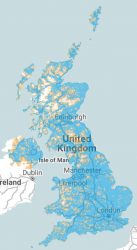 On giffgaff, you'll have access to 99% population coverage. This is provided by O2's 2G, 3G and 4G networks.
Before signing up as a giffgaff member, it's worth checking to make sure you can get coverage where you live. You can do this by entering your postcode on giffgaff's online coverage map:
Check giffgaff coverage (giffgaff.com) →
For more information, see our guide to O2's network and coverage.
Keeping Your Phone Number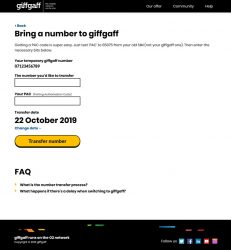 If you're switching from another mobile network to take advantage of the new goodybags, it's easy bringing your current phone number with you.
Start by ordering your SIM card from the giffgaff website. Once you've done that, you can ask your current mobile network to give you a PAC Code. You can get one through your mobile network's website or app, or by texting PAC to 65075.
Once you've received and activated your new giffgaff SIM card, you'll be given the option to submit your PAC code on giffgaff's website. Once you've done this, your phone number will normally be transferred on the next working day.
For a step-by-step guide on transferring your phone number to giffgaff, please select your current mobile network from the drop-down menu below:
PAC Code Finder: Transfer Your Phone Number to giffgaff
More Information
For more information about the new goodybags, please see giffgaff's official website. You can also read our full giffgaff review.