Vodafone's GigaCube offers 4G home broadband from £35/month without the need for a phone line or cable.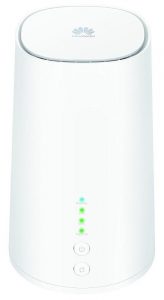 If you're looking for an alternative to fixed home broadband delivered through a phone line or cable, Vodafone's GigaCube is a 4G-powered service giving you a wireless home broadband connection from £35/month. The service comes on a variety of price plans with download limits of between 60GB and 300GB per month. Customers will receive a Huawei B528 router to use on the service, which supports up to Category 6 LTE download speeds of 300Mbit/s.
In this article, we'll review Vodafone's GigaCube service. We'll start by looking at the GigaCube price plans and how they compare to the other fibre broadband plans available on Vodafone. We'll then look at the inclusive Huawei B528 router in more detail, before comparing the GigaCube service to rival offerings from Three and EE. Finally, we'll look at the level of coverage you can expect when using a Vodafone GigaCube for broadband.