BT's Complete Wi-Fi solution gives you a guaranteed wi-fi signal in every room.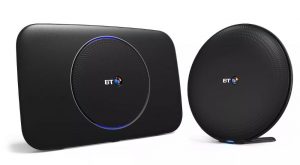 For many people, one of the major frustrations when using the internet at home is a poor wi-fi signal which leads to buffering, connection drop-outs and slow downloads. With connected devices now being used across the house, it's never been more important to make sure your wi-fi network covers your whole home.
BT's Complete Wi-Fi service is designed to give customers a guaranteed wi-fi connection in every room of their home. The service combines a next-generation Smart Hub 2 router with up to three Wi-Fi Discs that all talk to each other using mesh networking technology. This is backed by the "Complete Wi-Fi Guarantee" for a price of £5 per month if you're a BT Plus customer or £10 per month if you're a BT fibre broadband customer.
In this article, we'll review BT's Complete Wi-Fi service including the Smart Hub 2 router and the Wi-Fi Discs you'll get included. We'll also look at how wi-fi signal strength affects download speeds around the home, and how newer mesh networking solutions compares against traditional repeaters or range extenders.