EE's Smart WiFi service gives you better in-home wi-fi with a Smart Wi-Fi Disc and the EE Smart Router. You'll also get a portable 4GEE WiFi Mini hotspot.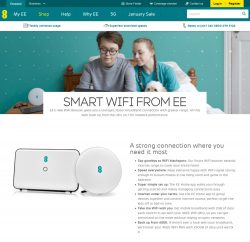 EE now offers Smart WiFi as an optional £10/month add-on for all of their home broadband plans. The Smart Wi-Fi service comes with a Wi-Fi boosting Disc that extends the range of the Wi-Fi network through your home. You'll also get a next-generation Smart Wi-Fi Router with the EE Home app and a portable 4GEE WiFi Mini hotspot to use on the go.
EE's home broadband service is available from £21.50 per month, or £19 per month if you're an EE Pay Monthly mobile customer.
In this article, we'll look at EE's Smart WiFi service and the three key features you'll get with it. We'll also look at how the mesh networking technology compares to regular Wi-Fi extenders and at the range of EE broadband plans that are compatible with Smart WiFi. Finally, we'll also discuss how you can switch to EE Broadband if you're currently using a different broadband provider.
Get EE Broadband with EE Smart WiFi →