Talkmobile has launched 5G at no extra cost, giving you faster download speeds on their SIM-only plans from £4.95 per month.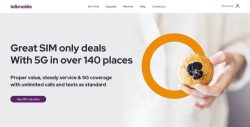 In the UK, Talkmobile has just added 5G at no extra cost to all of their SIM-only plans. You can now get a Talkmobile 5G SIM card from only £4.95 per month, giving you access to faster 5G download speeds in more than 140 UK locations. You'll also get Wi-Fi Calling, 4G Calling and 99.9% population coverage on Vodafone's 4G network.
In this article, we'll look at the launch of 5G on Talkmobile including the benefits available and Talkmobile's 5G SIM-only deals. We'll also look at the coverage available on Talkmobile and how you can keep your current phone number when switching to the service.