Vodafone is offering 3x data for 3 months on their £10 Pay As You Go bundle. This allows you to get 21GB data for £10 per month.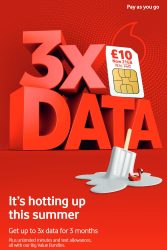 As a special offer for Summer 2022, Vodafone is offering triple data on their £10 Pay As You Go bundle. This means you can get a massive 21GB of data for only £10 per month. You'll also get unlimited UK minutes and unlimited UK texts included. This offer is available for 3 months, with no contract and no credit check required.
Get 21GB Data for £10 on Vodafone →
In this article, we'll look at Vodafone's Summer Pay As You Go deals, including their Pay As You Go SIM cards and mobile phones. We'll also look at some of the inclusive features on Vodafone Pay As You Go such as Total Rollover and VeryMe Rewards. We'll then discuss the coverage on the service and how you can keep your current phone number when switching to Vodafone.