Samsung's Galaxy S20 is a powerful 5G phone with the latest camera technology and a super-sharp Quad-HD+ display.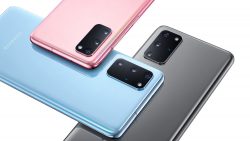 If you're looking for a high-end 5G-ready smartphone, one of your primary contenders at the moment should be Samsung's Galaxy S20 series.
The Galaxy S20 devices have cutting-edge cameras that allow you to take professional-looking photos at a resolution of up to 108 megapixels. You'll also get a super-sharp Quad HD+ screen using Samsung's trademark AMOLED technology for a rich and vibrant viewing experience. Samsung's smartphones also lead the market with their support for 5G, with over half of all 5G smartphones last year being made by Samsung.
Until the 30th July 2020, Vodafone is offering a £288 discount on the Samsung Galaxy S20+ when you take it on their Unlimited Max price plan. You'll get access to 5G coverage with the fastest available download speeds on Vodafone's network. You'll also get a free pair of the Samsung Galaxy Buds+ earphones included, which is worth an additional £159 of value (giving a total saving of £447). The plan also includes access to VeryMe Rewards and Vodafone's Global Roaming Plus (with inclusive roaming in 81 destinations).
In this article, we'll review and compare the handsets in the Samsung Galaxy S20 family including the Galaxy S20, the Galaxy S20+ and the Galaxy S20 Ultra. We'll also look at key features of the handsets including the camera, display, network connectivity, design and software.