O2 offers a range of Pay Monthly tablet and smartwatch deals. You can get O2 Extras, Volt customer benefits & 99% UK population coverage on your device.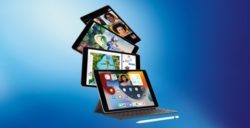 In the UK, O2 is currently offering a range of tablet and smartwatch deals, including on the Apple iPad, Apple Watch and Samsung Galaxy Watch.
On O2, you'll be able to pay for your tablet or smartwatch in up to 48 monthly instalments. You can also benefit from O2 Extras such as Disney+ or Amazon Prime on your tablet plan, along with Volt customer benefits such as double data if you're living in a Virgin Media household.
In this article, we'll look at the latest tablet and smartwatch deals that are currently available on O2. We'll also look at the added benefits that you can get as an O2 customer, including the ability to build your own custom plans and access to 99% population coverage across the UK.