Three's Mobile Wi-Fi Hotspot (currently the Huawei E5573bs-322) gives you unlimited 4G data on up to 10 devices for £22/month.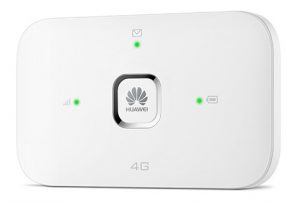 If you're looking to get connected to the internet whilst you're on-the-go from devices like your laptop and tablet, it can be useful having a 4G portable wi-fi hotspot (sometimes also known as a "Mi-Fi").
Three is currently offering the Huawei E5573bs-322 Mobile Wi-Fi hotspot with unlimited data for £22/month on a 24-month contract. The device is also available on a range of shorter 12-month and 1-month contracts, in addition to being available to use on a Pay As You Go basis.
In this article, we'll review Three's Mobile Wi-Fi Hotspot service, including the price plans available and the Huawei E5573bs-322 hotspot. We'll look at how this compares to other mobile broadband solutions, including tethering from your smartphone or using a mains-powered device like the HomeFi or the Huawei AI Cube. We'll also look at the coverage and download speeds available when using a MiFi on Three.