For students, giffgaff now offers 13GB data for £10/month with access to 5G, no contract & no credit check.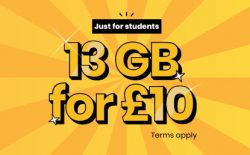 In the UK, giffgaff has just launched their new £10 student golden goodybag. For members with a valid university email address, it gives you a massive 13GB of data for £10/month. This includes access to 4G & 5G coverage from O2 and is available without the need for a contract or credit check.
In this article, we'll look at giffgaff's new student golden goodybag. We'll start by looking at how you can get the student goodybag and what you'll get included with it. We'll then look at the other benefits of using giffgaff as a student and how you can keep your current phone number when moving to giffgaff.