Three have a range of Black Friday iPhone 12 deals, including six months half price and free AirPods with unlimited data plans.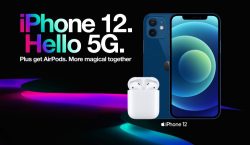 In the UK, Three are offering all four iPhone 12 devices on a range of special offers for Black Friday 2020. Deals currently available include the first 6 months at half price on many iPhone 12 plans, plus a free pair of AirPods when you buy the iPhone on an unlimited data plan. You'll also benefit from 5G coverage on the Three network along with inclusive roaming in 71 destinations around the world.
You can currently benefit from Three's Black Friday offers on the iPhone 12, the iPhone 12 Mini, the iPhone 12 Pro and the iPhone 12 Pro Max.
In this article, we'll review the iPhone 12 on Three, including the special offers and deals that are available for Black Friday 2020. We'll also look at the features and benefits of using an iPhone on the Three network, including their unlimited data plans, their 5G network, Go Roam and Three's eSIM support. Finally, we'll look at how you can keep your current phone number when moving to the Three network.