4G & 5G home broadband is available from £20/month without the need for a phone line. We compare the major providers.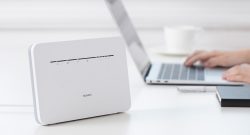 In the UK, 4G & 5G home broadband has been rapidly growing in popularity as an alternative to fixed-line home broadband. It offers greater flexibility along with download speeds that are comparable to fibre.
As 4G and 5G home broadband are not tied to a phone line, it isn't limited by what you're able to get through a BT Openreach or Virgin Media connection. You can set it up in an instant without an engineer visit and you can even bring the broadband connection with you to other places (perfect if you're renting temporarily, occasionally travelling to other places or planning to move home soon).
At the moment, three UK internet service providers offer 4G and 5G home broadband: Three, Vodafone and EE. In this article, we'll compare these home broadband services in a number of categories such as price, connectivity, coverage and hardware. We'll also discuss how 4G and 5G home broadband services compare to traditional fixed-line broadband providers like BT, Sky, TalkTalk and Virgin Media.