Networks like giffgaff, Lycamobile, Sky Mobile and Tesco Mobile piggyback on O2's network for 2G, 3G and 4G coverage.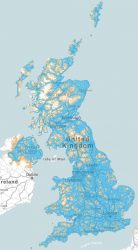 The UK has only four network coverage providers: EE, O2, Three and Vodafone. Alongside them, a group of virtual network operators such as giffgaff and Sky Mobile operate by 'piggybacking' on the signal from one of the four big networks.
At present, five other mobile networks piggyback on coverage from O2. If you're a customer of one of these mobile networks, you'll have access to the same coverage as customers on O2. This includes O2's 99% population coverage on their 2G, 3G and 4G networks (excluding O2-specific services like Wi-Fi Calling and 4G Calling).
In this article, we'll list and compare the mobile networks piggybacking on O2 for coverage. They'll often give you larger allowances for a lower price than on O2. We'll then compare the best value SIM cards with O2 coverage, at a range of price points from £5/month up to £20/month and more.