SMARTY is a low-cost mobile network, owned by Three, offering credit back every month for unused data.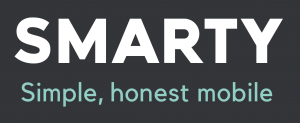 In the UK, SMARTY is a low-cost mobile network, offering SIM-only deals with coverage from Three. Having originally launched in September 2017, the low-cost sub-brand of Three promises to offer a "simple and honest" service.
SMARTY's service revolves around a choice of three SIM-only plans: Small (2GB of data for £7.50/month), Medium (4GB for £10) and Large (8GB for £15). Customers get unlimited calls and unlimited texts included in their plan, as well as a discount of £1.25 per GB of unused data.
In this article, we'll review the SMARTY mobile network, starting with their line-up of 3 SIM-only plans. We'll then compare SMARTY's deals to rival mobile networks like giffgaff, before looking at the level of coverage you can expect and how to keep your existing phone number.