The new iPad Pro is available on Sky Mobile with 5G, unlimited Sky TV data & data rollover from £20/month.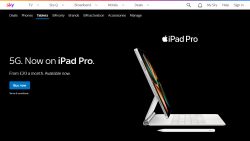 If you're looking for an iPad that you can use on-the-go, Sky Mobile currently offers a range of 4G & 5G iPads. This includes the latest iPad Pro tablet which is available from £20 per month, with inclusive access to Sky's 5G  network, data rollover and unlimited Sky TV streaming.
It's also possible to choose from a range of 4G iPads including the iPad Air 4, the iPad 8 and the iPad Mini 5. As a special offer until the 10th June, you can get 2GB of free data each month for 12 months on your iPad Air 4 when you buy it together with an iPhone 12 on Sky Mobile.
In this article, we'll look at the different iPads available on Sky Mobile. We'll start by looking at the devices available, along with the best deals and offers on Sky. We'll also look at the benefits of using an iPad on Sky including unlimited data for streaming on Sky TV apps. Continue reading →