Sky Glass has built-in 360° Dolby Atmos surround sound, giving you powerful room-filling sound without the need for a separate audio system.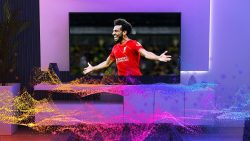 Sky Glass is the new smart TV from Sky in the UK, allowing you to stream all of your channels and shows over WiFi. It has everything built-in so there's no need for a separate box or satellite dish. You'll also get a 4K Quantum Dot display, access to cloud-based recordings, and built-in Dolby Atmos surround sound.
The built-in sound system is one of Sky Glass' key selling points, especially when compared to other TVs at this price range. On most other comparable smart TVs, you'll only get stereo speakers with a total sound output of around 20W. In contrast, Sky Glass has six built-in speakers, giving you up to 215W of room-filling Dolby Atmos surround sound.
In this article, we'll look at the sound system on Sky Glass including what it is and how it works. We'll also look at the sound settings and modes available, along with the voice control and some of the other key features.