Three's HomeFi gives you fast 4G home broadband with unlimited downloads for £21/month.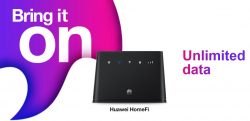 4G technology has now developed to the point where it can feasibly be used as an alternative to fixed broadband delivered through a phone line or cable. Three's HomeFi is one of the first products to bring this to the mass-market, with unlimited data currently being offered for £21/month on a 24-month contract.
HomeFi technology is perfect if you're looking for a fast and easy to setup home broadband connection. Because it uses 4G technology that's delivered over the airwaves, it isn't limited by the speeds you can get through a phone line or cable. Download speeds of up to 150Mbit/s are available on the service, making it a potential alternative to fibre broadband in both urban and rural areas. There's also the flexibility to easily bring your connection with you at any time to another address without the need to set up a new connection.
In this article, we'll review Three's HomeFi service including the price plans available and the included wireless router. We'll also compare the HomeFi service to traditional home broadband that's delivered through a BT phone line or cable.