Honest Mobile is an ethical network that removes double the carbon footprint of your phone.


In the UK, Honest Mobile is a new mobile network that aims to be "better for people and planet". They offer 5G-ready SIM cards from £12.15 per month with the promise to remove double the carbon footprint of your phone. You can get a one-month rolling plan or a 12-month plan from Honest Mobile, with a loyalty discount so your phone bill reduces each month.
In this article, we'll look at the Honest Mobile network, including the plans available, the customer support and the environmental credentials. We'll also look at the coverage that's available on Honest Mobile and how you can keep your current phone number when you switch to their network.
Prices From:
£12.15 per month
Contract Length:
1 month rolling (no contract)
12 months (with a 10% discount)
Key Features:
Coverage:

99% population coverage on 3G & 4G (powered by Three)
Access to 5G coverage in 300+ UK towns & cities
What is Honest Mobile?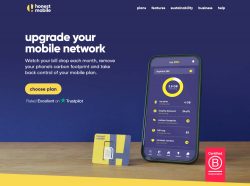 In the UK, Honest Mobile is a new network that claims to be building a "better network for people and planet".
Honest offers flexible SIM-only deals from £12.15 per month with access to 4G & 5G coverage on the Three network. This is coupled with a promise to remove double the carbon footprint of your smartphone and also to reduce your bill every month with the Honest Mobile loyalty discount.
In addition, the Honest Mobile service comes with a mobile application that gives you regular data usage updates and control over your Honest Mobile SIM cards. You can also use the Honest Mobile app to contact their customer support team through live chat.
Honest Mobile Plans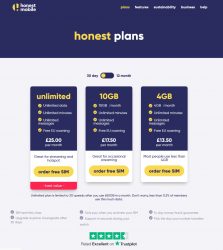 At present, Honest Mobile offers a choice of three one-month rolling plans, ranging from 4GB data for £13.50 per month to unlimited data for £25 per month.
All Honest Mobile plans include unlimited UK minutes & unlimited UK texts, along with inclusive EU roaming and 5G at no extra cost.
Network
Minutes
Texts
Data
Monthly
Cost

Unlimited

Unlimited

4GB

£13.50
1 month

Unlimited

Unlimited

10GB

£17.50
1 month

Unlimited

Unlimited

Unlimited

£25.00
1 month
You can choose a 12-month plan with a 10% discount on the above prices. This means, for instance, the 4GB data plan will be reduced to just £12.15 per month.
According to Honest, they'll send you regular notifications through the app once you've signed up, telling you how you're tracking against your download limit for the month. This includes proactive notifications if they think you're on the wrong plan (including when you're able to downgrade to a cheaper plan to save some money).
If you choose Honest Mobile's unlimited data plan, you'll get 650GB of data per month at full speed. Further usage beyond the 650GB threshold will then be "limited to 3G speeds" until the end of the month.
Loyalty Discount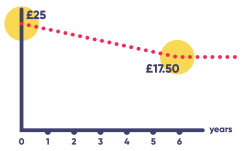 One of the nice aspects of the Honest Mobile service is the loyalty discount they offer. This reduces the price of your plan every month at the rate of 5% per year. For instance, a customer on the £25 plan will see their bill reduced by around 10.4p for each month they remain on Honest Mobile. This means your monthly bill will be about £24.38 after 6 months, £23.75 after 12 months, £22.50 after 24 months, etc. The maximum loyalty discount is 30%.
You can boost your loyalty discount by an extra 10% when you commit to a 12-month plan on Honest Mobile. This brings the price down to £12.15/month for 4GB data, £15.75/month for 10GB data and £22.50/month for unlimited data. You'll also get a further reduction based on the amount of time you've been an Honest Mobile customer.
In our opinion, the inclusion of a loyalty discount is a really welcome aspect of Honest Mobile's plans. Many other networks have an annual price increase built into their plans which can often be as high as CPI+3.9% (i.e. the rate of inflation plus 3.9%). Customers using one of these networks will therefore see a price rise of around 8% on their plan next year. In contrast, Honest's promise to cut your phone bill by 5% per year is a real breath of fresh air .
On the contrary, the downside is that Honest Mobile's plans certainly aren't the cheapest in the industry to begin with. For instance, their cheapest one-month rolling plan costs £13.50/month, whereas many other networks now offer a plan for £10/month or less. For this reason, Honest Mobile is probably better suited if you're looking for more of a premium network with a focus on ethics and the environment. If you're simply looking for the cheapest available plan, you'll most likely find a lower price elsewhere.
Honest Mobile App & Support
Unlike the traditional mobile networks, Honest Mobile doesn't offer any telephone support. Instead, everything is managed inside the Honest Mobile app: from setting up your SIM card, to managing it and tracking usage of your SIM. For anything that requires you to speak to a person, you can contact the Honest Mobile team through the live chat feature in the app.
Setup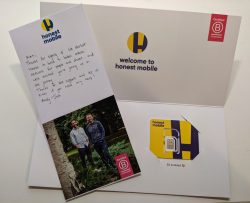 In our experience, it was a fairly straightforward affair setting up an Honest Mobile SIM card in our test smartphone. As a nice touch, you even get a SIM card ejector tool provided with your Honest Mobile SIM so there's no need to dig out the tool you got with your phone. Simply use the provided ejector tool to remove your old SIM card and you can replace it with your new Honest Mobile SIM.
To complete the setup process, you'll then need to download the app and to answer a couple of questions. For instance, you have the option to keep your current phone number or you can start afresh by choosing a brand new number. You can also set your monthly bill cap and your data roaming settings during the initial setup.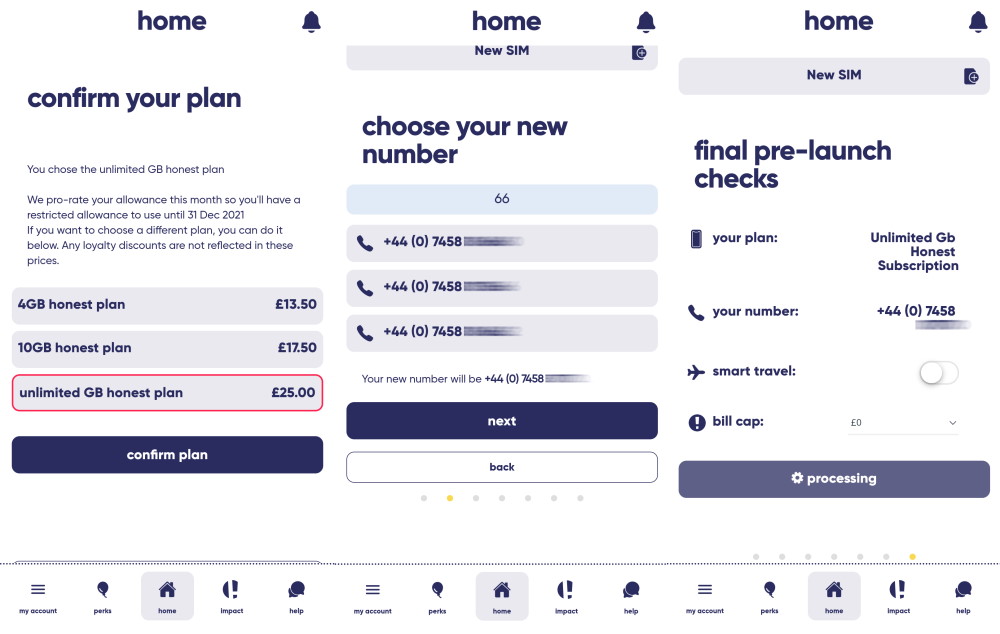 SIM Card Management
Once you're set up, the Honest Mobile app will allow you to check on the status and usage of your SIM at any time. In addition, you might receive proactive notifications from the app (for instance, if your data usage is low and you can save money by swapping plans, or if you suddenly use lots of data in a short time – perhaps because you've forgotten to connect to wi-fi).
One nice feature within the Honest Mobile app is the ability to switch on and switch off mobile data on your SIM cards. For instance, you can use this to switch off the data on your children's smartphone during meal times and when they go to sleep. You will, however, need to do this manually each day as it isn't currently possible to set a daily schedule for mobile data. Once the setting is changed in the Honest Mobile app, it takes around 30 seconds for it to take effect on the SIM.
Another nice feature in the Honest Mobile app is the ability to see how much it will cost to call a phone number before you dial. It's currently set up to work for UK-based phone numbers (it doesn't yet work for international numbers) and is a good way to prevent unexpected bills. The tool will also check automatically for an alternative phone number that's free if you enter a premium-rate phone number.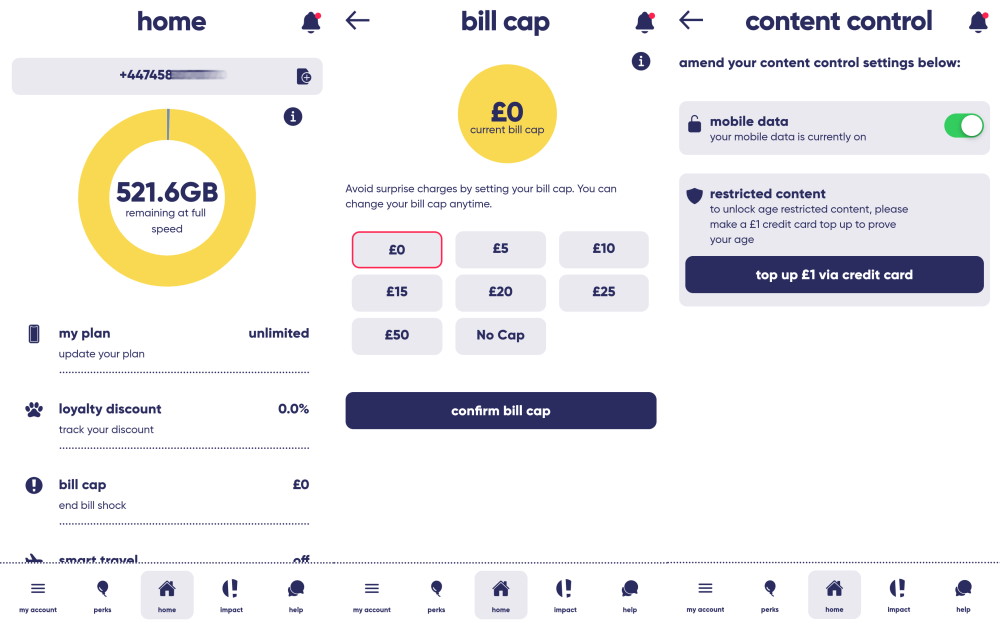 Customer Support
If you'd like to talk to a person, you can contact the Honest Mobile team using the live chat feature inside the app.
In our experiences contacting the Honest Mobile support team, it took between 30 seconds and 2 minutes to be connected with an agent. All of the questions and queries were handled effectively by the Honest Mobile team, who appear to have a good level of knowledge about the service and network.
On Trustpilot, Honest Mobile tends to receive very positive reviews for their customer support. At the time of writing, they have an average TrustPilot score of 4.7/5.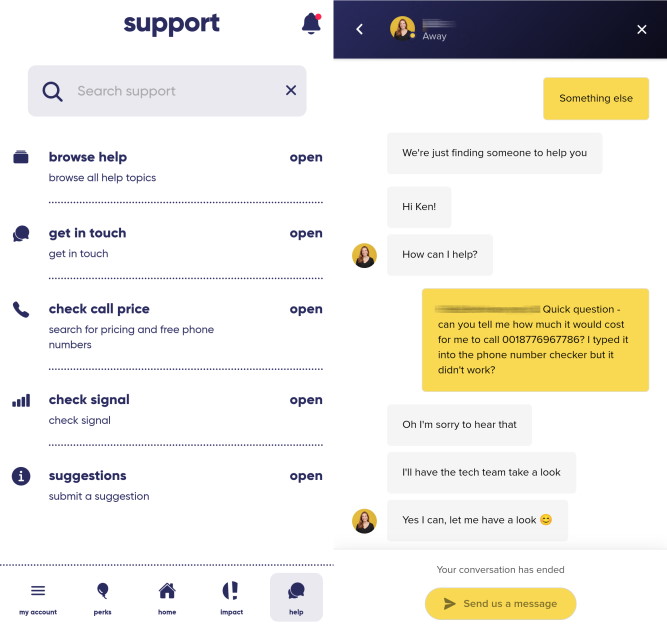 Honest Mobile & The Environment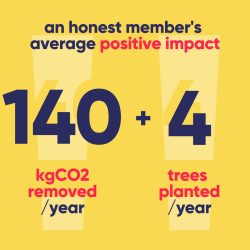 A major part of Honest Mobile's proposition is their claim to be building a network that's "better for the environment". This comes through multiple touchpoints such as the recycled envelope that the SIM cards are sent in, to their promise of removing twice the carbon footprint of your smartphone.
In particular, Honest Mobile's built-in carbon removal feature is unique amongst UK mobile networks. According to Honest, they've looked at the total carbon footprint of using your mobile phone (this includes manufacturing, daily usage, charging and more). They've also looked at the carbon footprint of their own network (including maintaining the network, carrying the data, phone calls, etc). They will then automatically remove double the total carbon footprint to give a "carbon negative" service.
To give an example, our Honest Mobile app reported a total carbon footprint of 5.5kg of CO2 emissions in our first day using the service. As a result, they had removed 11kg of CO2 (double the amount that was emitted). According to Honest, 95% of this CO2 is removed by planting trees and another 5% is removed through Direct Air Capture (DAC) and Biochar technologies.
In addition to the carbon removal feature, Honest Mobile says they donate 1% of all revenue to "initiatives fighting the climate crisis". The company is a certified B Corp and has been given a 100/100 score in the Ethical Company Index. They're also the top-rated UK mobile network in the Ethical Consumer guide.
Network & Coverage
3G & 4G Coverage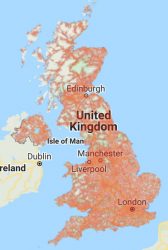 In the UK, Honest Mobile offers 99% population coverage using Three's network. This includes 99.8% population coverage on 4G and 98.7% population coverage on 3G.
According to Honest, their 4G network can give you download speeds of "up to 50Mbps under normal conditions". This can, however, sometimes be faster or slower, depending on the network conditions and coverage where you are. In our own testing, we were able to get download speeds of up to 49Mbps on Honest's 4G network and upload speeds of up to 8Mbps. However, this did vary quite a lot. For instance, it would slow down a little in the evenings and also in busier city centre locations where a lot more people were using the network at once.
One disadvantage of Honest Mobile using Three's network is that coverage can sometimes be a little patchy out in rural areas. In the past, Honest Mobile offered a Smart Signal feature to alleviate this – it would give you access to EE and O2's network where a signal from Three signal isn't available. Unfortunately, the Smart Signal feature isn't currently available but Honest have said that they "hope to roll out Smart Signal 2.0 really soon".
Another thing that's worth noting is that Honest Mobile doesn't have any 2G coverage available. For this reason, you won't be able to use a 2G-only phone on Honest. In addition, some dual-SIM phones may not work properly on Honest Mobile if one of the SIM card slots only has support for 2G.
5G Coverage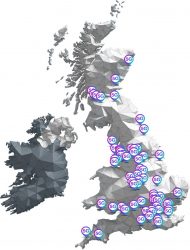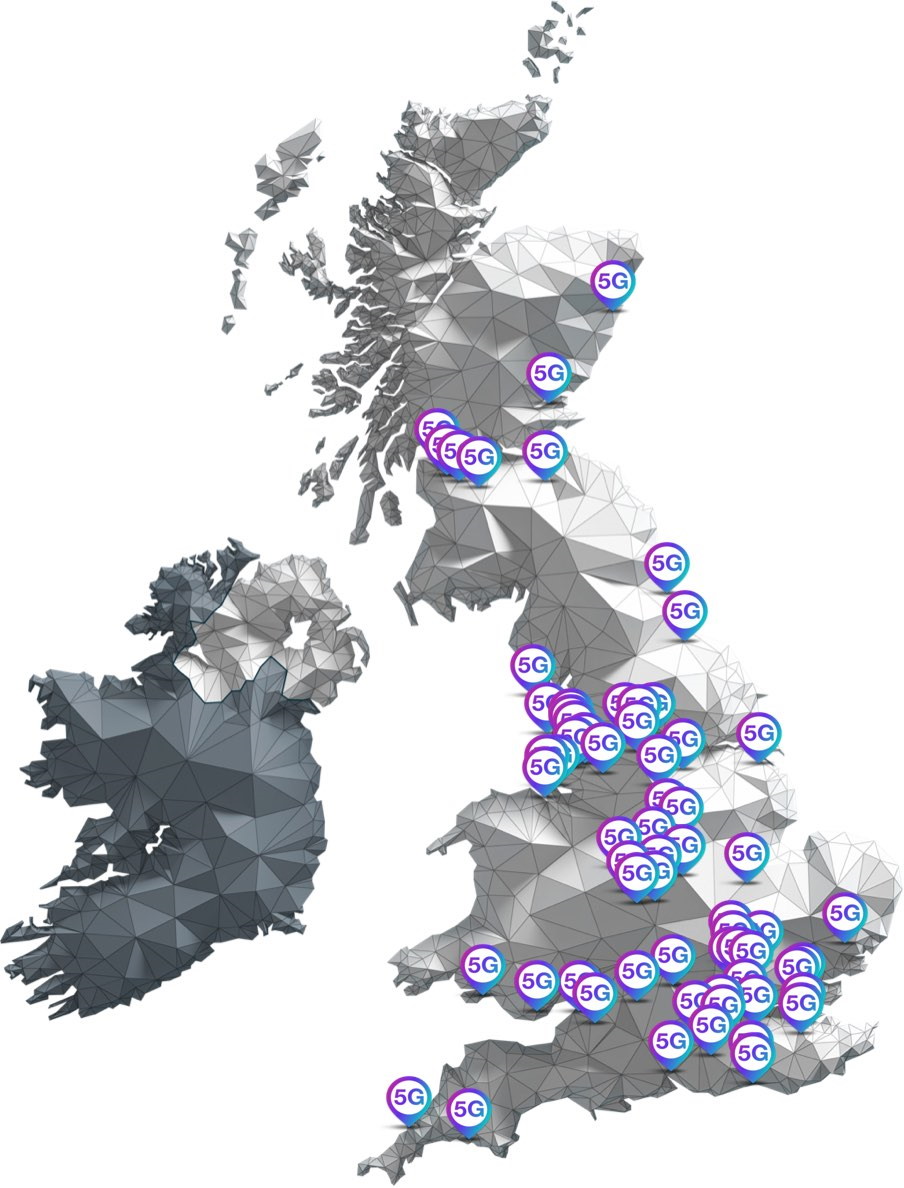 Honest Mobile offers 5G at no extra cost on all of their SIM cards. You'll just need to have a 5G-ready phone to be able to access it. They're also using Three's network to power their 5G service, with 5G coverage currently available in more than 300 UK towns and cities.
At present, Three claims to have the UK's fastest 5G network, with a median download speed of 222Mbps and a median upload speed of 14Mbps. This is based on Ookla speed test data in H1 2021. In some cases, the download speeds on 5G can go even faster (up to 1.2Gbps or 1,200Mbps). You'll be able to access the same speeds as an Honest Mobile customer.
Tethering & Personal Hotspot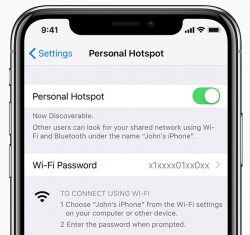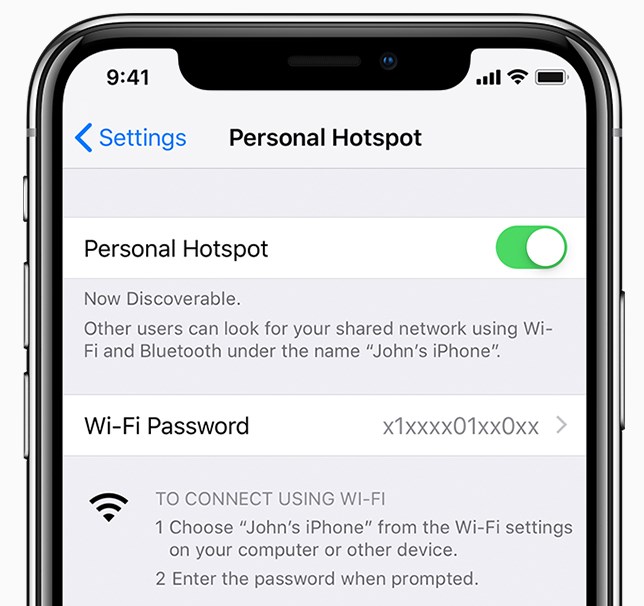 Tethering or personal hotspot refers to the process of sharing your smartphone's internet connection with another device (e.g. with your laptop or tablet). You can use it as a convenient way to get a mobile broadband connection on other devices.
You can use the tethering and personal hotspot feature on your phone at no extra cost on all Honest Mobile price plans. This includes on their £25 unlimited data plan (subject to the normal speed restriction if you use 650GB of data in one month).
International Roaming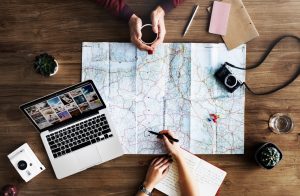 On Honest Mobile, you can continue using your mobile phone when you travel abroad through international roaming.
If you're travelling to an EU destination, you'll be able to use your Honest Mobile plan at no extra cost (this includes your minutes, texts and data).
If you're travelling to an international destination outside Europe, you can use your mobile phone for a fixed daily fee through the Smart Travel service. This gives you a set allowance of minutes, texts and mobile data. There's a fixed daily charge for this service, starting from £7.50 per day.
Keeping Your Phone Number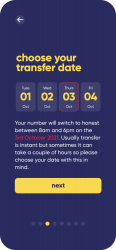 If you're currently using another mobile network, it's a straightforward process to keep your phone number when you switch to Honest Mobile.
Start by ordering your new Honest Mobile SIM card online. Once you've done this, you can request a PAC Code from your old network. This is available through your mobile network's website or app, or by texting PAC to 65075.
When you activate your Honest Mobile SIM card through the app, you'll be able to provide them with your PAC Code. Once you've done this, your phone number transfer will be scheduled (normally for the next working day unless you choose a later date).
If you don't want to keep your old phone number, it's also possible to start afresh with a new phone number on Honest. If you do this, you'll be able to choose your own phone number through a search function that's built into the app.
For more information, see our guide on how to transfer your mobile phone number in the UK.
More Information
For more information about the Honest Mobile service, please see the official Honest Mobile website.