Sky Glass allows you to build a collection of your favourite TV shows and movies, with on-demand playback from cloud-based recordings.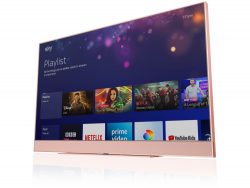 When you buy a Sky Glass TV, you'll get the ability to build your own playlist. According to Sky, this is like "recordings, only better".
Unlike traditional recordings, the Playlist feature has been reimagined for a world with catch-up TV and cloud-based recording. It allows you to watch your favourite shows and movies on-demand, with no storage limits and no limits on how many programmes you can record at the same time.
In this article, we'll look at the Playlist feature on Sky Glass. We'll start by looking at how Playlist works and how it compares to recordings as found on the Sky Q box. We'll also look at the other features available and the best Sky Glass deals.
What are Sky Glass Playlists?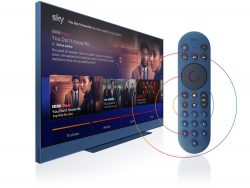 If you're upgrading to the Sky Glass TV, you'll have access to a brand new feature called Playlist.
Sky says their Playlist feature is "better" than traditional recording as it makes use of cloud-based recordings and on-demand streaming services. Instead of shows and movies being recorded onto a hard drive inside your box, they're stored in the cloud instead and you can stream them whenever you like on-demand.
Whenever you see something you like in the Sky Glass interface (for instance, when you're on the TV guide, home screen, on-demand or live TV), you can simply press the Playlist '+' button on your remote control and it'll be added to your Playlist.
When you come back to watch the shows and movies on your Playlist, Sky Glass will then do a couple of things for you. If you're watching a show that's available on catch-up (e.g. on BBC iPlayer, ITV Hub or All 4), Sky Glass will simply play it back from the relevant on-demand service. For most other channels (including the Sky channels, BT Sport, Eurosport, Gold and W), you'll get access to a cloud-based recording instead.
Alongside that, Sky Glass will automatically look for other episodes of the same show – whether it's on live TV, catch-up or a streaming service. This makes it easy to find and watch both past and future episodes of a show. For instance, it might be that past episodes or seasons of a show are available on a different channel or on streaming services like Netflix.
Finally, Sky Glass will automatically categorise everything for you across TV shows, movies, kids, sports and more. This makes it easy for you to quickly find what you're looking for.
Sky Glass Playlist VS Recordings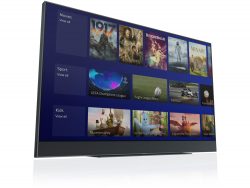 There are a number of benefits when you use Playlist instead of traditional recordings:
Playlist is cloud-based with no storage limits. With traditional recordings, you're limited by the capacity of the hard drive inside your box. For instance, the Sky Q box can store 500 hours of recordings. In contrast, there is no storage limit with Playlist as everything is stored in the cloud and streamed on-demand.
There are no recording clashes with Playlist. With traditional recordings, you're limited to recording a certain number of programmes at the same time. There are no such limits with Playlist.
Playlist can include content from your apps. You can add shows from Netflix, Amazon Prime Video, Disney+ and more to your Playlist. Furthermore, they'll be linked to episodes of the same show on live TV.
One potential limitation of Playlist is that certain shows will be removed from catch-up after a certain amount of time. For instance, many shows on BBC iPlayer are available for 30 days after television broadcast. If the show has already been removed from catch-up, you won't be able to watch it even if it's still on your Playlist.
Other Sky Glass Features
No Dish Required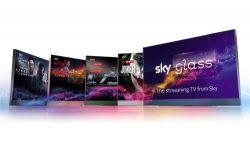 Sky Glass is the first TV to have Sky inside. This means you're able to stream all of your Sky TV channels using Wi-Fi: there's no need for a separate box or for a satellite dish to receive them.
You'll need to have a broadband connection with a minimum download speed of 10Mbps to use Sky Glass (or 25Mbps if you're watching in Ultra HD quality). This doesn't necessarily need to be a Sky Broadband connection – you can use Sky Glass on any UK broadband provider.
Speakers & Sound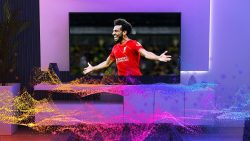 Sound quality is one of the real highlights of Sky Glass. It has a built-in soundbar, delivering a massive 215W of room-filling sound.
There are six powerful speakers built into Sky Glass. Of these, there are 3 outwards firing speakers, 1 central subwoofer and 2 upwards firing speakers. Together, they're designed to fill your room with 360° Dolby Atmos surround sound.
Whether you're watching live sport or the latest cinema release, this should put you right in the middle of the action with that immersive front-row feeling.
Quantum Dot Display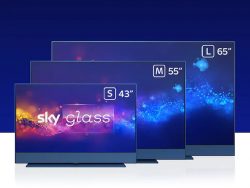 Sky Glass is available in three different sizes: Small (with a 43″ screen), Medium (with a 55″ screen) and Large (with a 65″ screen).
Whichever size you choose, you'll get a crystal-clear 4K Ultra HD screen. This uses the latest Quantum Dot technology to give you more vibrant and intense colours, along with Intelligent Zonal technology (local dimming) for improved contrast.
The display also supports High Dynamic Range (HDR) for a richer and more vibrant viewing experience. This includes HLG, HDR10 and Dolby Vision.
Design & Form Factor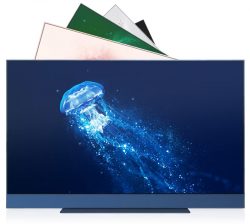 Sky Glass is constructed from anodised aluminium, with a large display on the front and a woven acoustic mesh below it for the speaker.
You can get Sky Glass in a choice of five different colours: Anthracite black, Ceramic white, Dusky pink, Racing green and Ocean blue. In addition, you can also customise the colour of the speaker – either to match the aluminium frame or to provide contrast with it.
If you'd like to attach Sky Glass to the wall, you can simply use the built-in wall-mounting bracket. Alternatively, just leave it on the provided stand.
Carbon Neutral TV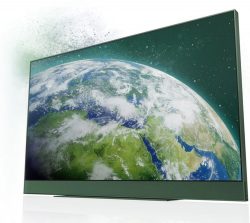 Sky Glass is the world's first TV to be certified as a CarbonNeutral product.
According to Sky, Glass has been designed in a way to reduce emissions as much as possible. For instance, there's an auto-switch off power-saving feature. This will switch your TV to standby if no motion is detected for 50 minutes. In addition, the backlight will adapt to the light levels in the room, saving energy when it isn't required.
In addition to the power-saving features, Sky Glass ships in fully-recyclable packaging. Sky will also offset your electricity carbon emissions for the first year of using Sky Glass.
Best Sky Glass Deals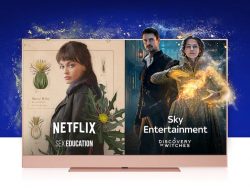 At present, you can get the Sky Glass from only £13 per month. This is payable over 48 months. The price will depend on the screen size you require:
Small (43 inches) – £13 per month plus £10 upfront
Medium (55 inches) – £17 per month plus £10 upfront
Large (65 inches) – £21 per month plus £10 upfront
On top of that, you'll pay £26 per month for your Sky Ultimate TV subscription. This gives you access to more than 100 channels including all of the Sky Entertainment channels like Sky Atlantic. You'll also get a Netflix subscription included in the price.
More Information
For more information about Sky Glass and the Playlist feature, please see Sky's official website.