Samsung's latest Galaxy A series is a range of affordable mid-range Android smartphones. Get the Galaxy A14 from just £11.99/month at the Carphone Warehouse.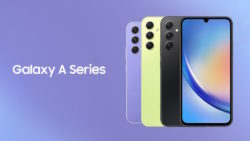 If you're looking for an affordable smartphone with a sharp display, a high-tech camera, and a long-lasting battery, you can't go wrong with one of the latest devices from Samsung's Galaxy A series.
Currently available from £11.99 per month at the Carphone Warehouse, all of the latest Galaxy A smartphones give you a high-resolution screen at Full HD+ quality, along with a triple-camera system and a large battery with up to two days usage on one charge.
You can choose between the Galaxy A14, the Galaxy A34, and the Galaxy A54, with the latter two devices currently including a free pair of Galaxy Buds2 earphones.
In this article, we'll look at Samsung's latest Galaxy A smartphones including the Galaxy A14, Galaxy A34, and Galaxy A54. We'll start with an overview of the three devices, before looking at each individual device in more detail. We'll also look at the best Galaxy A deals currently available from the Carphone Warehouse.