Free Facebook Alerts on your Mobile Phone
January 31st, 2009

photo: iboy_daniel
Many people probably aren't aware that they can receive totally free SMS text alerts from Facebook on their mobile phone through Facebook Mobile.
Important: Several visitors from the US have contacted me to say that they are charged for receiving Facebook alerts. Please check with your mobile network first to avoid unexpected charges.
Receiving Facebook Alerts
You'll need to sign up with Facebook Mobile to receive alerts (alerts are free unless your network or carrier charges you to receive texts). According to Facebook, the supported networks and carriers at present are:
USA: AT&T, Boost, Cingular, Helio, Nextel, Sprint, Verizon, Virgin Mobile USA
Canada: Bell Mobility, Fido, MTO, Rogers, Sasktel, Solo Mobile, TELUS, Virgin Mobile Canada
UK: O2
One of my friends uses Facebook Mobile on a different mobile network which is not listed on this list and I'm told it works. So if your network isn't on this list, it might work for you but your milage may vary. If you end up getting charged by your network, don't say I didn't warn you!
Once you have verified your phone number through a confirmation code, you can choose to receive alerts of:
Pokes
Messages (I chose only to receive alerts of messages from people on my friends list to avoid spammy texts)
Comments on your photos and notes
Posts on your wall
Friend requests
Status updates of selected friends (This seems very stalkerish to me. I strongly recommend against using this. I don't know why you would want to know what one of your friends was doing 24/7 and I don't think they would you to either).

photo: Shermeee
An option which is probably worth considering is to disable alerts between 10pm at night and 9am in the morning – after all you want to be able to switch off at the end of the day and to get some proper sleep without being interrupted by a Facebook alert.
Note that if you reply to these alerts (e.g. to respond to a message or to confirm a friend request) you will be using the "Facebook Texts" service and may get charged unless you have a free text allowance. More info on Facebook Texts on a later post.
About Ken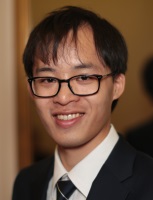 My passion is helping people to get the most out of their mobile phone. I've been blogging at Ken's Tech Tips since 2005.
Aside from writing about mobile technology, my interests are in software development, digital marketing and physics. Outside of the blog, I work with numerous technology companies helping them to explain their product and helping them to market it to consumers. Please get in touch for more information.