Review of 2009: A PAYG renaissance, iPhone Apps, challenges from Android
December 27th, 2009
Ken's Tech Tips looks back at some of the biggest news stories of 2009 and looks to see what 2010 could bring.
Pay As You Go fights back…
In 2009, PAYG was back in fashion. With the credit crunch, most people looked to cut their spending and on unnecessary expenditure. PAYG was a clear winner with the consumer here. The advent of free evening and weekend calls on most landlines providers and free calls through the internet (VoIP services such as Skype) meant that the large allowances of minutes that came with contracts were no longer necessary

photo: Jeff Belmonte
Furthermore, contract providers have been trying to lock customers in to longer contracts which prevent them from shopping around and leaving: 12 month contracts are nowhere to be seen these days whilst 24 month contracts are now fairly commonplace. On the PAYG front, there has been a lot of competition from smaller and new "virtual" networks such as Giffgaff, LycaMobile and Asda Mobile. This has forced the big name networks to launch some very competitive tariffs to hold on to their PAYG customers: of particular note are T-Mobile's 'Text and Internet Reward' tariff and Three's 3Pay tariff.
In 2009 PAYG was certainly the more competitive market and we see no reason for this to change in 2010. Although the networks have been launching cheaper contracts and SIM-only contracts, we still think the breadth of competition in PAYG will ensure many customers can save money on PAYG.
The Apple iPhone, Applications & the Android Platform

The Apple iPhone has continued to rise in popularity this year. In June we saw the release of the iPhone 3G S. Although many people were initially disappointed (the jump between the 3G and 3G S is much smaller than that between the original iPhone and the 3G), it is now hard to imagine having to go back to the 3G!
New and innovative applications on the iPhone application have captured the public's imagination. With the App Store, Apple broke the monopoly that mobile phone manufacturers held previously held over software which ran on their devices so it's not a surprise that apps are what consumers love the most about the iPhone. It will be interesting to see what 2010 has for the iPhone and applications. The price point of the iPhone has meant that it has still failed to capture the mass market (an iPhone costs £450 on PAYG). Given that applications are now the major selling point of the iPhone for many people, we envision that the iPhone will quickly fall from grace if alternative mobile platforms can provide better applications. Whilst the momentum was undoubtedly behind the iPhone in 2o09, there are three main threats to the iPhone platform in 2010.

photo: Reinante El Pintor de Fuego
The first is from iPhone developers: they aren't happy with Apple's application approval process. We have seen Apple removing apps from the store such as Google Voice which then consequently moved to the web platform. The whole approval process constitutes a large risk for developers and can deter people from creating new and innovative applications. Companies such as Spotify now announce their iPhone applications publicly before submitting it into the App Store approval process hoping to create consumer pressure on Apple to approve their new application.
The second challenge is Google's Android platform. Many mobile phone manufacturers such as HTC and Sony Ericsson have been developing Android phones and are set to release Android phones in 2010.  Earlier in the year, we saw the UK's first PAYG Android phone for £175. We've  seen some hugely innovative applications on Android from Google such as Google Maps GPS navigation and Google Goggles. With some exciting new Android phones coming in 2010, including Google's very own 'Nexus One',we wonder whether Android phones could quickly take market share through their lower prices. If this does happen, we believe momentum could gather behind Android for both consumers and developers.
The third threat to the iPhone comes in the form of new web technologies such as HTML5. If we see a lot of developers creating applications on the web platform, this will also make the iPhone less attractive to end users.

photo: zaqi
We are expecting a new iPhone in 2010 or possibly a tablet computer running on the iPhone platform. Apple must impress with these new offerings or it could find itself being left behind in the previous decade.
The iPhone on Orange, Vodafone and Tesco Mobile
In the last two months of the year, we saw the iPhone launching on three new networks: Orange, Vodafone and T-Mobile. Whilst we had hoped to see an iPhone price war, it has so far failed to materialise. That said, there are some differences between the tariffs and we have set up an iPhone price comparison website. We hope that this improves transparency of iPhone pricing and will encourage networks to compete on cost.
We've still got fingers crossed for an iPhone price war in 2010. There will be pressures to cut the cost of the iPhone coming from Android, 3's desire to enter the iPhone market in 2010 and as Apple try to capture market share beyond technology enthusiasts. We're still hopeful.
About Ken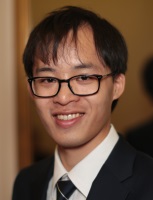 My passion is helping people to get the most out of their mobile phone. I've been blogging at Ken's Tech Tips since 2005.
Aside from writing about mobile technology, my interests are in software development, digital marketing and physics. Outside of the blog, I work with numerous technology companies helping them to explain their product and helping them to market it to consumers. Please get in touch for more information.