O2 launch "Guru TV" YouTube channel; aimed at new smartphone users
March 30th, 2011
O2 have launched a "Guru TV" YouTube channel which aims to help new smartphone owners to get started with their new phones.
What is an O2 Guru?
As part of O2's retail store refresh this year, O2 introduced technical experts dubbed O2 Gurus into most of their stores. With a large variety of smartphone handsets now available with different features and interfaces, O2 say that their Gurus will help customers to understand their new smartphones as well as helping to resolve any technical issues users experience with their handsets.
O2's Guru service is loosely modelled on the "Genius Bars" found in Apple retail stores. It can also be compared to Carphone Warehouse's telephone-based "Walk Out Working" service.
O2 recently extended the "O2 Guru" concept online by launching an O2 YouTube channel. The channel features video tutorials and several walk-through demonstrations of how to use key smartphone features.
What kind of videos can be found on O2 Guru TV?
As of March 2011, the Guru TV channel features 358 videos. The videos cover a range of O2 services including smartphones, home broadband, mobile broadband as well as more general "money saving tips". O2 hope that the videos will help customers to get "up and running" with their new smartphones – for example new iPhone customers could find videos such as:
How to activate iPhone 4. A discussion of how to open the micro-SIM tray on an iPhone 4 and how to use iTunes to transfer data from your old iPhone to a new iPhone 4.
How to perform an iPhone backup using iTunes. This tutorial sets up synchronisation of address books, calendars and e-mails between your phone and your computer.
How to extend iPhone battery life. Walk-through of how to extend battery life by disabling features such as GPS, Wi-Fi and Bluetooth. Although disabling these features will extend your battery life, be aware that you will lose certain functionality (e.g. location-aware applications can no longer determine your position using GPS).
Whilst there is a decent selection of videos explaining the basic features of the Apple iPhone and BlackBerry smartphones, unfortunately content is slightly lacking for Android devices.
Where can I find the O2 Guru TV website?
There is a dedicated O2 Guru video channel on YouTube.
How else can I obtain support on using my new smartphone?

photo: photosteve101
Read the (online) manual. Most smartphones don't come with a printed manual these days: you can often find them on the manufacturer's website in PDF format and sometimes on the phone itself when you connect it to a computer. Phone manuals tend to be very good at outlining the features which are available on a phone and how to access them but generally lack a lot of detail due to space constraints.
Use the O2 Support portal. If you're an O2 customer, O2's support portal contains a lot of FAQs on how to use O2 services. This contains mainly information on O2 services and doesn't contain much phone specific information. You could also contact O2 Customer Services with your query.
Online forums. Online forums are fantastic for troubleshooting – using Google, simply enter the name of your phone followed by the error message or what you'd like to do (e.g. "htc desire set up e-mail"). There's bound to be a discussion/guide somewhere. If you've got an Android smartphone and you struggle to find a solution (perhaps because it's a bit obscure), try re-entering your query but replacing the name of your phone with "android" instead (e.g. "android how to backup phone"). Because most Android phones have similar interfaces and features, you can often apply the same instructions to your own phone.
Use Ken's Tech Tips. If you're confused about things like download limits, how to transfer your phone number or the different types of tariffs available for your phone, Ken's Tech Tips features hundreds of fully-researched articles on these topics.
Your thoughts on the O2 Guru service and O2 Guru TV…
Have you had any experiences with in-store O2 Gurus or the O2 Guru TV website? We'd love to hear your thoughts. Drop us a comment below.
About Ken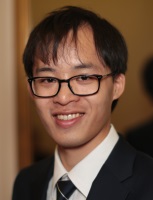 My passion is helping people to get the most out of their mobile phone. I've been blogging at Ken's Tech Tips since 2005.
Aside from writing about mobile technology, my interests are in software development, digital marketing and physics. Outside of the blog, I work with numerous technology companies helping them to explain their product and helping them to market it to consumers. Please get in touch for more information.