Google's Nexus One Smartphone coming to Vodafone
January 5th, 2010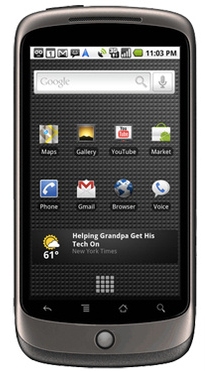 According to Google's website, the Nexus One will be available on Vodafone in Spring 2010 (so in the next 3 months!).
What is the Nexus One?
It's Google's response to the iPhone: a smartphone running the Android operating system. According to Gizmodo, it features:
A really fast 1GHz Qualcomm Snapdragon processor, with a 3.7-inch, 480×800 AMOLED screen. The camera's 5 megapixels with an LED flash—it also shoots MPEG-4 video with one-click YouTube upload, which should be quick over its wireless N Wi-Fi. The trackball's got a multicolor LED for different notifications, and of course it's got a compass, GPS, stereo Bluetooth, 3.5mm headphone jack, two mics for "active noise suppression," light and proximity sensors, and an accelerometer onboard. It's got a 1400mAH battery, from which they promise 5 hours of 3G browsing and 7 hours of 3G talk time.
Mashable compares the features of the Nexus One, Apple iPhone and the Droid (another Android phone).
How much will it cost?
Again, we don't know yet but we could look at the US prices as a guide.
In the US it costs $530 (£330) for the unlocked phone. In the UK, an iPhone 3G S would cost £440 on PAYG. Alternatively, in the US it's available for $180 (£110) on a 2 year T-Mobile contract. The standard T-Mobile tariff is $80 per month and includes 500 minutes, unlimited texts and unlimited internet.
Watch this space…
We'll be covering it the launch of the Nexus One in the UK here on Ken's Tech Tips. We'll dig out the best ways to use the Nexus One, find out how it compares to the iPhone, which networks it will be available on and more. Sign up for our mailing list (form below), subscribe to our RSS feed or follow us on Twitter.
About Ken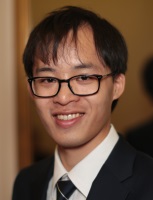 My passion is helping people to get the most out of their mobile phone. I've been blogging at Ken's Tech Tips since 2005.
Aside from writing about mobile technology, my interests are in software development, digital marketing and physics. Outside of the blog, I work with numerous technology companies helping them to explain their product and helping them to market it to consumers. Please get in touch for more information.