If you're upgrading to a new Android smartphone, here's how to transfer across your phone book, text messages, photos, videos, applications and other data.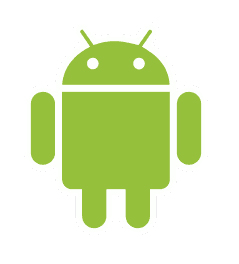 It's always great to upgrade to a the latest and greatest Android smartphone: whether that's a Nexus 5, a Samsung Galaxy S5 or a HTC One M8. If you've just upgraded to the latest Android device, you'll want to transfer your personal data from your old phone onto your new one. Thankfully, this is now a fairly easy and pain-free process.
This guide gives a step-by-step walkthrough of how to transfer your phone book, text messages, photos, videos, music, apps and games between two Android smartphones. We'll also discuss how to keep your existing phone number and what to do with your old smartphone.
How do I transfer my phone book and contacts to a new Android device?
The easiest way to transfer your address book between two Android devices is via Google's online address book service. This will make a copy of your address book available within your Gmail account and all of your phone numbers will then automatically appear on your new device.
To copy your address book to Gmail, open the "Contacts" application on your old Android handset. Press the "Menu" button on your phone followed by "Merge with Google". This will upload your address book to your Gmail account.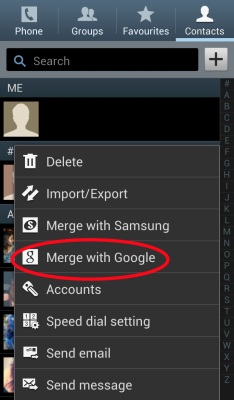 Selecting the "Merge with Google" menu item within the "Contacts" application will upload your phone book to your Gmail account.
On your new Android smartphone, your entire address book should now automatically automatically providing you signed in with the same Google account when setting up your phone. If it doesn't, you can force a download through the "Settings" menu. Select your Google account under the "Accounts" heading and click on the "Sync all" button.
Going forward, we would recommend storing all of your new phone numbers within your Google account. This provides a backup of all of your phone numbers and ensures that you won't lose your phone book if you were to lose your phone in the future.
If you wish to access your address book from the web, log in to Gmail. Once logged in, click on the arrow next to Gmail in the top left and select "Contacts". Any changes made here will automatically be synchronised to your Android device. One useful function here is "Find & merge duplicates" under the "More" menu. This can help to tidy up your address book if the same person appears multiple times.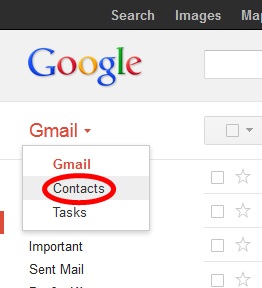 Your phone numbers will also be accessible from Gmail on the web.
Can I transfer saved text messages to my new Android smartphone?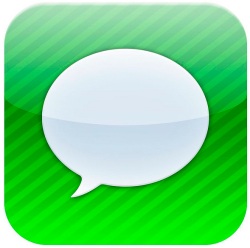 To transfer your text messages between Android devices, you'll need to make use of a third-party SMS backup application such as SMS Backup & Restore (free from Google Play). This application should be installed on both of your handsets. When a backup is run on your old handset, the application will save all of your text messages in a XML file. This XML file will be saved on the device storage and you'll need to copy it over to your new smartphone using the instructions for "other files" below. Once you've transferred the file to your new smartphone, use the SMS restore functionality to load in this XML file.
How do I transfer photos, music, videos and other files between two Android devices?
When switching smartphone, you'll typically want to make a copy of your photos, music files (MP3s) and recorded videos. It may also be worth keeping sound recordings, movies, any other downloaded files and data exports (e.g. XML file with your text messages). The first stage is to copy your files onto a PC or laptop which can either be done with a USB cable or wirelessly.
To transfer your files using a USB cable:
Use a USB data cable to connect your Android smartphone to a computer. After a few seconds, a new device should show up within "My Computer". Occasionally you may experience problems whereby your phone isn't recognised by the computer. This usually occurs due to software driver issues on your computer. In this case, please try the wireless connection method (see below).

Once connected, your phone should show up as an icon in "My Computer".
Double click on your phone in "My Computer". If your phone appears to be blank and lacks any folders/files, try entering your pass code on your handset. Once your phone has been unlocked, your files should appear. This is a security measure which protects your files in the event your phone is stolen.
Drag and drop the "DCIM" folder onto your computer hard drive. This will make a copy of all of your photos. Alternatively, select all of the folders on the device to make a full back-up.
To transfer your files wirelessly:
Download the AirDroid application on your old handset. It's a free download from Google Play and allows you to wirelessly access your phone from a PC or laptop.
Ensure that your PC and laptop are connected to the same wi-fi network. Ideally, for security reasons, you should do this on a password-protected wi-fi network at home. Alternatively, if this is not possible, you should ensure that you use a secure "HTTPS" connection within AirDroid.
Open the AirDroid application on your phone and follow the instructions within the application to connect to AirDroid on your PC. This will involve opening the web browser on your PC (e.g. Internet Explorer, Firefox, Chrome or Safari) and typing a URL in the address bar. The URL will look something like http://192.168.1.2:8888/ depending on how your wi-fi network is configured.

Follow the instructions within the AirDroid application (left) to connect to your mobile phone. The URL and passcode will vary depending on your device and wi-fi configuration. Once you have successfully connected from a PC, the AirDroid application with acknowledge this (right).
On your PC, you should be presented with an AirDroid "desktop" interface. Click once on the "Files" icon on the desktop.

To download your photos, click once on the "DCIM" folder, then click on the "Download" button in the top-right of the dialog. This will download all of your photos to a computer in a ZIP file. Alternatively, you can select all of the folders at once by pressing CTRL+A on your keyboard. This will give you a complete backup of all of your files.
Your camera photos will usually be stored within the "DCIM" folder. For other types of multimedia, there isn't a standard directory so you may need to look around to find the files. "Music" and "Sounds" are a good bet for your music files whereas "Video" and "Movies" are a good bet for your downloaded videos. Files downloaded from the internet are usually found within the "Download" folder. Videos that are recorded with your smartphone will probably be found within the "DCIM" camera folder (look for files ending in .mp4). You'll need to go through each folder on your smartphone and ensure that you have made a copy of all the files you need.
Once your files have been copied to your computer, you'll need to transfer them onto your new smartphone. Follow the same instructions above to connect your new smartphone to your PC. This time, you'll need to drag and drop files from your hard drive onto your new smartphone. For a wireless connection over AirDroid, you'll need to use the "Upload" button in the "Files" dialog.
Can I keep the applications that I've already installed or purchased?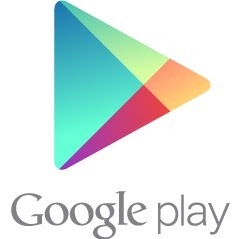 Yes. When you purchase Android applications from the Google Play store, they're linked to your Google account rather than to your phone. This means you can continue to use the applications you've paid for on your new smartphone.
To re-install applications from your previous device, open the "Play Store" application. Press the Menu button on your device followed by "My Apps". This will take you to a list of applications which are installed on your current device.
To see a list of all the applications associated with your Google account (regardless of device), swipe once from right-to-left or click on the "All" subheading in the top-right of the application. This will give you a more complete list of applications which also includes applications you installed previously on older devices. Simply tap on the relevant application and you can re-install it on your new device.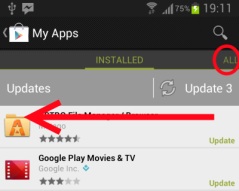 To see a list of all the applications you've installed previously, either tap on "All" in the top-right or swipe on the screen from right-to-left.
Can I keep my saved game data (e.g. my progress within Angry Birds)?
Unfortunately it is not generally possible to transfer saved game data between two devices. Some applications may implement this functionality within the application so you should check with the application developer to see whether this is possible.
Can I keep my existing phone number?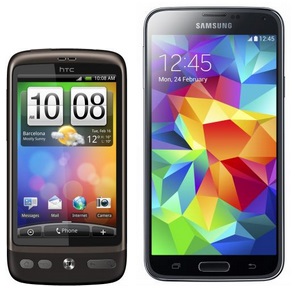 Yes. It is possible to keep your existing phone number even if you're switching mobile phone networks. If you're staying on the same network, you can normally just slot your old SIM card into your new Android smartphone. If you're switching network or changing SIM card, check out our guide to transferring your phone number with a PAC code.
What should I do with my old Android phone?
I recommend holding on to your old Android device for at least a month: you may later discover that there is some other data you'd like to transfer onto your new phone. If you're happy that you no longer need your old handset, it can be a good idea to pass it onto a friend or a family member. If you unlock it first, they'll be able to use your phone on a super-cheap SIM Only deal from as little as £6.90/month. For Galaxy S2 owners, we've got a guide to unlocking your Samsung Galaxy S2. Another option would be to recycle your old handset. Regardless of what you do, be sure to remove all of your personal information from your old device before disposing of it.