Introducing Twittify – a Twitter & Spotify mash-up to share music in real time
May 23rd, 2009

photo: pokpok313
Music has always been a social activity. People go to concerts to listen to music together and there was a day when teenagers would gather together just to listen to new tracks on the turntable!
With people now spending listening to the majority of music at their computer, this doesn't really happen very much any more.
Twittify (requires Spotify) is an experiment to try and bring this shared music listening experience back to the computer. As the name suggests, it's a web 2.0 style "mashup" which combines microblogging service Twitter and music listening service Spotify.
Twittify allows you to "follow" music in real time. It checks Twitter once a minute for a new song posted to the tag (e.g. #mgmt) or user (e.g. @khloplay) that you're following. If it finds a new song, it'll play the song in Spotify for you and everybody else who is simultaneously following that tag/user.
When might Twittify be useful?
You're chatting to your friends about music in a chatroom/instant messenger. You've discovered some new songs which you want to share with your friend. Using Twittify, you can both enjoy listening to these tracks together. Using Twitter, you can both tweet songs with the same tag (e.g. #CarlAndDan). If you both use Twittify to "follow" #CarlAndDan and you'll both hear these songs played on your computer.
Find out what other Twitter listeners are listening to on Spotify. For example by following #muse, you can see what other Muse fans are listening to.
You're playing music at a party but you want to let your guests control the music that's being played from their mobile phone. Run Twittify on your sound system and ask your guests to tweet a Spotify song to your Twitter account.
Try it out

photo: marfis75
Try it out at the Twittify webpage. Send a tweet to the @khloplay account which includes the Spotify URI of a song (right click a song in Spotify to get the Spotify URI).
e.g. @khloplay spotify:track:6Z14gdQNMJenVFA4eqpS6M time to pretend by #mgmt – fav song
Limitations
Twittify can only check Twitter once a minute due to Twitter API limits. Hence there could be a gap of up to one minute between the song being sent to Twitter and it being played.
Twitter search doesn't work perfectly all the time. Sometimes it doesn't update straight away; sometimes not at all. I don't know if this is a issue with Twitter or Twittify.
The interface of sending a spotify URI isn't the most intuitive. Unfortunately Spotify doesn't provide an API to turn an artist and track name into a Spotify URI so this information needs to be added elsewhere in the tweet for now.
Please remember that this is a very rough and ready "proof of concept"!
Got thoughts?
Send a tweet to @khlo or leave a comment here.
About Ken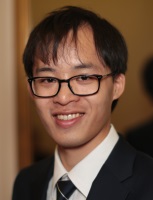 My passion is helping people to get the most out of their mobile phone. I've been blogging at Ken's Tech Tips since 2005.
Aside from writing about mobile technology, my interests are in software development, digital marketing and physics. Outside of the blog, I work with numerous technology companies helping them to explain their product and helping them to market it to consumers. Please get in touch for more information.