Google launches 3D maps on Android in the UK
December 27th, 2010
Google have launched a highly-impressive 3D maps service in Birmingham, Cardiff and Dublin. Ken's Tech Tips investigates.
If you've got an Android phone or tablet running Android 2.2, Google have just launched a new 3D mapping service. The new "Google Maps" application shows 3D outlines of buildings and features smooth zooming and rotating, automatic orientation of the map using the phone's compass and offline re-routing in the GPS navigation service.
Which British cities are 3D maps available in?
At the moment within the British Isles, 3D maps are available for Birmingham, Cardiff and Dublin (click screenshots to enlarge). One wonders whether Google are launching across UK cities in alphabetical order or something…
| Birmingham | Cardiff | Dublin |
| --- | --- | --- |
| | | |
Google are promising there will be a "significant increases in coverage" for 3D maps in 2011 so expect to see it in your city soon.
Other features such as smooth zoom and automatic rotation of the map are already available across the UK.
What is the quality of the 3D maps like?
We were highly impressed with the quality of 3D maps which Google provides – in fact, even structures as small as bus shelters seem to be included on the map (see following screenshot). We'd be fascinated to hear what kind of technology Google used to generate the 3D building outlines – probably RADAR or LIDAR or something we guess.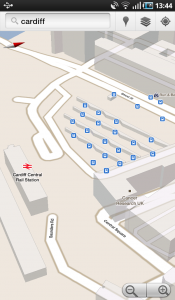 As you scroll around the map and building outlines are downloaded onto your phone, buildings pop up and appear out of the ground in a style reminiscent of Inception.
What cities outside the UK are covered?
Google say that they offer 3D maps in 100 cities worldwide some of which are listed on their web page. We recommend taking a "virtual visit" to Las Vegas and New York – two cities with some pretty stunning 3D architecture (click to enlarge):
| Las Vegas, NV | New York, NY |
| --- | --- |
| Las Vegas Strip | View from Empire State Building |
What else has changed in the new Google Maps for Android?
The new Google Maps for Android uses vector graphics. Unlike older versions where the application would download the map as pre-rendered images from Google's servers, the new version downloads the information which is required to render the map from scratch (e.g. location of roads and other businesses, height of buildings, etc.) Maps are now rendered locally on your phone allowing for smooth zooming, rotating and panning.
Is this available on the iPhone?
No, 3D mapping is not available on the iPhone.
Where can I get the new Google Maps for Android?
Search for "Google Maps" in the Android Market to update to the latest version.
About Ken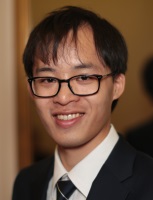 My passion is helping people to get the most out of their mobile phone. I've been blogging at Ken's Tech Tips since 2005.
Aside from writing about mobile technology, my interests are in software development, digital marketing and physics. Outside of the blog, I work with numerous technology companies helping them to explain their product and helping them to market it to consumers. Please get in touch for more information.