Carphone's TalkMobile offering cheapest Galaxy S & Desire S for £18/month with 300 minutes
May 21st, 2011
The Carphone Warehouse-run TalkMobile network is currently offering the Samsung Galaxy S and HTC Desire S for free on a £18/month contract.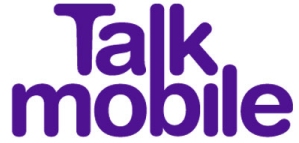 Talkmobile are currently offering a range of free smartphones on their "Smartplan £18" tariff including the Samsung Galaxy S and the HTC Desire S. For £18/month, you'll get a free Android-powered smartphone plus 300 minutes, 1000 texts and unlimited internet on your handset without a fair usage policy. This means there are no hidden download limits or charges for using too much data.
Which phone should I opt for?
A range of phones are available on TalkMobile but the real highlights for us are the Samsung Galaxy S for £18/month and the HTC Desire S for £18/month.
The Samsung Galaxy S was Samsung's 2010 flagship Android smartphone. The phone features a 4-inch Super AMOLED capacitive touchscreen, a 1GHZ processor, 5 megapixel camera and Android 2.1 (upgradable to Android 2.3). Although it's being succeeded by the Samsung Galaxy S II this month, it's still a fantastic phone particularly at the price of just £18/month and the software updates to Android 2.3.
The HTC Desire S was released in April 2011. An update to the popular HTC Desire, the Desire S features various upgrades including Android 2.3.3 (Gingerbread), a more compact and lighter form factor, a new front-facing camera and a larger battery. Cnet have a great comparison of the updates in the Desire S.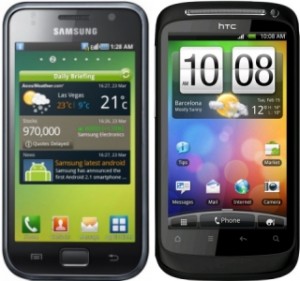 | | Samsung Galaxy S | HTC Desire S |
| --- | --- | --- |
| Processor | 1GHz Cortex-A8 | 1GHz Scorpion |
| Screen | 4.0″ Super AMOLED | 3.7″ Super LCD |
| Operating System | Android 2.1 (upgrade to 2.3) | Android 2.3 |
| Camera | 5 megapixels | 5 megapixels |
| Memory | 8GB & microSD expansion | 768MB & microSD expansion |
| | Full specifications… | Full specifications… |
What other phones are available?
Besides from the Galaxy S and the Desire S, TalkMobile are also offering a range of other phones such as the entry-level HTC Wildfire from £12/month and top-end phones such as the HTC Desire HD and Sony Ericsson Xperia Play (the "PlayStation phone") from £30/month.
£12/month
£18/month
£25/month
£30/month
Minutes
200
300
500
1500
Texts
200
1000
1500
1500
Internet
Unlimited
Unlimited
Unlimited
Unlimited
Phone
Availability on tariff?
HTC Wildfire S
No, but HTC Wildfire available
Yes
Yes
Yes
Samsung Galaxy S
No
Yes
Yes
Yes
HTC Desire S
No
Yes
Yes
Yes
HTC Desire HD
No
No
No
Yes
Sony Ericsson Xperia Play
No
No
No
Yes
The full range of available phones can be found on the TalkMobile website.
Is there a fair usage limit on the unlimited internet?
According to Carphone Warehouse, there is no fair usage policy for TalkMobile "unlimited internet" tariffs. However, the TalkMobile terms and conditions make a provision for a fair usage policy to be introduced at a later date:
There is no limit on mobile internet usage on contracts which include "Unlimited" data access. However if we feel that your data usage is so excessive that other customers are detrimentally affected and/or we are concerned about fraud, we may introduce a fair use policy. If we publish a policy we will let you know. Any such policy may change from time to time, including where we introduce new Services which may require certain rules to ensure such new Services can be enjoyed by our customers. If, once we have implemented such a policy, your use of the Service is excessive, is causing problems for other users and you continue to use the Service excessively we may suspend all or some of the Services.
Unlike with all-you-can-eat data on Three's One Plan, tethering is prohibited on TalkMobile.
How much data will I actually need?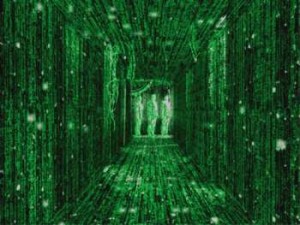 The typical smartphone user currently consumes around 250MB of data each month so the data packages offered on most networks should be suitable for use with smartphones. With their "unlimited internet" plans, TalkMobile are targeting customers who are worried about exceeding their download limits and incurring extra charges.
Most mobile tariffs currently come with a download limit of around 500MB per month. There are some exceptions though: Three offers all-you-can-eat data on The One Plan and 1GB on some of their other plans; O2 offers a choice of data packages (you can opt for either 100MB, 500MB or 1GB); Orange offer 750MB on their Panther tariffs and Vodafone offer somewhere between 250MB and 1GB depending on your exact tariff.
For more information, see our detailed guide to download limits and what they actually correspond to in reality.
Can I use tethering on TalkMobile?
No, tethering is not allowed on TalkMobile. If you wish to use tethering or "personal wi-fi hotspot", you should opt for a tariff on a different network which supports tethering. Notably, Three's "The One Plan" offers all-you-can-eat-data with free tethering from £25/month.
How do I check TalkMobile coverage in my area?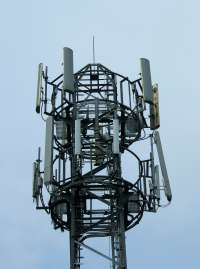 As TalkMobile use the Vodafone network, you should use the Vodafone coverage checker. Coverage should be identical on both networks as Vodafone are actually providing the underlying service.
Can I keep my existing phone number if I switch to TalkMobile?

Yes. Ask your existing network for a PAC Code. This code allows you to move your mobile phone number between networks. Once your new phone has arrived, call up TalkMobile and provide your PAC Code and they'll handle the porting of your phone number which should take no more than 24 hours. For more information, see our detailed guide to transferring your phone number between networks.
Where can I get this TalkMobile deal?
The TalkMobile deals are available through the TalkMobile website. For the £18/month deals we've discussed in this tariff:
About Ken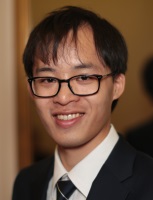 My passion is helping people to get the most out of their mobile phone. I've been blogging at Ken's Tech Tips since 2005.
Aside from writing about mobile technology, my interests are in software development, digital marketing and physics. Outside of the blog, I work with numerous technology companies helping them to explain their product and helping them to market it to consumers. Please get in touch for more information.