21 Things to Know & Things to Do with your new mobile phone this Christmas
December 21st, 2011
Have you received a new mobile phone from Santa this year? In this guide, we outline 21 useful things you want to know and things you might want to do with your mobile phone this Christmas.
Getting Started
Proud new smartphone owners
Understand what download limits such as 500MB and 1GB mean. If you've received your first smartphone, you might be wondering what it means to have a 500MB download limit or a 1GB download limit on your data plan. We've got a detailed guide outlining download limits and what they mean in reality.
Get yourself a decent Pay As You Go data plan. If you've got a new smartphone, you'll need a data plan to go with it. Pay As You Go customers can add a data plan to go with their existing tariffs. Prices are as follows:


* £3.33/month when you pay for 6 months upfront; otherwise £5/month.

Alternatively, opt for a goodybag package on giffgaff. They start from £10/month with 250 minutes, unlimited texts and unlimited internet. It costs more than paying for internet alone on one of the big five networks but could work out cheaper in the long run. You can get a free SIM card from giffgaff here.

Grab yourself a decent Pay Monthly tariff for your smartphone. If you make a lot of calls or send a lot of texts, you might find it better value to get a Pay Monthly contract. We've reviewed the best value SIM-only tariffs for smartphones.
Cool things to do & apps to download to your new phone
Never get lost again with free sat nav for iPhone or Android. Proud new iPhone owners can download free applications such as Skobbler or Waze, both of which offer free turn-by-turn navigation directions. Meanwhile, Android owners don't need to download an app at all: the Google Maps GPS navigation service is built in and it's free.
Download a gazillion applications. If you've got a new smartphone, make sure you check out the app store. You'll find the "App Store" icon on the iPhone, "Market" icon on Android and "App World" icon on BlackBerry phones. You'll find thousands of apps to download – many of them free. Some of them will be useful and can save you a lot of time, others will waste a lot of your time (e.g. Angry Birds, Cut The Rope, Fruit Ninja).
Watch television on your smartphone for free. The TVCatchup service for smartphones allows you to stream most Freeview channels straight to your mobile phone. It doesn't cost you a penny but don't use it over a 3G connection as it'll use up your entire download allowance in no time. Use it over a wi-fi connection for best performance. You should also check out the BBC iPlayer application from your smartphone's app store.
Read and speak a different language. Download the free Google Goggles and Google Translate applications and learn how to say "Merry Christmas" in dozens of different languages.
Measure your heart rate. Believe it or not, your smartphone can measure your pulse too. It uses your phone's camera and LED flash and works in the same way as a pulse oximeter. You'll need the "Instant Heart Rate" application which free on Android and $1.99 for iPhone.
See the invisible infrared world. If you've got a cameraphone, you can begin to see glimpses of the infrared world. Point your cameraphone at a top of a television remote control, press a few buttons and you might be surprised at what you see. Also works great with the Nintendo Wii sensor bar and the Microsoft Kinect sensor.
Download games. Games, games. They're a complete waste of time but we love them all the same – a perfect accompaniment for a long train journey or a wait for the bus. Top games include Angry Birds, Cut the Rope and Fruit Ninja. All three games can be found on your smartphone app store (Android Market or App Store). They're free on Android and under a quid on the iPhone.
Your Tariff
Your old phone
Don't get rid of your old phone just yet. You've got a shiny new mobile phone but don't chuck away your old one yet. We recommend keeping it for at least a few weeks before doing anything with it. There might still be some data you've not copied over to your new phone yet and you'll not notice until you try to access it. It also means you'll have a phone to return to in case there are any problems with your new phone.
Recycle your phone, but wipe it first. If you recycle your old mobile phone, you could get cash for it. However, make sure you've deleted all of your personal information first and remove the memory card and SIM card. Before sending it off for recycling, check whether any friends or family want your phone. You'll both get a better deal from doing a deal: recycling companies don't pay the full market value of the phone and your friends could get a handset for less than it costs in store.
A little something for 2012…
Subscribe to Ken's Tech Tips. We're an independent mobile technology website. Throughout 2012, we'll be reviewing new phones and mobile devices, highlighting exciting new applications and reviewing new tariffs and price plans as they become available. We'll also have information on how to get more out of your phone. Enter your e-mail address to subscribe to our newsletter and you'll be a mobile technology expert in no time. We promise.
About Ken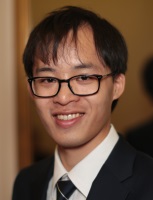 My passion is helping people to get the most out of their mobile phone. I've been blogging at Ken's Tech Tips since 2005.
Aside from writing about mobile technology, my interests are in software development, digital marketing and physics. Outside of the blog, I work with numerous technology companies helping them to explain their product and helping them to market it to consumers. Please get in touch for more information.