The Pixel 7a is available with a free pair of Pixel Buds A-Series (worth £99.99). You can also get an extra £75 when you trade-in any eligible working phone.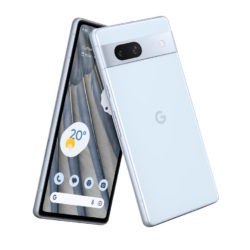 In the UK, Google has just released their latest mid-range Android smartphone. The new Google Pixel 7a comes with a 6.1-inch organic LED display, along with a 64-megapixel rear-facing camera, Google's latest Tensor G2 processor, and clever AI-powered features.
You'll get a free pair of Pixel Buds A-Series wireless earphones (worth £99.99) when you order the Pixel 7a from the Carphone Warehouse before the 23rd May 2023. In addition, you'll get an extra £75 when you trade-in any eligible working handset, giving you another way to save even more on your Pixel 7a.
In this article, we'll look at the latest Google Pixel 7a deals. We'll also review the Pixel 7a smartphone, looking at the latest features and what you'll get included on the phone.
Google Pixel 7a Deals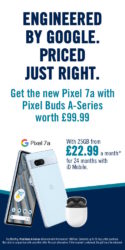 Google's latest Pixel 7a smartphone is now available to buy in the UK, with some of the best deals currently available at the Carphone Warehouse.
If you're looking to get the Pixel 7a on contract, you can pick up 25GB data for £22.99 per month on iD Mobile. This is a 24-month plan with access to iD's 5G network (powered by Three). You'll also get unlimited UK minutes and unlimited UK texts included.
The Pixel 7a is also available on a SIM-free basis for £449 unlocked.
Until the 23rd May 2023, you'll also get the Pixel Buds A-Series included (worth £99.99) with your purchase of the Pixel 7a from the Carphone Warehouse. These are wireless earphones with a custom-designed 12mm dynamic speaker driver, giving you high-quality audio without the wires. You can also use them to access the Google Assistant with one tap on the buds.
On top of this, you'll currently get an extra £75 when you trade-in any eligible working handset, allowing you to get even more money back for your old phone.
What is the Google Pixel 7a?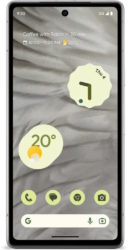 The Pixel 7a is Google's latest mid-range smartphone. It has a number of significant upgrades over last year's Pixel 6a, making it one of the best choices if you're looking for a mid-range smartphone in 2023.
Some of the highlights of the Pixel 7a include the following:
A 6.1-inch OLED display with smooth scrolling. The Pixel 7a has a high-resolution FHD+ display (2400×1080 pixels). It uses Organic LED technology to give you a rich and vibrant viewing experience. This year, Google claims the display is 25% brighter than on the Pixel 6a. You also have the option of a 90Hz refresh rate for smoother scrolling.
A 64-megapixel rear camera with optical image stabilisation. You get a fantastic triple-camera system on the Pixel 7a. On the back, there's a 64-megapixel wide camera and a 13-megapixel ultra-wide camera. This is backed by optical image stabilisation (OIS) for clearer low-light photos, along with Google's clever AI-powered photography features such as Photo Unblur, Magic Eraser, Night Sight, and more. The front of the phone has a 13-megapixel front-facing camera.
The latest Tensor G2 processor from Google. This is the same chip that's found on the Pixel 7 and Pixel 7 Pro. It gives you fantastic performance, along with improved battery life and exclusive features such as Super Res Zoom and advanced speech recognition. It's paired with 8GB of RAM on the Pixel 7a.
24-hour battery life with wired & wireless charging. For the first time on their A-series phones, Google has introduced wireless charging capabilities on the Pixel 7a. This means you get the choice of 18W fast wired charging and 7.5W wireless charging.
IP67 dust and water resistance. The Pixel 7a is rated for IP67 dust and water resistance. On top of that, the screen is protected by a layer of scratch-resistant Gorilla Glass 3.
Five years of security updates. The Pixel 7a ships with the latest version of Android 13. On top of that, Google says you'll get at least five years of security updates for the device, keeping your phone safe and secure for longer.
The following table shows the key specifications and things to know about the Pixel 7a:
Google Pixel 7a
Best Deal:
£22.99 per month
plus £0 upfront
(with 25GB data on iD Mobile)
Offers Available:

Free Pixel Buds A-Series (worth £99.99)
Specifications
Display:
6.1″ Organic LED
(FHD+ 1080×2400 pixels, up to 90Hz)
Rear Camera:
Wide: 64MP f/1.89
Ultra-Wide: 12MP f/2.2
Front Camera:
13MP f/2.2
Storage:
128GB
RAM:
8GB
Processor:
Google Tensor G2
Battery:
4,385mAh (over 24 hours)
Charging:
Fast wired charging (up to 18W)
Qi wireless (up to 7.5W)
Supports 5G:
Yes
More Information
Learn More:

Google Pixel 7a
More Information
For more information about the Pixel 7a and the latest deals available, please see the Carphone Warehouse website.