Three's unlimited 4G and 5G broadband is perfect for students with the flexibility to move and with no need for a landline.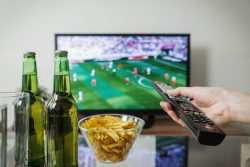 If you're a student or if you're living in a house share, it's always been a little more complicated choosing your home broadband service.
Not only will you probably be using your home broadband service more than many other households, you'll normally want the flexibility to move home in the near future without incurring a penalty fee from your supplier. In addition, you may not need the landline telephone that many broadband providers bundle together with their service.
In this article, we'll look at the top considerations when you're choosing a student broadband plan, from download limits to contract lengths and the flexibility to move. We'll then look at Three's 4G and 5G home broadband service, which is a fantastic alternative to traditional fixed-line broadband for many students.
Top Considerations for Student Broadband
In our opinion, there are six key things to be thinking about when you choose a student broadband plan:
Unlimited data: In 2019, the average home used 315GB of data on their broadband connection. And that's before COVID-19 and the corresponding lockdown forced us to spend more time at home and moved many lectures and other activities online. Because of this rapidly increasing data usage, we'd strongly recommend choosing an unlimited broadband service. This is so you're able to go online at any time without worrying about how much data you're using.
Contract length: Nowadays, most home broadband contracts are 18-24 months in length and they're normally tied to one address so it isn't easy to move. This means you might need to pay for a broadband service that you're not using over the holidays, or there might be a hefty cancellation fee if you need to move home and cancel your service mid-contract. Consider a shorter 1-month or 12-month contract to give yourself more flexibility, or consider a broadband service that you're able to move elsewhere very easily.
Flexibility & ease of moving: Compared to traditional fixed-line fibre broadband services, 4G and 5G broadband can give you much more flexibility. This is because you can easily bring your broadband service with you to another address (for instance, when you move or when you go home over the holidays). Simply pack up your broadband hub and take it with you.
Download speeds: You'll need to decide on the download speeds you require, based on the number of people and the number of devices that'll be using the connection at one time. Typically, you'll need around 5Mbps to stream HD-quality video on one device. A regular broadband connection (either ADSL or 4G) should therefore be fine for around 2-3 devices at one time. However, if you'd like to stream in 4K ultra-HD quality, you'll need at least 25Mbps so you'll better off choosing fibre broadband or 5G broadband.
Setup & installation: With fixed-line fibre broadband, you'll normally need to wait around two weeks to get your home broadband service set up. An engineer visit may also be required for some broadband plans. If you choose 4G or 5G broadband, you can often set it up yourself with plug-and-play setup on the next working day.
Line rental: As a student, it's probably unlikely you'll be using your landline for phone calls. This means you can often save money by choosing a broadband package that doesn't come with a phone line.
Three Broadband For Students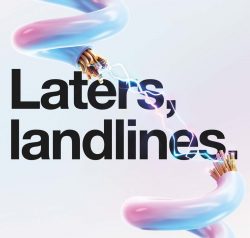 In the UK, Three offers unlimited 4G and 5G home broadband for students, with the flexibility of a shorter contract if you want one (e.g. a 1-month contract or a 12-month contract).
A major benefit is the ability to pick up your broadband connection and to bring it with you elsewhere, which is ideal for the summer holidays and when you're moving to another address. It's also available with a simple plug-and-play setup, allowing you to get online in just one working day without the need for an engineer visit.
At present, Three offers a range of 4G and 5G home broadband plans. You can choose a shorter 12-month or 1-month contract if you need one. Alternatively, there's a flexible 24-month plan that still gives you the ability to easily bring your broadband connection elsewhere.
At present, Three's 4G home broadband is available from £22/month. The following table shows Three's 4G home broadband plans: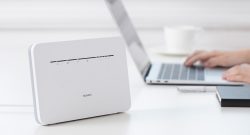 With 4G broadband, you'll get Three's 4G Hub router which allows you to connect up to 64 devices to the internet using Wi-Fi. You'll also get 4 Gigabit Ethernet sockets for connecting wired devices to your network.
Meanwhile, Three's 5G home broadband is available from £22/month. This can give you ultrafast download speeds in excess of 100Mbps on average, providing you live in an area that has 5G coverage from Three:
Network
Data Allowance
Contract Length
Upfront Price
Monthly Price

Three 5G Hub

Unlimited Data

24 month contract

£0

£22/month


with 3 months free


Three 5G Hub

Unlimited Data

1 month contract

£0

£25/month
To find out whether 4G and 5G broadband services are available at your address, enter your postcode on the Three Broadband website to check the availability where you live:
Check Three Broadband Availability →
More Information
For more information about Three Broadband, please see Three's official website. Alternatively, you can read our Three Broadband review and our guide to Three's 5G home broadband.