EE's Shared Plans allow you to have up to five devices on one combined plan. Share your 4G data allowance with other smartphones and tablets and get one combined bill for all of the usage.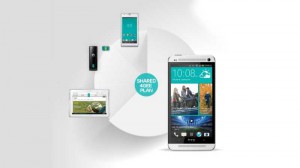 Customers on EE with more than one device can sometimes save money by signing up to a Shared EE Plan. By bringing multiple devices onto one combined plan, you'll be able to share your data allowance across the multiple devices. You'll also get one combined bill for all of the usage.
Shared 4G plans start from £7/month for a data-only SIM card (perfect for tablets and mobile broadband) and £12/month for a smartphone SIM card (complete with unlimited calls and unlimited texts).
You can order a shared 4G plan when buying any Pay Monthly handset from EE's website (during the checkout, tick the box under 'Add a 4G SIM to your existing device'). You can also buy one of the recommended sharing bundles listed on EE's website.
At present, many families have a separate mobile contract for each and every person in the household. Many individuals also have separate contracts for their tablets and for mobile broadband. With the growing number of mobile-connected devices, it can sometimes be difficult to keep track of all the separate bills. Having totally separate contracts is also inflexible as the data allowance on each individual contract can only be used from one of the devices.
EE's shared 4G plans attempt to bring a solution to this problem. By bringing multiple smartphones and devices under the umbrella of one plan, it's now possible to get a single combined bill for all the mobile usage from your connected devices. With a shared 4G plan, the monthly download allowance can also be pooled across multiple devices (it would no longer matter which of the devices you were using the data on as all of the data consumption is taken from the same allowance).

With EE's Shared Plans, you're now able to have up to five devices using the same plan. Members of your family joining the plan would all benefit from unlimited calls & unlimited texts and would share the same pooled allowance of data on all of their smartphones. Everyone will continue to have their own individual phone number and content restrictions (i.e. parental controls) are still applied on a per-handset basis. If the pooled data allowance runs out in a given month, everyone in the group is sent a text message and with the permission of the bill holder, is given the ability to purchase extra data.
Pricing
Leader Plan
Before you're able to start a shared plan, you'll need a qualifying contract to act as the Leader plan. The Leader plan should normally belong to the main bill payer (the data allowance from this plan will be shared amongst the other devices in your group). To qualify, the Leader must be on a EE Pay Monthly contract of 12 months or longer. The contract must have at least 750MB of data per month and must include unlimited minutes. Currently, Leader-compatible plans start from £24.99/month with 2GB of 4G internet.
You can use the Broadband Data Boost offer in conjunction with Shared Plans. Broadband Data Boost gives you a free upgrade to 10GB of data per month when you also subscribe to EE Home Broadband.
Sharing with Other Smartphones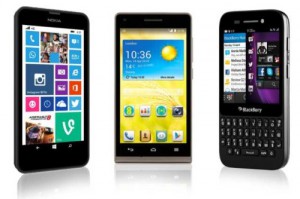 To share your data allowance with other members of the family, it's possible to get a Smartphone Sharer plan.
If you already have a smartphone that you're happy to keep, you can move it to EE and you can add it to your plan for only £12/month on a 12-month contract. This will give you a SIM only deal where you can slot the SIM card into an existing unlocked smartphone. The Sharer SIM card gives you unlimited calls and texts as well as allowing you to access the pooled allowance of data. For a shorter commitment, there's a £17/month Smartphone Sharer SIM where you're only on a 30-day contract.
If you'd like to buy a new smartphone on an EE Sharer plan, deals start from £23/month. See the shared plan deals page on EE's website for more information. There's a free content add-on included when buying a new smartphone on a Sharer Plan.
It isn't necessary for all your smartphones to be 4G-enabled: you can still use an EE Sharer plan from a 3G-only smartphone.
Sharing with Tablets & Mobile Broadband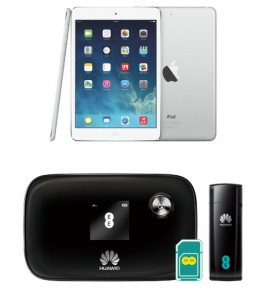 If you'd like to add a mobile broadband SIM card, it's £7/month on a 24-month contract and £8/month on a 30-day contract. The mobile broadband SIM card can either be used in a 3G or 4G tablet, in a USB mobile broadband dongle or in a mobile wi-fi hotspot. The SIM card will only give you access to data connectivity (it's not possible to use the SIM card for calling and texting).
If you'd like a new mobile wi-fi hotspot, it'll cost £11/month. For a new tablet, expect to pay £25/month or more.
Please note that instead of using a shared plan, you can often save money by tethering or using a portable wi-fi hotspot. With portable wi-fi hotspot, your smartphone will directly share the 4G internet connection with other devices such as a tablet or laptop. As you only have one SIM card for the smartphone, it won't be necessary to pay the extra £7 or £8 per month for the mobile broadband SIM card. The disadvantage of doing this is that your connected devices must be together in one place. Additionally, using the portable wi-fi hotspot will also reduce the battery life on your handset.
When ordering a Pay Monthly smartphone via EE's website, you'll be given the option to take out a shared plan during the checkout process. Under the 'Shared Plans' heading, you'll be able to "add a 4G SIM to your existing device". Providing your tariff meets the minimum requirements (unlimited minutes and at least 750MB of data per month) you should be given the option to either add a smartphone or a mobile broadband sharer SIM card.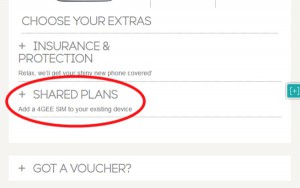 If you'd like to order two new devices, EE has a dedicated page on their website with a list of Sharer Bundles and recommended deals. For instance, you can currently get a 16GB iPhone 5s and a 16GB iPad Air for £75.99/month plus £29.99 upfront.
Finally, if you'd like to add a Sharer plan to an existing contract with EE, you'll need to either visit an EE store or contact Customer Services. For Customer Services, dial 150 from your EE handset (or 0800 956 6000 from any other handset).
Sharing on Other Networks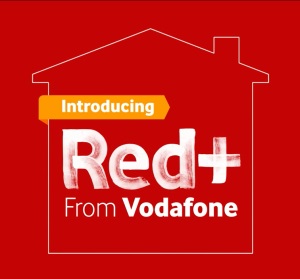 In order to take advantage of EE's shared plans, you'll need to switch all of your devices over to the EE network.
Customers on Vodafone can take advantage of the Vodafone Red+ tariff if they'd like to share data with other Vodafone devices. The Red+ tariff works in a very similar way to EE's Shared Plans but allows you to have up to 10 devices sharing one plan. On Vodafone, you can share a maximum of 13GB per month (EE allows you to share up to 50GB of data across your five devices).
At present, other networks including O2 and Three aren't offering the option of shared plans.
Coverage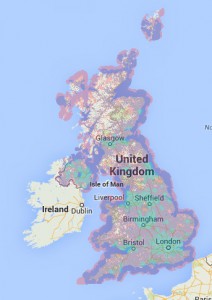 EE has 99% population coverage across the UK. They provide this in the form of 2G, 3G and 4G network coverage. There's also double-speed 4G coverage in parts of the UK. EE's 4G coverage currently reaches 75% of the UK population. They're hoping to increase this to 98% by the end of the year.
Before adding a new device to your EE plan, it's worth checking the EE online coverage map to make sure service is available where you'll be using the new device. 3G-only devices will also work on EE but will not have access to the faster 4G network.
Switching to EE: Keep Your Current Phone Number
Every member of a Shared Plan on EE will continue to have their own individual phone number. If a member of your plan is moving from another network, they'll be able to transfer their existing phone number over to EE.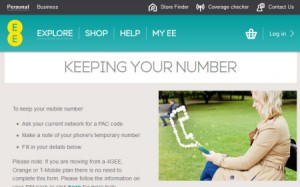 In order to transfer a phone number to EE, the first step is to contact your old network and to ask them to provide a PAC Code (a Porting Authorisation Code). The PAC Code will authorise the transfer of your phone number to EE.
After receiving the PAC Code from your old mobile network, follow the instructions above to set up a Sharer plan on EE. Once the new phone or SIM card has arrived through the post, you can head over to this online form and submit the PAC Code to have your number moved over. Your number transfer will normally be scheduled for the next working day after completing this form.
For a step-by-step guide on moving your phone number to EE, please use our PAC Code Finder tool:
PAC Code Finder: Transfer Your Phone Number to EE
More Information
For more information on shared 4G plans, please see the EE website. When ordering a new phone, you'll be given the option to "add a 4G SIM to your existing device". You can also see a list of recommended bundles for sharing on EE.