BT's unbreakable wall-to-wall wifi gives you seamless home internet that you can use in any room, with automatic 4G backup from EE.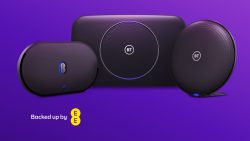 If you're a BT Broadband customer, you can add the Complete Wi-Fi and Hybrid Connect features for seamless home wi-fi that works in every room of your home, backed up by EE's 4G network. This means you'll have reliable wi-fi at home, wherever and whenever you want to use it.
In this article, we'll look at BT's offer of 'unbreakable wall-to-wall wifi'. We'll start by looking at what it is, and how it's enabled by the Complete WiFi and Hybrid Connect features from BT. We'll also look at the best BT Broadband deals that are currently available, and how you can switch your broadband provider to BT.
Unbreakable Wall-To-Wall WiFi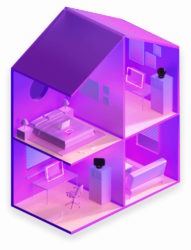 Nowadays, we depend on our home wi-fi networks for more and more things. From working at home, to studying, browsing, and streaming TV at the same time. We're also using our home wi-fi networks to connect more and more devices, including smart home devices such as thermostats, cameras, light bulbs, speakers and more.
Given the increasing importance of home wi-fi, it's essential to have a reliable home wi-fi network that works wherever and whenever you need it. BT's 'unbreakable wall-to-wall wifi' is a unique offering that tries to deliver this, enabled by two key features:
Complete Wi-Fi gives you a guaranteed wi-fi signal in every room of your home. It delivers the 'wall-to-wall wifi' and ensures you're able to get online, wherever you need at home.
Hybrid Connect gives you 'unbreakable broadband' with a 4G-based backup connection, powered by EE. This ensures you're always able to get online, whenever you need to, from all of your devices.
Through the rest of this article, we'll look at how these two features work in more detail.
Complete WiFi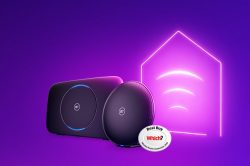 With traditional home wi-fi networks, the strength of your connection drops fairly rapidly as you move away from the router. This can lead to wifi blank-spots with poor download speeds, constant buffering, and dropped connections.
BT's Complete WiFi add-on uses mesh technology to extend the range of your home wifi network, giving you a guaranteed wifi signal in every room of your home. As well as eliminating wifi blank-spots, it should give you better overall performance. BT says there's typically a 25% increase in wi-fi speeds when using the Complete Wi-Fi add-on in a typical four-bedroom home.
The Complete WiFi add-on is backed by BT's Complete WiFi Guarantee. You'll start off with the latest Smart Hub 2 router and one Complete WiFi Disc. According to BT, this should be enough for most homes. If you're then still unable to get wifi in every room, you can claim up to two more WiFi Discs at no extra cost. If that still doesn't do it, there's a £100 money-back guarantee from BT.
Unlike older wi-fi repeaters or extenders, you'll get a much better experience with a mesh system such as BT Complete Wi-Fi. That's because you'll get one seamless home wi-fi network: there's no need to manually reconnect as you walk around your home. All of your devices will automatically get the best possible speeds, without congestion and slowdown for other devices in your home.
Hybrid Connect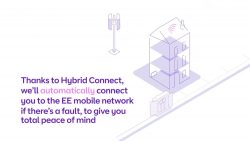 With regular home wifi, you're dependent on the fibre broadband connection into your home. Although fibre broadband is a reliable technology, there can be the possibility of a fault (e.g. due to a damaged connection, a fault at your local cabinet, or poor weather damaging the local infrastructure). This can stop you from using wifi at home, as well as knocking all of your smart home devices offline.
With BT's Hybrid Connect add-on, you'll get a 4G-based backup connection, powered by EE's network. If there's ever a fault with your fibre broadband connection, the Hybrid Connect device will kick in automatically, connecting you to EE's 4G network to keep your devices online.
Unlike alternative solutions (such as tethering to your phone when the broadband goes down), the Hybrid Connect solution kicks in automatically at the hub, so all of your devices will stay online without you needing to lift a finger. There's no need to manually reconnect your devices to another network. It's also compatible with the Complete Wi-Fi add-on so you'll continue getting wi-fi in every room of your home.
BT Broadband Deals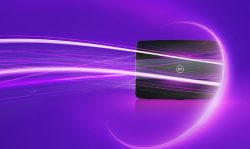 At present, you can get BT's fibre broadband service on a range of plans that start from just £29.99 per month. In addition, you can get a reward card of up to £100 if you're a new BT customer signing up through this link.
The following table shows BT's latest fibre broadband deals:
See all BT fibre broadband deals →
If you're living at an address with access to BT's full fibre broadband, there are even faster download speeds available on full fibre from £31.99 per month:
All of BT's fibre broadband deals come with a Stay Fast speed guarantee, along with inclusive online security. You can then choose to 'customise your package' at the checkout. At the time of writing, you can add Complete WiFi for an extra £12 per month. You can also add Hybrid Connect for £7 per month. Alternatively, both are included on BT's Halo 3+ broadband.
Switching to BT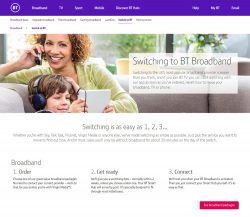 If you're currently using another broadband provider, it's easy switching your service to BT.
Start by ordering your new BT broadband plan online to take advantage of their latest deals and reward card offers.
Once you've placed your order with BT, they'll normally contact your old provider to cancel the old service for you. The main exception to this is if you're a Virgin Media customer, in which case you'll need to contact them directly to cancel your old service.
For step-by-step instructions on how to switch to BT, please select your current provider from the drop-down menu below:
Switch to BT Broadband
Your step-by-step guide to switching
For more information, see our guide to switching broadband providers in the UK.
More Information
For more information, please see BT's official website. You can also read our BT Complete WiFi review, along with our BT Hybrid Connect review.