BT offers online security with their broadband including BT Virus Protect and BT Web Protect. Find out more about BT's online security offer.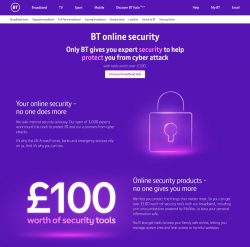 In the UK, BT offers a wide range of inclusive online security features with their broadband service. This includes BT Virus Protect (anti-virus software) and BT Web Protect.
In this article, we'll look at the importance of online security and what you'll get included on BT. We'll also look at the best BT Broadband deals with inclusive security and how you can change your broadband provider to BT.
What Is Online Security?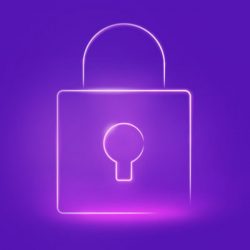 Nowadays, as we use the internet for more and more things, staying safe online has never been more important. It's vital to consider online security if you want to protect your data, your identity and your personal information.
In the UK, BT is a broadband provider with a heavy emphasis on their inclusive online security. They say they offer "expert security to help protect you from cyber attacks" with a team of 3,000 experts working around the clock to protect the network and BT customers. They also offer more than £100 of inclusive security tools with their broadband service.
As a BT Broadband customer, you'll get BT's Virus Protect software included, which is powered by McAfee. You'll also get BT's Web Protect service and the True Key Password Manager. Alongside that, parental controls and device-level Wi-Fi controls are available.
BT Online Security Features
BT Virus Protect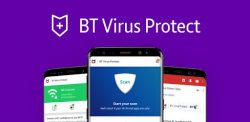 As a BT Broadband customer, you'll get access to BT's Virus Protect. This is anti-virus software powered by McAfee that you're able to install on your PC, Mac and Android-powered device.
The Virus Protect software will protect your computer and mobile phone against viruses, spyware and other online threats. It incorporates real-time virus scanning with definitions that are updated every four hours when your computer is connected to the internet. BT's Virus Protect software also incorporates a personal firewall along with enhanced browser security to protect against remote access tools (RATs).
On the Fibre Essential and Fibre 1 plans, you'll get BT Virus Protect included for use on 2 devices. If you want to use Virus Protect on more devices, you can pay an extra £4/month to upgrade your license to devices.
Meanwhile, if you choose BT's Fibre 2 or a BT Full Fibre plan, you'll get BT Virus Protect security included for use on 15 devices.
BT Web Protect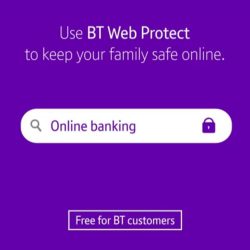 For an extra layer of online security, you can also enable the BT Web Protect service. This gives you network-level protection by filtering out websites which are known to host viruses and other malware. It will also block other potentially harmful websites, including known scam and phishing sites.
If you enable the Web Protect service, it will automatically protect all devices using your BT Broadband connection (including your laptop, tablet, smartphone and more). There's no need to install any software on your devices to use BT Web Protect.
True Key Password Manager

To protect your online accounts, it's important to use strong and unique passwords for each service. This is particularly important for your email account and for your online banking login, as well as for other websites where your payment or personal details are stored.
One of the best ways to do this is using a password manager app such as the True Key password manager which is included on all BT Broadband plans. You can use the True Key software to generate a secure password for each website and to store your logins so you can easily gain access to your accounts. You can also use it to access passwords across multiple devices (e.g. on your PC, Mac, iOS and Android device).
BT Parental Controls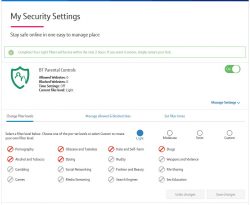 You can use BT's parental controls setting to keep your children safe online.
BT's parental controls allow you to choose between three different filter levels (strict, moderate and light), with online content being filtered automatically to the restriction level you choose.
If desired, you can customise the settings on a category-by-category basis, or also on a site-by-site basis if required.
Wi-Fi Controls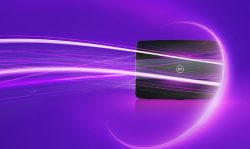 If you'd like to control the times at which your children are able to access the internet, BT's Smart Hub router comes with device-level Wi-Fi controls built-in.
The Wi-Fi Controls allow you to set a custom time window for each device on your network and when it is able to access the internet. For instance, you can switch off access to the internet for your children after their bedtime.
BT Call Protect
If you'd like to protect against unwanted nuisance calls on your landline, you can enable BT's Call Protect service which is free for all BT customers.
The BT Call Protect service will automatically block phone calls from known nuisance callers. You can also customise it to block other phone numbers as well, or to block certain categories of phone call (e.g. from an international number, from a withheld number or from an unrecognised number).
BT Broadband Deals With Online Security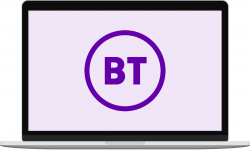 At present, you can choose from a range of fibre broadband plans on BT, with deals starting from £29.99 per month.
If you choose the Fibre Essential or Fibre 1 broadband plan from BT, you'll get BT Virus Protect included for use on 2 devices.
Meanwhile, if you're looking for faster download speeds and online security for more devices, you can choose BT's Fibre 2 or BT's Full Fibre broadband plans. Both of them will give you Virus Protect software for use on 15 devices:
BT's full fibre broadband plans are currently available in around 5 million UK homes. You can check the availability where you live by entering your postcode on BT's website.
Switching to BT Broadband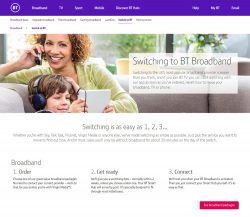 If you're currently using a different broadband provider, it's easy switching your service to BT.
Start by ordering your new BT Broadband plan online. When you do this, you'll be given the go-live date for your new BT Broadband service (this will typically be in around 2 weeks time). At the same time, BT will automatically contact your old provider to cancel your old service unless you're a Virgin Media customer.
On the go-live date for your new BT Broadband service, you'll need to replace your old broadband router with the new Smart Hub from BT. You'll then be able to activate your inclusive online security features, including Virus Protect and Web Protect.
For step-by-step instructions on how to switch to BT Broadband, please select your current broadband provider from the drop-down menu below:
Switch to BT Broadband
Your step-by-step guide to switching
For more information, see our full guide to switching home broadband providers in the UK.
More Information
For more information, see BT's online security webpage.