T-Mobile's £99 PAYG Nokia 5230 offers free GPS, year's music downloads, 6 months internet
October 8th, 2010
The Nokia 5230 on T-Mobile Pay As You Go is set to be a big hit at £99 this Christmas with lifetime free GPS, a year's worth of unlimited music downloads and 6 months free internet.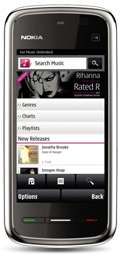 If you're looking to buy a new mobile phone for someone this Christmas, T-Mobile's Pay As You Go Nokia 5230 package is a great deal which keeps giving throughout 2011 with unlimited music downloads. As well as getting a new touch screen Nokia 5230, the package comes with:
12 months unlimited music download from Ovi Store
6 months free internet (fair usage 500MB per month, then £20 per 6 months)
Lifetime free turn-by-turn voice-guided GPS navigation
Unlimited free texts when you top up £10/month
Free in-car cradle
We think one of the most attractive parts of this offer is you get an "Ovi Music Unlimited" subscription (previously known as "Comes With Music"). This subscription gives you 12 months worth of unlimited free music downloads. In 2011, you'd be able to download any song, whenever you want, from Nokia's library of 10 million tracks and you'll get to keep them even if you don't renew the service in 2012.
The 6 months of free internet makes it possible to access Facebook and Twitter. Combined with the "unlimited free texts" (subject to a £10/month top-up), we think this package is a particularly attractive gift for teenagers and social butterflies in your family.
What's the Nokia 5230 like as a phone?
The full specifications are available from the Nokia website but the main details are:
3.2″ resistive touchscreen
2.0 megapixel camera with 3x digital zoom (video records at TV quality 640×480, 30 frames per second)
Symbian smartphone operating system, downloadable apps from Ovi Store
Ovi Maps with free turn-by-turn GPS navigation and free access to Lonely Planet and Michelin guides
3G-compatible (high speed internet)
2GB memory card included, supports up to 16GB
Web browsing capabilities
How does the year's worth of free music work?
The 12 month "Ovi Music Unlimited" subscription (previously known as "Comes with Music") allows you to download as many songs as you like from Nokia's Ovi Music Store. The Ovi Music Store has a catalogue of 10 million tracks (roughly the same as Napster and Spotify). You get to keep all of the music you download – even if you don't renew your subscription to Ovi Music Store.
Music downloaded from Ovi Music Store is DRM-protected. This means you can only play it on the registered PC and mobile phone and there are restrictions in place which prevent you from burning it to CD or transferring it to your iPod.
The Nokia 5230 comes with lifetime access to Ovi Maps. You'll get a fully featured turn-by-turn GPS navigation application including live traffic information, lane assistance and speed limit warnings. As an extra bonus, Ovi Maps comes with access to Lonely Planet and Michelin guides.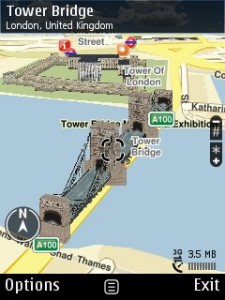 It's worth noting that, like other smartphone GPS navigation applications, the GPS application downloads maps over the air. To continue using it after the initial 6 months, you'll need to keep the internet functionality active. T-Mobile customers can purchase a "6 month Internet on you phone" booster for £20.
Whilst Ovi Maps is a fully featured GPS navigation system, one shortcoming of the phone is it's slightly small screen size (3.2″). Typical dedicated GPS devices have a screen size of about 4″. Whilst the Nokia 5230 will take you from A-to-B and is a great addition to this phone, you'd probably be better off investing in a dedicated GPS device if you spend a lot of time on the road.
What can I do with 500MB internet?
It'll allow you to read about 5,000 web pages using your mobile phone browser every month. See our detailed guide to what 500MB and 1GB actually mean.
Where can I get this deal?
You can get this deal through the T-Mobile website. The Nokia 5230 costs £99.99 when bought with a £10 top-up (so the total cost is £109.99). Delivery is included in the cost of the phone.
About Ken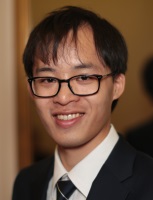 My passion is helping people to get the most out of their mobile phone. I've been blogging at Ken's Tech Tips since 2005.
Aside from writing about mobile technology, my interests are in software development, digital marketing and physics. Outside of the blog, I work with numerous technology companies helping them to explain their product and helping them to market it to consumers. Please get in touch for more information.