July 29th, 2014
If you're joining EE, you now have a choice between two types of contract: the standard 4GEE and the faster double-speed "4GEE Extra".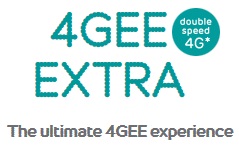 Customers joining EE now have a choice between two types of contract. There's the normal 4GEE offering which gives download speeds of around 15Mbit/s (around 4 times faster than using 3G). There's also the newer and more premium "4GEE Extra" which has double-speed 4G with typical download speeds of around 30Mbit/s (around 8 times faster than 3G). Customers on 4GEE Extra will also benefit from inclusive EU roaming (call & text from Europe at no extra charge).
On the regular plans with normal 4G, prices start from £13.99/month for 500 minutes, unlimited texts and 500MB of data. On the more premium 4GEE Extra, you're looking to pay at least £21.99/month for 1000 minutes, unlimited texts and 2GB of mobile internet.
Is double-speed 4G a worthwhile upgrade? How much difference does it actually make in everyday usage? Is normal 4G already fast enough? In this article, we'll answer your questions about 4GEE Extra and double speed 4G internet.