March 26th, 2015
Samsung's Galaxy S6 Edge will launch in the UK on April 10th. We compare the best value deals on EE, O2, Three and Vodafone.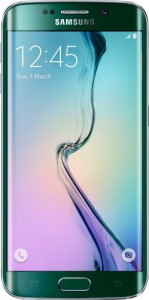 Along with the normal Galaxy S6, Samsung is also launching a new super-premium version of their flagship smartphone. The Galaxy S6 Edge is an enhanced version of the normal Galaxy S6 (the Quad HD Super AMOLED display now gently curves away on both sides of the handset). The curved-edge display greatly enhances the glass and metal design making the Galaxy S6 Edge an eye-catching smartphone that's bound to turn heads. The Galaxy S6 Edge also has 64GB of storage as standard (the normal Galaxy S6 has only 32GB).
In the UK, the Galaxy S6 Edge is available from April 10th, 2015. You can get it on Pay Monthly contracts from EE, O2, Three and Vodafone. Between them, the four mobile networks are offering the Galaxy S6 Edge on nearly fifty different tariffs at a range of price points.
In this article, we list all the available tariffs for the Galaxy S6 Edge in the UK. We'll also compare across all of the tariffs to find the best value deal with varying amounts of data.
Looking for the normal Galaxy S6? See our Galaxy S6 price comparison article.