March 1st, 2015
In the UK, almost all mobile phone plans have a monthly limit on how much you can download. In this article, find out what you're able to do with a gigabyte of data. Also, discover the right data plan for your usage every month.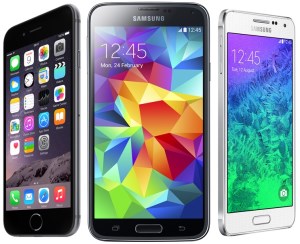 After choosing a new smartphone, the next thing you'll need to do is to choose an appropriate tariff on which to use the handset.
In the old days, choosing a mobile phone tariff was simple. You simply needed to know how many minutes and how many texts you wanted every month. In the new world of high-tech 4G smartphones, choosing a tariff is now much more complicated. Instead of minutes and texts, it's now all about the data. You'll need to work how many gigabytes you want per month (on average, that's about 2GB per month but it depends very much on how you use the handset).
On today's smartphones, almost all of the functionality requires data to work. You'll need data when browsing the internet, when sending messages on WhatsApp and when reading your e-mail. You'll also need data when using applications such as Facebook, Twitter, Instagram, Spotify, Skype and YouTube. Unfortunately, different apps and activities all consume data at substantially different rates. This can make it a little bit tricky to work out how much data you'll actually need every month.
In this article, we'll explain the real-world meaning of monthly download limits. We'll show you what a gigabyte of mobile data actually means in reality: how many web pages you'll be able to access, how many messages you'll be able to send and how many apps you'll be able to download. We'll also help you to find the best value data plans available for your handset. Finally, we'll show you how to measure your current data consumption and how to make your monthly allowance go a lot further.