August 1st, 2014
The Moto E is one of the best budget Android phones available today. Prices start at £85 SIM-free, £79 on Pay As You Go or £7.50/month on a Pay Monthly contract.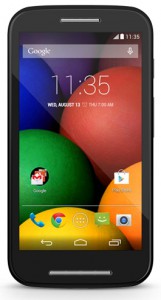 If you're looking for a great value smartphone at a fraction of the cost of the latest iPhone or Samsung Galaxy, the Moto E from Motorola should certainly rank amongst your top choices.
Starting from only £84.95 SIM-free and unlocked, the Moto E manages to distill the modern smartphone back to its basics. There's no fancy bells or whistles on this low-cost device: gone is the eye tracking, the fingerprint security and the heart rate monitor found on flagship handsets. All you're left with is a good value smartphone that manages all the basics quickly and efficiently.
Amongst the key features, the Moto E has a 4.3-inch display at qHD resolution (960×540 pixels). With 256 pixels per inch, the screen is much sharper than on many rival devices within the same price range. There's Gorilla Glass protection and a water-resistant splash guard to protect your phone during everyday use.  The handset also includes a long-lasting 1980mAh battery, the latest version of Android (Android 4.4 Kit Kat with more than a million downloadable apps via Google Play) and a micro-SD card slot for your photos, music and videos.