July 31st, 2015
The third-generation Moto G smartphone is now available to buy in the UK. In this article, we compare the best value deals on SIM-free, Pay As You Go and Pay Monthly contracts.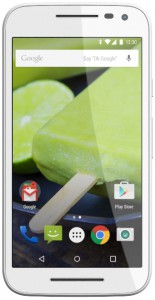 If you're looking for a good-value, affordable mid-range smartphone, my current recommendation is to buy a Moto G. The Moto G has some fantastic specifications at only a third of the price of an iPhone 6 or Galaxy S6.
The latest Moto G smartphone (the 3rd Generation edition) was released at the end of July 2015. It has IPX7 waterproof protection and some other top specifications including a 13-megapixel camera with dual-LED flash, a 720p high-definition display, 4G connectivity and the latest version of Google's mobile operating system, Android 5.1 Lollipop.
The most notable feature about the Moto G smartphone is its incredibly low price compared to other devices. The Moto G (3rd Generation) starts from only £140 unlocked and without a contract. In contrast, the iPhone 6 and Galaxy S6 typically cost around £500 SIM-free and unlocked. For the average user, this makes the Moto G totally unrivalled in terms of value for money.
In this article, we look at the best value deals for buying a Moto G smartphone in the UK. We'll start by looking at the best deals for an unlocked Moto G. We'll then go on to find the best value deals on Pay As You Go and on Pay Monthly contracts.