Commentary: Ken Lo looks at the mobile application revolution and tries to imagine what the smartphone application of 2015 might look like.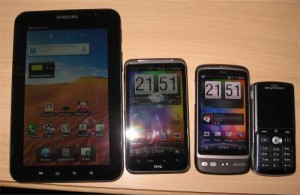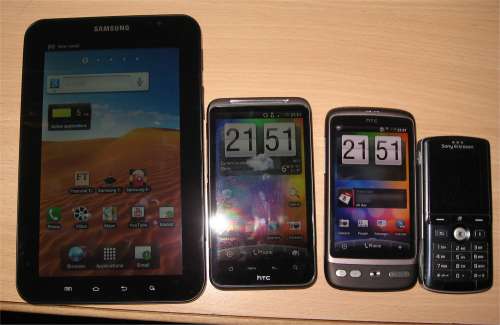 Several years ago, nobody would have ever predicted what has happened to the humble mobile phone in 2010. They said that phones would keep getting smaller and smaller yet the trend over the last year seems to have been towards larger phones (image to right: Galaxy Tab (November 2010), HTC Desire HD (October 2010), HTC Desire (March 2010), Sony Ericsson k750i (2005)). A few years ago they said we would all be using picture messaging and making 3G video calls – that never materialised. The journey of the humble mobile phone has taken many twists and turns and it's difficult to predict what the phones of 2011 might look like let alone the phones of 2015.
Looking back with hindsight, it's a wonder why it nobody predicted the rise of the application and why it took so long for the humble application to integrate itself into our everyday life. Whilst my mobile phone of 2005 could run some Java applications, the user experience was absolutely terrible and the lack of a data connection meant the apps were very limited in functionality. The launch of the App Store by Apple in July 2008 has been widely credited as the turning point for mobile applications and now everybody's in on the game. There are now dozens of app stores for different platforms: Android Market, Blackberry App World, Ovi Store, Samsung Apps and Windows Marketplace just to name a few.
Your mobile phone is a very personal item. How many other things in life do you take with you everywhere you go? It's the first thing you check in the morning, the last thing you check at night… you take it to work, you take it home… you take it on holiday with you and then curse it when your boss calls to ask where you filed the stapler. You start getting withdrawal symptoms when you're without it. With the mobile phone being such a personal item, it's no wonder why people have really taken to customising their phones and finding new things to do with it. Looking forward to the next decade, there is a huge potential for new mobile applications which will improve and change the way we live our lives.
In this article, we've looked at some of the applications of 2010 and tried to predict what they might look like in 2015. It's not been an easy job but we hope it's at least a taste of what might be to come. Don't complain to us in 5 years time if we're wrong though!
Prioritising communication & information in 2015


photo: Mercedes..
With the huge volumes of incoming communication and information we all receive today, do you ever feel that you're working for your phone when your phone should actually be working for you?
Your modern smartphone already knows tons of stuff about you. It knows exactly where you are based on GPS geolocation and exactly what you're doing from your calendar. Based on this information, the smartphone application of 2015 will intelligently prioritise incoming communications and information.
According to your Outlook calendar, you're in a meeting with the boss at 2pm. Why should you have to manually switch my phone to silent each time you go into a meeting? Why should the caller still have to wait 8 rings before reaching voicemail even though you definitely won't be able to pick up the phone? Based on scheduling information, why shouldn't the phone simply take a message for you and transcribe it to a text message so you can read it later?
You usually go to sleep at midnight and you don't want your sleep to be disturbed. You turn off your phone or switch it to silent before going to sleep. With the smartphone application of today (e.g. Timeriffic for Android), you could ask your phone to switch to silent at a certain time each night (e.g. midnight). In reality, that's a terribly general rule to set. What if you're out clubbing? What if you've got a deadline in the following morning and it'd be inappropriate to receive a call even before midnight?
The smartphone application of 2015 would be much smarter. If you're out clubbing with your friends in the early hours (based on Facebook events and GPS location), you'd probably want your phone to be at maximum volume rather than silent. If you've got an important deadline or exam tomorrow morning, you probably don't want to receive a call even before midnight. And if you receive an invite to a party on Facebook – you really don't want to know about it. You don't want to have to manually RSVP "Not Attending" – your smarter phone should do it all for you.
Shopping in 2015


photo: donebythehandsofabrokenartist
Think about your grocery shopping experience. It's pretty dismal. You walk around the store picking up all the things you want and fill up your trolley. Then when it comes to checkout, you've got to take everything out of the trolley and stick it on the conveyor belt. You wait for the operator to fumble around finding the barcode to scan… then you put it straight back in the trolley! It's a hugely inefficient process and a waste of time.
In 2015, there will be applications for your smarter phone will make use of Near Field Communication technology (RFID). Google's new Nexus S phone will be one of the first phones with NFC technology built in. You'll walk round the supermarket putting your groceries into the trolley as before. However, using NFC-technology, your mobile phone will record every item you put in your trolley. It'll add up the price for you and you'll simply tap it on a reader when leaving the store. The application arranges the entire payment process for you. There are no queues, no need to unpack and repackr groceries and no need to carry round cash and change. Fantastic.
Travelling in 2015


photo: sergeant killjoy
Nobody likes travelling. What's the quickest way to get from A to B? Is it quicker to drive, take a train or take a bus? How much does it cost to get there? Are there any delays or traffic jams that I should be aware of? Which ticket provides the best value: a single, a return or a travelcard?
The smartphone of today can't really help you answer these questions. If you know you're driving, you could take advantage of Google Maps and free turn-by-turn GPS navigation. If you know you want to hire a car, you can use the Zipcar application. If you know you want to catch a train, you can view train times on the National Rail Enquiries app. But what if you don't know the best way of getting from A to B? What if you just want to get from A to B in the simplest possible way with the least hassle and the lowest cost?
The smartphone application of 2015 pulls in information such as traffic conditions, rail delays and ticket prices into one application. Specify your destination and it'll work out the best way of getting to A and B taking everything into account. Easiest to drive? The fastest route will be pre-loaded into the GPS navigation software . Easiest to get a cab? It'll automatically find the nearest available cab (using GPS technology) to reduce how long you need to wait. Easiest to use public transport? The app buys the cheapest tickets for you. You no longer need to queue at the station: just tap your NFC-enabled phone onto an Oyster-style ticket reader and walk straight on.
Communicating in other languages in 2015


photo: ButterflySha
The mobile phone has made it easy to stay in touch with friends and family wherever you are in the world. It allows you to send a message or make a call between any two points on Earth with mobile signal. Yet whilst it has broken down geographical barriers, it hasn't yet broken down communication barriers such as language.
Two of the applications I've recently been really impressed with are Google Goggles and Google Translate. Both applications feature in-built translation technology. Goggles allows you to take a photo of a sign or a menu in a different language and it'll translate it into your native language. Translate allows you to say something in your native language (using voice-to-text technology), translates it into a different language and then reads it back out. Combined, these two applications have the potential to bring down the communication barriers between people speaking different languages.
That said, in 2010, these applications aren't yet practical. Refinements are being made – for example Google are currently working on a "Conversation Mode" feature. By 2015, we think this technology will be good enough that you'd be able to visit a foreign country and communicate fluently with the locals.
What apps would you like to see in 2015?
What do you think the application of 2015 would look like? What parts of your life could your phone ideally help you out with? What kind of applications would make the biggest difference to your life? Drop us a comment below, we'd love to hear from you!