If you're struggling to pick up a decent mobile signal, Vodafone's Sure Signal promises more reliable coverage within your home. It's perfect for basement flats and for anyone living in the countryside.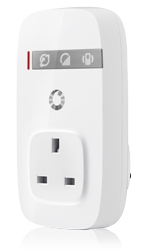 Depending on where you live, it can sometimes be a nightmare to pick up reliable signal on your phone. Poor mobile coverage leads to phone calls being dropped, text messages being delayed and battery life being worse. For people living in certain places (e.g. a basement flat, a house with thick walls or a location in the countryside far from the nearest mast), poor signal often makes it difficult to find a reliable service on any of the mobile networks.
For customers on Vodafone, it's possible to improve your mobile coverage at home using the Sure Signal box. The £100 box creates a 3G signal spanning 30 meters from where it's plugged in to the wall. It works with all 3G handsets on Vodafone (you'll need to be either a Pay Monthly or Pay As You Go customer). You also need to have a home broadband connection for the Sure Signal box to connect to Vodafone's network.
In this article, we review the Vodafone Sure Signal.
About Sure Signal
Femtocell Technology
Vodafone's Sure Signal is a small femtocell designed to be installed at home. For Vodafone customers living outside of the coverage area, the Sure Signal box gives 3G coverage that's stronger and more reliable. You can use the stronger signal for calling and texting rather than the weak signal your phone will normally use. With the stronger 3G signal, it should bring an end to phone calls being missed and also text messages being delayed. There can also be a noticeable improvement to your smartphone's battery life.
Sure Signal works by routing your phone calls and text messages over a home broadband connection: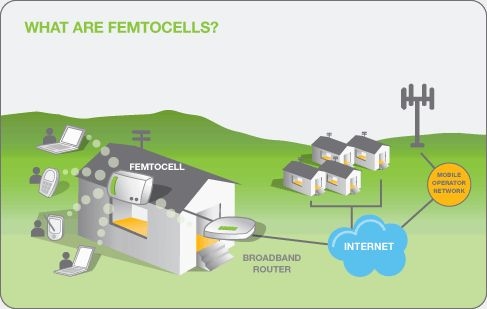 The box plugs straight in to a power socket and provides access to up to 8 devices at a time. You can register up to 32 Vodafone numbers to be allowed on the service.
Sure Signal VS Wi-Fi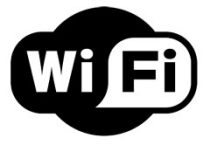 With normal wi-fi, you're able to browse the internet without using a 3G connection. This includes using most apps on your smartphone: for instance sending instant messages, reading e-mails and watching videos online. The limitation of wi-fi is you aren't normally able to make or receive phone calls: your smartphone still needs 3G for calling and texting. With Sure Signal, you'll have a reliable 3G connection in addition to wi-fi at home. This means an end to dropped phone calls and text messages being delayed.
N.B. It's also possible to browse using Sure Signal 3G. However, we strongly recommend using wi-fi instead. If you're browsing the internet over Sure Signal 3G, data will be deducted from your monthly download allowance. By using wi-fi directly, the data bypasses Vodafone's network and doesn't count towards your mobile download limit.
Safety
The Sure Signal box emits low-power radio waves (a 2100MHz 3G mobile signal). The level of radiation is similar to wi-fi and is deemed to be safe. See the EMF Explained website for more information.
Requirements
In order to use Sure Signal, you'll need all of the following:
A sufficiently fast home broadband connection. The minimum required speed is 1Mbit/s. It's recommended to have a faster connection: ideally 4.2Mbit/s or faster. You can check the speed of your broadband connection at SpeedTest.net.
An account at Vodafone. The 3G signal emitted by your box can only be accessed from handsets on Vodafone. You'll need either a Vodafone Pay Monthly contract, a Vodafone SIM Only deal, a Vodafone Pay As You Go tariff or a Vodafone Business contract. The Sure Signal service isn't compatible with Vodafone MVNOs (e.g. Lebara Mobile, Mobile By Sainsbury's and Talkmobile).
A 3G smartphone. The Vodafone Sure Signal box only emits a 3G signal. Your handset must have support for 3G connectivity. 2G-only handsets will not work with the service. 4G handsets will always drop to 3G when making or receiving phone calls.
Alternatives
Sure Signal is only available to customers on Vodafone.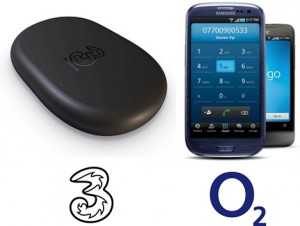 For customers on Three, it's possible to use a Home Signal box. This works in much the same way as Vodafone's Sure Signal (both Home Signal and Sure Signal use femtocell technology). Unfortunately, Three's Home Signal is only available to eligible customers. There's no way of buying the Home Signal box: you'll only be sent it at the discretion of Three. For anyone living in a mobile coverage blackspot, we'd still recommend Vodafone as it's much easier to get a Sure Signal box.
For customers on O2, it's possible to use the TU Go application (available on iPhone and Android). TU Go allows you to make and receive calls using a wi-fi connection. Hence, you're able to call and text even without mobile coverage. There's also an extra benefit in that you can use it out-and-about e.g. on the London Underground. With Sure Signal, the extra coverage is limited to your house.
Price
The Sure Signal box costs £100 and can be purchased from the Vodafone website. There's no need to pay any extra monthly subscriptions, through you'll still have the monthly subscription charges on your Vodafone Pay Monthly contract. You'll also need to provide a working home broadband connection (minimum speed of 1Mbit/s, recommended speed is 4.2Mbit/s or faster).
More Information
For more information on the Sure Signal service, please see the Vodafone website.