OVIVO Mobile, the ad-supported network, closed down on the 19th of March. Find out how to keep your phone number & how to restore your mobile phone service.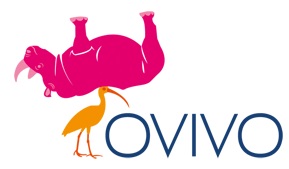 In a sudden announcement yesterday evening, OVIVO Mobile, announced the closure of their mobile phone service. In a message posted on their website, they wrote:
We are very sad to announce that for reasons beyond our control, OVIVO Mobile is closing down on the evening of Wednesday 19th March 2014.
As of March 19th, coverage has been cut from OVIVO Mobile customers. This means anyone with an OVIVO Mobile SIM card won't be able to make or receive phone calls. SMS and mobile internet access has also been disabled. OVIVO customers will need to follow the instructions below to restore their mobile service.
Keeping Your Phone Number & Restoring Mobile Service
As OVIVO Mobile has shut down their service, you must switch to another network provider in order to restore service. After your phone number has been transferred to another network (this can take up to one working day), service should then resume on your handset. After transferring, you'll also be able to receive calls and texts again.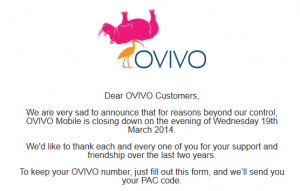 1. First of all, request your PAC Code from OVIVO (Urgent).
You can request a PAC Code through a form on the OVIVO website.
As per OFCOM regulations, OVIVO should issue a PAC Code within 2 hours of your request. Given the situation with the network suddenly closing, it's possible there could be delays. Also, it's not known how long the website will be up for. Hence, we'd recommend submitting your request as early as possible. Once you've gotten a PAC Code from OVIVO, your phone number will be safe.
2. Find a new home for your number.
You'll need to find a new mobile network at which to store your phone number. Unfortunately, there aren't any networks offering a free service as OVIVO previously did. However, the following two options are fairly low cost and can be possible alternatives:
giffgaff has offered to help ex-OVIVO customers: they're sending SIM cards by first class post until the 23rd of March. They're also offering £5 of free credit for customers transferring their phone number from OVIVO to giffgaff. You can order a free giffgaff SIM card via this link.
For a full list of options, please see our guide on Pay As You Go SIM cards.
3. Provide your PAC Code to the new network.
After finding a new home for your number, insert the new SIM card into your unlocked handset. You'll then need to contact your new network and provide them with the PAC Code issued by OVIVO.
For full details on how to use your PAC Code from OVIVO, please select your new mobile network:
PAC Code Finder: How to use your OVIVO PAC Code
Your phone number is normally transferred on the next working day after providing the PAC Code (there's a daily cut-off point around 5pm after which it'll take two working days). After the transfer is complete, service should then be restored on your new mobile network. You'll once again be able to make and receive calls from your number.
For more information, please see our in-depth article on how to use a PAC Code.
Frequently Asked Questions
Will it be possible to get a refund for the £20 sign-up fee or unused PAYG credit?
We're still waiting for full details on the OVIVO Mobile shutdown. At present, it's believed to be unlikely that customers will receive a refund for their sign-up fee.
If you recently signed up, you might be able to reclaim your £20 sign-up fee through a credit card chargeback.
What happens if I try to call someone on OVIVO?
The call will fail to connect as OVIVO's service has been disabled.
Will I receive the free cinema tickets from OVIVO's Film Festival?
If you've already received a promotion code via e-mail, you can redeem it for a cinema ticket at www.rewardprocessing.com/ovivofilmpromotion. If you're yet to receive a code from OVIVO, it's not known whether you can use this promotion.
How do I contact OVIVO Customer Support?
OVIVO Customer Support can be reached on 020 3463 1332 (open 8am-8pm from Monday to Friday and 9am-6pm on Saturdays). As of March 20th, the customer support number has been removed from OVIVO's website. It's not known whether they're picking up the phone.
Background
According to a press release last month, OVIVO Mobile "has more than 50,000 subscribers". In February, they were "seeking investment of £3 million" for their "next stage of planned expansion".
Historically, the ad-funded model hasn't worked so well for UK mobile operators. The shut down of OVIVO's service mirrors that of Blyk: an ad-supported network which closed in 2009.
This story is currently developing… we'll update it with more information once we receive it.