giffgaff offers Always On data with unlimited downloading from £25/month. 4G speeds are available on the first 40GB of data.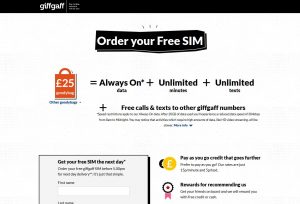 In the UK, giffgaff offers an "Always On" data package with unlimited downloading from £25/month.
Available with no contract and no credit checks, the £25 goodybag gives you peace of mind over your mobile data usage. On the goodybag, you'll never run of data in the middle of the month. You'll also never see unexpected charges for using too much data.
In this article, we'll review giffgaff's Always On data including what you're able to do with it and how it compares to alternative unlimited data plans. We'll also look at the range of available Always On plans, the level of coverage you can expect and how you can use it when abroad.
Order giffgaff SIM card (Free) →
What is Always On Data?
Unlimited Downloads & Peace of Mind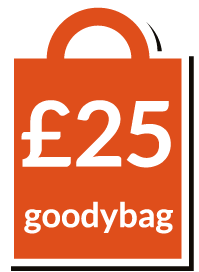 In the UK, giffgaff is a low-cost sub-brand of O2 offering their customers lower prices and greater flexibility.
giffgaff's flagship product is their £25/month goodybag with 'Always On' data, unlimited minutes and unlimited texts. The product is designed to give you the ultimate peace of mind that you'll never run of data in the middle of the month. As such, there are no download limits with Always On data (there is only a reduction in maximum download speeds when you use more than 40GB of data in a month).
Being a pre-paid product, an important benefit of giffgaff's £25 goodybag is you won't be able to incur unexpected charges. Spending is limited to the money you've already topped up on to your SIM card so there's no chance of receiving an unexpected large phone bill. This makes it perfect for younger mobile users who want more control and also for parents who are giving a SIM card to their children. There's no need to undergo a credit check for the service, and no need to sign any contracts.
3G or 4G Download Speeds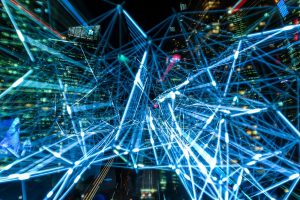 With giffgaff's Always On data, there are no hard limits on how much you can download. One thing that's worth being aware of, however, is the restriction on maximum download speeds if you pass a 40GB per month threshold.
Assuming your data usage is less than 40GB per month, you'll have full access to high-speed 4G internet. If your data usage were to pass 40GB during a given month, maximum download speeds would be restricted between 8am and midnight each day until the end of the month. The reduced download speed is 384kbps (equivalent to a normal 3G connection).
At a restricted download speed of 384kbps, it's still possible to use the vast majority of functionality on your smartphone. Web pages may load a little bit slower, but it should still be possible to listen to music or radio online. Video streaming services like YouTube and Netflix may encounter some buffering due to the maximum download speed.
Between midnight and 8am each day, full 4G download speeds will always be available. If you'd like to bypass the speed restrictions between 8am and midnight, you can alternatively choose to renew your goodybag early.
Prior to the 3rd July 2019, only the first 20GB of data per month was available at full 4G speeds. All newly purchased goodybags from the 3rd July 2019 onwards will give you 40GB of full-speed data each month.
Tethering & Personal Hotspot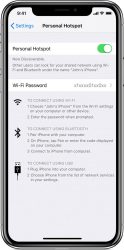 Tethering or personal hotspot refers to the process of sharing your smartphone's internet connection with other devices (for example, with your laptop or tablet).
On giffgaff's £25 Always On goodybag, tethering and personal hotspot are permitted (but will be subject to the same 384kbps speed restriction if you use more than 40GB per month).
Between September 2015 and August 2017, tethering was only permitted on the first 6GB of data per month when using Always On data. This restriction on tethering and personal hotspot has since been removed and no longer applies to newly purchased goodybags.
Traffic Flow
giffgaff operates a traffic management policy known as Traffic Flow.
According to the Traffic Flow policy, customers "who have been identified as using the network in a way which impacts other members, consistently over a period of time" will be emailed about their usage and given an opportunity to change their behaviour. This applies to customers with "consistent extreme usage of data in peak times".
The policy continues: "members who have been warned but not modified their behaviour, will be prevented from repurchasing an Always On data goodybag in the future". giffgaff's full traffic management policy is published on their website.
Comparison to Alternatives

Aside from giffgaff's Always On data plan, it's also possible to get unlimited mobile data in the UK on one of Three's all-you-can-eat data plans.
With Three's all-you-can-eat data plan, you'll get unlimited downloading and 4G speeds subject to coverage availability. It's possible to get all-you-can-eat data on Three Pay As You Go for £35/month.
There are also a number of plans in the UK that give you unlimited data for use with selected applications (e.g. applications like Netflix, YouTube, Facebook, Twitter, etc). For more information, see our in-depth guide to unlimited mobile data plans in the UK.
Always On Data Plans
The easiest and cheapest way to benefit from Always On data is by ordering a free giffgaff SIM card and placing it inside your unlocked smartphone. You can then purchase giffgaff's £25 goodybag which will give you access to Always-On data for one month.
If you'd like a brand new smartphone, you can also choose to buy it directly from giffgaff with a £25 goodybag.
SIM Only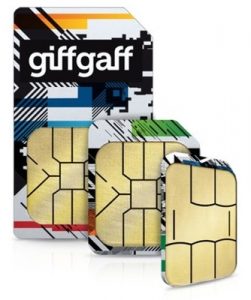 If you already have an unlocked smartphone that you're happy to keep, giffgaff offers a free SIM card on their website which slots inside your unlocked smartphone.
Once you have a giffgaff SIM card, you can purchase their £25 goodybag which gives you Always On data, unlimited minutes and unlimited texts:
Tariff
Minutes
Texts
Data
Monthly
Cost

Unlimited

Unlimited

Always-On

£25.00
There is no need to sign a contract or to undergo a credit check when ordering a free SIM card from the giffgaff website.
Pay Monthly
If you'd also like to buy a brand new smartphone, you can purchase it from the giffgaff phone store on a 24-month payment plan. More than 50 handsets are currently available to buy, but the following table shows an example of how much you'd pay for an iPhone X or iPhone 8 with Always On data: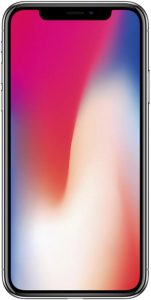 iPhone X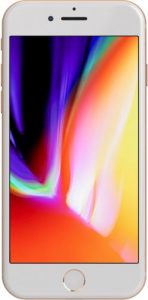 iPhone 8
For a full list of available handsets, please see the giffgaff website. In some cases, it may work out to be cheaper buying a handset elsewhere and then ordering a free giffgaff SIM card.
Coverage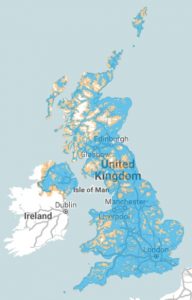 giffgaff is a virtual network operator, making use of O2 as its network coverage provider. For this reason, customers joining giffgaff on their Always-On data plan will receive the exact same coverage as customers on O2.
At the time of writing, this means giffgaff offers 99% population coverage in the UK (including 98% coverage on 3G and 97% coverage on 4G). You can check the coverage in your area by entering your postcode on giffgaff's online coverage map:
Check giffgaff coverage (giffgaff.com) →
For more information about coverage on different mobile networks, see our full guide to mobile phone coverage in the UK.
International Travel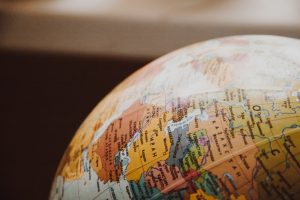 With giffgaff's Always On data goodybag, you'll be able to use your allowances abroad in other European countries.
Whilst you're travelling in Europe, a fair usage policy of 40GB per month applies to your mobile data usage. If you exceed the 40GB limit, you'll pay a surcharge of 0.46p/MB (equivalent to £4.60 per gigabyte). This is charged against your Pay As You Go credit.
Outside of Europe, it's not possible to use your Always On data allowance. Instead, you'll need to pay giffgaff's international roaming rates which are between 20p and £5 per megabyte (equivalent to between £200 to £5,000 per gigabyte). For this reason, it will normally be cheaper to use a different network when travelling outside of Europe. Our in-depth guide to using your mobile phone abroad has more information about how to save on roaming charges.
At present, giffgaff does not offer any 4G coverage whilst roaming. For this reason, you'll be limited to 3G speeds whilst you're travelling abroad.
Keeping Your Phone Number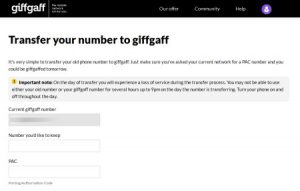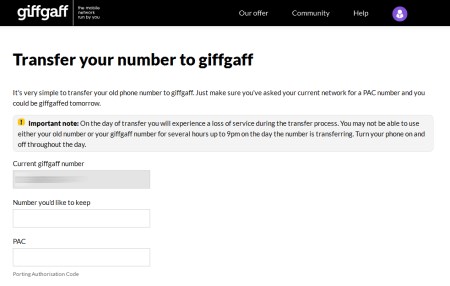 If you're switching to giffgaff to take advantage of Always On data, it's a straightforward process to keep your existing phone number.
Firstly, you should start by ordering your free SIM card from giffgaff. Once you've done that, contact your current mobile network and ask them to provide you with a PAC Code. This is a nine-digit code that authorises the transfer of your phone number to giffgaff, and it must legally be provided to you within two hours of your request.
When your SIM card arrives, activate it online and then fill out the number transfer form on giffgaff's website. After you do this, your phone number will normally be transferred over to giffgaff on the next working day.
For a step-by-step guide on transferring your phone number to giffgaff, please select your current mobile network from the drop-down menu below:
PAC Code Finder: Transfer Your Phone Number to giffgaff
Please be aware that it isn't possible to transfer credit from your existing mobile network over to giffgaff. For this reason, you should try to use up your remaining credit before transferring your phone number to giffgaff.
More Information
For more information about Always On data, please see giffgaff's official website.