Customers choosing a Pay Monthly contract from EE can get a free upgrade to 10GB of data per month when they also sign up for EE's home or fibre broadband.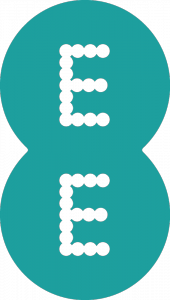 If you're currently signing up for EE Pay Monthly, you can receive a free upgrade to 10GB of data per month when you also sign up for EE's home broadband service. The Broadband Data Boost offer is available to customers who are either taking a 24-month mobile contract or a SIM only contract from £22.99/month. The free data boost will last for the minimum term of your contract providing you keep the broadband service active (that's 24 months of boosted data for most Pay Monthly users). The offer is only available to new EE customers who take a mobile phone contract at the same time as home broadband.
In this article, we review the Broadband Data Boost offer from EE. We'll look at the mobile tariffs on which you're able to get the offer. We'll also look at EE's line-up of compatible broadband tariffs. Finally, we'll look at EE's coverage for mobiles and for home broadband and we'll discuss how you're able to keep your current phone number when taking advantage of the deal.
The 'Broadband Data Boost' Offer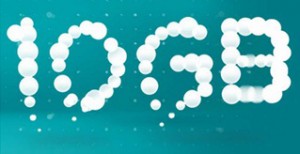 Broadband Data Boost is a special offer for customers who take both an EE mobile phone contract and an EE home broadband service. Providing the two services are taken at the same time, the data allowance included on your mobile contract will be boosted as follows:
Mobile Tariff
Monthly Price
Data Boost Offer
Pay Monthly
£46/month or below
Boost to 10GB per month
More than £46/month
Boost to 20GB per month
SIM Only
Less than £22.99/month
Not available
£22.99/month or more
Boost to 10GB per month
You can use the data boost offer with one of EE's shared 4G plans (this would allow your whole family to benefit from the boosted data).
Potential Savings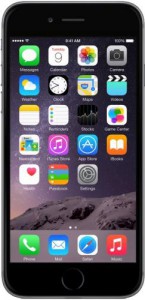 Depending on your tariff, there can be fairly significant savings using the 'Data Boost' offer.
To give an example, let's say you were to order an iPhone 6. For 10GB of double-speed 4G data, you'd normally pay £33.99/month plus £259.99 upfront.
With the Data Boost offer, you could instead choose to buy the iPhone on a substantially cheaper tariff. For instance, you could choose a plan with 2GB of data. This would cost you £22.99/month plus £379.99 upfront. After using the Data Boost offer, you'd have the same 10GB allowance as on the more expensive plan. This would come with an £11/month saving (the total cost saving would be £184 over 24 months once we've accounted for the difference in the upfront handset price).
You can see a full list of available tariffs and handsets over at the EE website.
EE Home & Fibre Broadband Packages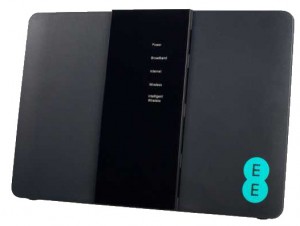 To benefit from the 'Data Boost' offer, you'll need to sign up for EE home or fibre broadband at the same time as getting your mobile phone.
EE currently has a choice of five packages for home and fibre broadband. All five packages come with unlimited downloads but they differ in maximum speed and also the amount of included calls. The lowest-price deal is their unlimited home broadband package with weekend landline calls. It costs £2.50/month for the first 12 months and then £9.95/month after the 12 months. Assuming you keep the package for 24 months in total, the average monthly cost is £6.23.
Broadband Type
Download Speed
Inclusive Calls
Monthly Cost
Average Cost*
Home Broadband


(12 month contract)

Up to 17Mbit/s
Weekend Landline
£2.50/month (first 12 months)
£9.95/month thereafter
£6.23/month
Up to 17Mbit/s
Anytime Landline
1000 mins to mobile
£7.50/month (first 6 months)
£14.95/month thereafter
£13.09/month
Fibre Broadband


(18 month contract)

Up to 38Mbit/s
Anytime Landline
1000 mins to mobile
£10.00/month (first 3 months)
£24.95/month thereafter
£23.08/month
Up to 76Mbit/s
Weekend Landline
£15.00/month (first 3 months)
£29.95/month thereafter
£28.08/month
Up to 76Mbit/s
Anytime Landline
1000 mins to mobile
£20.00/month (first 3 months)
£34.95/month thereafter
£33.08/month
Line Rental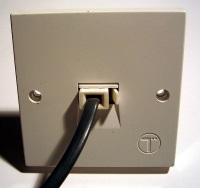 As part of the EE broadband service, you'll also need to pay your landline rental fee directly to EE. EE currently charges £15.75/month for standard line rental. If you pay for 12 months line rental upfront, the cost is reduced to £132 per year (or the equivalent of £11/month). To benefit from lower line rental, ask EE for the 'Line Rental Saver' option.
EE's line rental is cheaper than BT. If you were to pay your line rental directly to BT, it would cost £15.99/month (or £13.32/month with BT's Line Rental Saver option).
If you need a phone line to be installed at your property, EE will charge you a fee of £60. If you're still in a contract with your previous internet provider, there might also be a fee for ending your contract early. At the time of writing, EE says they'll cover the "cost of ending your existing home broadband contract early, up to £100".
Coverage & Network
Mobile Coverage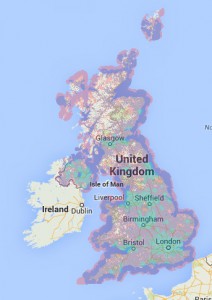 EE currently has 99% population coverage across the UK. They provide this in the form of 2G, 3G and 4G coverage. They also have a double-speed 4G service in selected parts of the UK. 4G coverage currently stands at 75% of the UK population. According to EE, they're hoping 98% of the UK population will have double-speed 4G by the end of the year.
Before ordering your phone from EE, it's worth checking their online coverage map.
Home & Fibre Broadband Coverage
EE currently offers fibre broadband to 15 million households and standard home broadband to 85% of the population. Customers living outside of the EE broadband network area are still able to get a service from EE but will need to pay a bit extra. Consult the postcode checker on EE's broadband website for further information about the tariffs available to you.
Check EE Broadband Speed & Availability →
Switching to EE: Keep Your Current Phone Number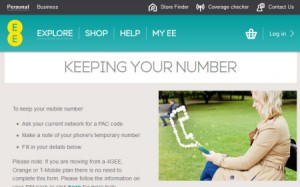 It's a straightforward process transferring your mobile phone number over to EE.
The first step is contacting your old network and asking them to provide you with a PAC Code (a Porting Authorisation Code). The PAC Code will authorise the transfer of your mobile number over to EE.
After getting the PAC Code from your old mobile network, you should order the new handset from EE. Once the phone has arrived and after you've double-checked to make sure everything's working properly, head over to this online form where you're able to submit the PAC Code to EE.
After submitting the PAC Code, your phone number transfer will normally be scheduled for the next working day.
For a step-by-step guide on how to move your mobile number to EE, please use our PAC Code Finder tool:
PAC Code Finder: Transfer Your Phone Number to EE
Switching Your Home Broadband
If you already have broadband with another provider, you'll need to contact your old ISP to obtain a MAC Code (a Migration Authorisation Code). The MAC Code will allow EE to take control of the home broadband on your landline. A MAC Code is 17 to 19 characters long (it consists of four letters followed by seven to nine numbers, a slash and then five alphanumeric characters e.g. LAEM1234567/1F6HT).
There's more information on EE's website on how you're able to switch to their service.
More Information
For more information on the 'Broadband Data Boost' offer, please see the EE website. We also recommend reading the full terms & conditions associated the offer.