BT TV now includes Netflix when you choose an Entertainment-based bundle. Find out how it works and what you can watch.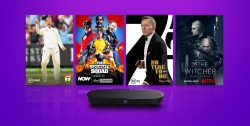 In the UK, you'll now get Netflix included when you take an Entertainment TV and broadband plan from BT.
Plans currently from £45.99 per month (£37.99 per month for the first 3 months), and allow you to stream thousands of shows and movies on-demand from the Netflix catalogue. You'll also get Sky Atlantic and other Sky TV channels through NOW, along with AMC and a set-top box with up to 600 hours of recording. BT's Fibre 2 broadband is also included in the price, giving you unlimited downloads with an average speed of 67Mbps.
In this article, we'll look at BT's Entertainment-based TV plans and at the inclusive Netflix subscription you'll now get with it. We'll also look at the best BT TV plans with Netflix included and at the other benefits of BT TV such as flexible television packages. Finally, we'll look at how you can change your broadband and TV provider to BT.