December 15th, 2015
The People's Operator brands itself as an "ethical mobile network". They'll donate 10% of your phone bill to charity and have also pledged to donate 25% of their future company profits.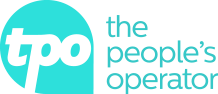 The People's Operator is a UK-based mobile network which brands itself as an "ethical" network provider.
Currently running on EE's 2G and 3G networks, TPO has both Pay Monthly and Pay As You Go offerings. The company is due to change their network coverage provider to Three in Q1 2016. When this happens, customers will lose access to the EE network. Customers will need to transfer to a new service on Three where they'll get 3G and 4G coverage from the Three network.
A unique selling point of The People's Operator is their offer to donate 10% of your monthly phone bill to charity. The company also plans to give 25% of its future profits to charity. In 2014, a total of £22,000 was donated to charity whilst the company made an annual loss of £2.3 million. As of September 2015, The People's Operator has 50,000 subscribers in the UK.
In this article, we review The People's Operator network. We'll look at their price plans and tariffs. We'll also look at their commitment to give to charitable causes. Finally, we'll discuss the level of coverage you can expect on the network and how you can keep an old phone number when switching to The People's Operator.