June 28th, 2016
Tello is a low-cost Pay As You Go network with flexible plans and competitive rates for UK & international calling.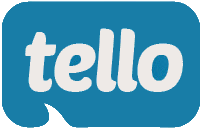 In the UK, Tello is a low-cost Pay As You Go mobile network specialising in flexible 30-day plans and low-cost UK and international phone calls. The network, which uses 3G & 4G coverage from Three, charges just 3p/minute, 3p/text and 1p/MB on Pay As You Go. There are also 30-day bundles from £3/month and international phone calls from 1p/minute.
In this article, we'll take an in-depth look at the Tello UK mobile network. We'll start by looking at the price plans available and at how the prices on Tello compare to other UK mobile networks. We'll also look at the coverage on Tello, how you can join as a new customer and how you can keep an existing phone number.