September 16th, 2014
The Moto G is one of the best value Android phones currently available. It has many of the specifications normally reserved for higher-end smartphones and starts from only £125 SIM-free and unlocked.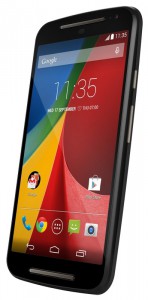 If you're looking for a great value and affordable smartphone, my current recommendation is to buy a handset from the Moto G family. The Moto G 5-inch and Moto G 4G have fantastic specifications at an even better price point.
Both handsets have a HD display (720p resolution) and a quad-core processor which should easily keep pace with the latest Android apps. There's a high-resolution 8 megapixel camera (5 megapixels on the 4G version) with a LED flash for taking photos indoors. Finally, both handsets in the Moto G family run on the latest version of Android: Android 4.4 Kit Kat. You'll have full access to the Google Play store with more than 1 million applications available for download.
What's particularly notable about the Moto G handsets is the incredibly low cost compared to rival devices. The Moto G 5-inch starts from £140 SIM-free and unlocked. Meanwhile, the Moto G with 4G connectivity also starts from £140 on Pay As You Go. With the iPhone 6 and Galaxy S5 normally retailing for more than £500, the Moto G handsets are totally unrivalled in terms of value for money.
In this article, we'll look at the three different ways of buying a Moto G: either SIM-free and unlocked, on a Pay As You Go tariff or on a Pay Monthly contract. We'll find and review the cheapest deals in the UK for both the Moto G 5-inch and the Moto G 4G. We'll also look at the first-generation original Moto G from 2013.