April 2nd, 2014
Mobile phone contracts often have a limit on how much you can download. In the real world, what can you actually do with 500MB or 1GB?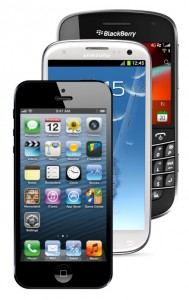 When using a smartphone, you'll need to have a suitable tariff with a large enough data allowance.
Almost all of the functionality on a modern smartphone requires data to work. Data is consumed when browsing the internet, sending instant messages, reading e-mails, watching YouTube videos, updating Facebook and Twitter and calling friends over Skype. Every activity consumes data at a different rate.
In the UK, there's a wide range of tariffs with varying download limits. Most contracts give you around 1GB of data per month but there's a large variation depending on the network you choose. On lower-cost tariffs, you'll often get 500MB per month. If you're willing to pay more, you might get an allowance of up to 20GB per month. There's also a network offering all-you-can-eat data.
In this article, we explain the real-world meaning of mobile download limits. We'll ask what 500MB and 1GB of data actually correspond to in real life. We'll also outline figures for average data consumption and we'll explain how to measure your current data usage. Finally, we'll provide a few tips on how to choose the right data allowance.