June 8th, 2014
The iPhone 5s is available to buy from five UK networks: EE, O2, Tesco, Three and Vodafone. We compare prices on each of the five networks to find the UK's cheapest deal for the iPhone 5s.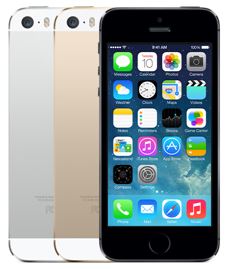 Apple's iPhone 5s is currently the most popular smartphone available in the UK. The iPhone 5s has a thin and lightweight design and contains the latest hardware from Apple including a Touch ID fingerprint sensor, a 64-bit A7 processor and an 8 megapixel Apple iSight camera.
In the UK, the iPhone 5s is currently available to buy from five different networks. Combined, there's nearly a hundred tariff options across the five networks with varying amounts of minutes, texts and data. In this article, we've compared the price of the iPhone across the UK's major networks. We'll highlight the UK's cheapest deals, the tariffs to go for and the tariffs to avoid.