May 7th, 2015
O2 currently offers "Big Bundle" packages from £10/month on Pay As You Go with 4G internet included.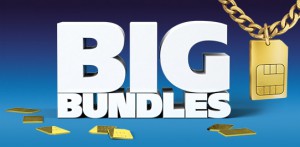 Customers on O2 Pay As You Go can buy a monthly "Big Bundles" package for a one-month allowance of calls, texts and internet. The Big Bundle packages start from £10/month: you convert £10 of your normal Pay As You Go credit into a one-month allowance of 250 minutes, 1000 texts and 500MB of 4G internet. On higher-priced bundles from £15/month, there's more minutes, texts and internet included.
In this article, we review the O2 Big Bundles tariff. We'll compare the Big Bundles offering to key alternatives such as giffgaff's goodybags, EE's Everything Packs and Vodafone's Big Value Bundles. We'll also discuss how to buy a Big Bundle and how you can join O2 as a new customer on the Big Bundles tariff.