November 25th, 2014
The Moto E is a low-cost Android smartphone available for £79 SIM-free and unlocked. It's also available from £75 on Pay As You Go and from £7.50/month on a Pay Monthly contract.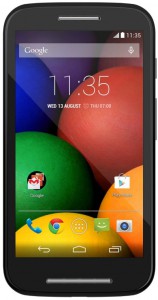 If you're looking for a great value smartphone that's a fraction of the cost of the latest iPhone or Samsung Galaxy, the Moto E should certainly rank amongst your top choices.
Starting from only £79 SIM-free and unlocked and £75 on Pay As You Go, the Moto E is an ideal gift for friends and family this Christmas. Unlike many other smartphones, the Moto E doesn't have a huge lot of fancy bells and whistles. Gone is the eye tracking, the fingerprint recognition and the heart rate monitor found on fancier handsets. Instead, the modern smartphone experience has been distilled back to basics: good performance, a good display and all-day battery life.
Amongst its key features, the Moto E has a 4.3-inch display at qHD resolution (960×540 pixels). With 256 pixels per inch, the screen is much sharper than on many rival devices sold at the same price point. There's also a dual-core processor for running your apps and games and a 5 megapixel camera for taking photos and recording videos. Added to that, there's a built-in MP3 player, a FM radio tuner and GPS navigation included for free. There's also a slot for micro-SD cards allowing you to store an extra 32GB of photos, music and video. The Moto E handset ships with Android 4.4 Kit Kat and will soon receive an update to Android 5.0 Lollipop.