February 10th, 2015
The iPhone 6 is currently the most popular smartphone available in the UK. We compare the cost of the iPhone 6 on EE, O2, Three and Vodafone. We'll also find the UK's cheapest available iPhone 6 tariff.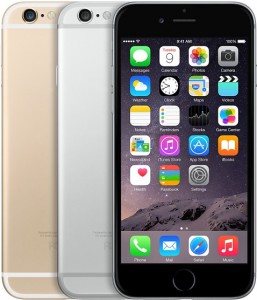 The iPhone 6 is Apple's latest and greatest smartphone. With a 4.7-inch Retina HD display, it has a super-sharp screen that 38% larger than the 4.0-inch display on the iPhone 5s. The handset has a beautifully-thin design constructed from glass, aluminium and steel. There's also a 64-bit Apple A8 processor for superior performance and there's an 8 megapixel iSight camera which takes great quality photos.
The iPhone 6 is primarily available on four mobile networks: EE, O2, Three and Vodafone. Between them, the four networks have more than sixty tariff combinations only for the 16GB version of the iPhone 6. Each tariff comes with varying amounts of calls, texts and internet. They also differ substantially in price: some tariffs will charge you more upfront whereas other tariffs will charge you more every month.
In this article, we'll help you find the best available iPhone 6 deal in the UK. Below, we've compared all of the UK's iPhone 6 tariffs in one easy-to-read table. We've also highlighted the best available deals, the tariffs to go for and the tariffs to avoid.
Looking for the iPhone 6 Plus? See our iPhone 6 Plus price comparison table.