April 6th, 2015
Customers joining EE now have a choice between two types of contract: normal 4G and the faster '4GEE Extra'. Customers with 4GEE Extra get double-speed 4G internet (4G+ is also rolling out to customers in London).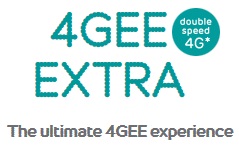 If you're joining EE on a Pay Monthly contract, you now have two types of tariff to choose from.
The basic 4G offering starts from £16.99/month and gives you download speeds of around 15Mbit/s (around 4 times faster than 3G). Meanwhile, the newer and more premium '4GEE Extra' starts from £18.49/month. Customers on 4GEE Extra get even faster download speeds: around 30Mbit/s (8 times faster than normal 3G). Customers with 4GEE Extra also get inclusive EU roaming (you can call & text from Europe at no extra charge), free calls to 080 numbers and an early upgrade 3 months before your contract ends.
For customers living in London with a compatible LTE-Advanced smartphone, EE is currently rolling out their 4G+ service. 4G+ offers download speeds of around 90Mbit/s (this is 24 times faster than 3G) and is only available to customers who have a '4GEE Extra' tariff. EE is currently aiming to have 4G+ coverage across most of London by the end of June 2015.
Is it worth upgrading to 4GEE Extra? How much difference does double-speed 4G actually make in everyday usage? Is 4G+ and LTE Advanced a worthwhile upgrade for your phone? In this article, we answer your questions about 4GEE Extra, double speed 4G internet and EE's 4G+ service.