FreedomPop Review: The UK Network With Free Minutes, Texts & Internet
September 23rd, 2015
FreedomPop is a new UK network promising a free mobile service with no monthly charges. Customers get 200 minutes, 200 texts and 200MB of internet every month.

FreedomPop is a new mobile network which has just launched in the UK today. Their headline offer is a free service with 200 minutes, 200 texts and 200MB of mobile internet. The company has been offering a service in the USA for 4 years and is now launching in the UK as their first international market.
In this article, we review the FreedomPop service in the UK. We'll look at the FreedomPop price plans and how the FreedomPop service compares to other networks. We'll also discuss the coverage you're able to get on FreedomPop.
Pricing & Tariffs
Price Plans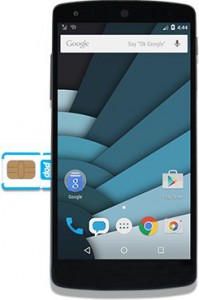 In the UK, FreedomPop currently offers a choice of three tariffs. The basic tariff has no monthly cost and comes with 200 minutes, 200 texts and 200MB of mobile internet. For frequent mobile users, FreedomPop has paid-for plans from £8.99/month:
The inclusive minutes and texts can only be used in the FreedomPop application. * For new customers, the £8.99 tariff is free for the first month.

There's an upfront charge of £6.99 when ordering your SIM card from the FreedomPop website. £5 of this is for activating your SIM card; the other £1.99 covers postage and packaging.
When you first sign up, FreedomPop will store your credit card information which will then be used automatically for additional charges. For instance, if you go over your inclusive allowance of mobile data, you'll pay 1.5p/MB for all further usage (this means you'll pay £15 for using 1GB of extra data). On the paid-for tariffs, the out-of-bundle rate is reduced very slightly down to 1p/MB (so you'll pay £10 for each additional GB of data).
There are also a couple of opportunities to earn additional free data by completing offers and surveys through the FreedomPop website.
Additional Services
A big part of FreedomPop's business model is their efforts to upsell you on additional paid-for services:
Premium Voice (£1.99/month on the free tariff; free on the paid-for tariffs). A major limitation of the FreedomPop service is that calls can only be made through the FreedomPop application. This differs from every other mobile network in that it uses voice-over-IP technology (VoIP) for the phone call. If your internet connection is too slow for making phone calls, it typically won't be possible to use the service. With the Premium Voice add-on, FreedomPop solves this problem by allowing you to make outgoing phone calls over the mobile network as a backup. Incoming phone calls can't be used with Premium Voice service (the incoming phone call will probably break up if your internet connection is too slow).
Data Rollover (£1.49/month). For an extra £1.49/month, you can roll over up to 500MB of unused mobile data to the following month. Your data will continue rolling over as long as you have the additional service (you're able to accumulate 20GB of rollover data as a maximum).
FreedomPop Usage Alerts (99p/month). A key danger of the FreedomPop service is you're charged automatically for going over your allowance. If you'd like to receive a message when you reach your allowance, you'll need to pay 99p/month for the Usage Alerts service.
Voicemail (99p/month). By default, there is no voicemail on the FreedomPop service. It costs 99p to add the service for one month.
Comparison to Alternatives
In our opinion, there are four major downsides to the FreedomPop service:
Coverage is limited especially for phone calls. The main downside of using FreedomPop is very limited coverage, especially for calling. With FreedomPop, it's only possible to make a phone call where there's sufficiently fast internet to support voice-over-IP calling. With the £1.99 Premium Voice add-on, you can partially side-step this but only for outgoing phone calls (incoming phone calls will still come through the app).
200MB is actually very little data. The free tariff on FreedomPop only includes 200MB of data (this is equivalent to approximately 360 web pages, 40 songs, 24 minutes of video or 15 applications). Only very light users will be able to get away with only 200MB of monthly data.
Your account is topped up automatically when you reach 100MB of remaining data. FreedomPop will automatically top up your account by £10 of credit when you're within 100MB of your download allowance. This means you're only really able to use 100MB without paying anything extra.
It's very easy to run up additional charges without even knowing. With FreedomPop, your credit card information is stored during sign-up. As the payment details are held on record and used automatically for when you incur additional charges, it's very easy to accidentally run up a bill by surprise. If you'd like to receive a notification when your allowances have been used, FreedomPop charges an extra 99p/month for this service.
Collectively, these four downsides make us highly reluctant to recommend the FreedomPop service.
In our opinion, you're much better off choosing a paid-for service without these limitations. For instance, both ASDA and giffgaff have Pay As You Go bundles from £5/month. There's much better coverage, especially for calling (ASDA uses the EE network whereas giffgaff uses O2). There's also better control on your spending and there's a more established name behind the service.
For around £10/month, the major networks also have a Pay As You Go tariff without the disadvantages of the FreedomPop service:
Using FreedomPop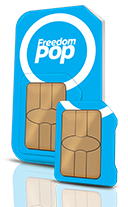 If you do choose to try the FreedomPop service, you'll need to have an unlocked smartphone of your own. The smartphone needs to be compatible with the FreedomPop application for iPhone or Android. This is because all phone calls and text messages need to be made through the FreedomPop application.
When ordering your SIM card from the FreedomPop website, you'll be asked to choose the type of SIM card you require (either Standard SIM, Micro SIM or Nano SIM). Customers wanting a Standard SIM should choose the Micro SIM option during checkout. If you aren't sure which size of SIM card is required for your phone, please see our in-depth guide to smartphone SIM card types.
Network & Coverage
97% Mobile Internet Coverage
FreedomPop is a virtual network operator that uses Three as a network coverage provider. At the time of writing, there's approximately 97% population coverage for 3G and 4G internet.
Before ordering a SIM card from FreedomPop, we strongly recommend checking the coverage in your area. The easiest way to do this is by entering your postcode in the FreedomPop coverage checker:
Check FreedomPop Coverage (uk.freedompop.com) »
Limited Coverage For Calling & Texting
Unlike all other mobile networks, FreedomPop only provides a voice-over-IP service. Your phone calls and text messages are delivered using an application (the app makes use of either wi-fi or 3G internet). Your data connection will need to be of a sufficient speed to support the phone call. This severely restricts your ability to use FreedomPop in areas of low coverage or where the masts are congested.
Customers with the £1.99 Premium Voice add-on can make outgoing phone calls on the normal mobile network (this gives 97% population coverage for outgoing phone calls). Incoming calls can only be routed through the FreedomPop application (so the coverage will be limited as described above).
Keeping Your Phone Number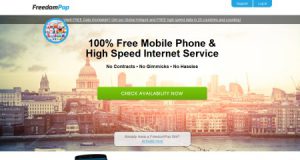 If you'd like to keep your existing phone number, it's a straightforward process to transfer it into FreedomPop.
Firstly, you'll need to ask your old mobile network to provide you with a PAC Code. This is a nine-digit code that authorises the transfer of your phone number to FreedomPop. It is a legal requirement for all UK mobile networks to issue you with a PAC Code within 2 hours of your request.
Once you've done that, you should order your new SIM card from the FreedomPop website. Once it's arrived and once you've set up your account, you can enter the PAC Code through your online account (log in and go to My Account > Phone Number > Transfer Existing Number).
For a step-by-step guide on transferring your phone number to FreedomPop, please select your current network provider:
PAC Code Finder: Transfer Your Phone Number to giffgaff
The ability to transfer your phone number in to FreedomPop has only been available since April 2016.
More Information
For more information, please see the FreedomPop UK website.
About Ken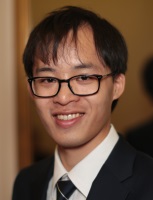 My passion is helping people to get the most out of their mobile phone. I've been blogging at Ken's Tech Tips since 2005.
Aside from writing about mobile technology, my interests are in software development, digital marketing and physics. Outside of the blog, I work with numerous technology companies helping them to explain their product and helping them to market it to consumers. Please get in touch for more information.