Unshackled is a new website allowing you to buy your mobile phone and SIM card on separate agreements.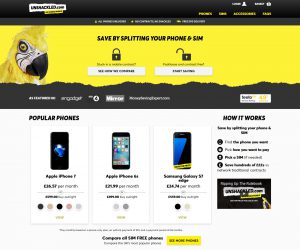 In the UK, Unshackled.com offers a new way of buying your mobile phone and SIM card on separate agreements. Founded by the executive team previously behind Phones4u, an unlocked smartphone can be purchased from Unshackled either outright or on a 24-month payment plan. A SIM-only deal can then be purchased separately, with a choice of 16 mobile networks currently available on the website.
In this article, we'll review the Unshackled.com website. We'll start by looking at the handsets available and at the multiple ways you're able to pay for your phone (e.g. outright or on a 24-month plan). We'll then look at the SIM cards available from Unshackled and at what you can expect with regards to delivery and warranty.
Handsets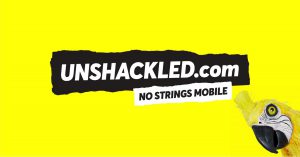 In the UK, Unshackled.com is an online retailer providing unlocked smartphones from Apple, Google, HTC, Samsung and Sony.
Unlike most other retailers, Unshackled provides two different ways for you to pay for your handset. You can either buy outright with a one-off lump sum payment or you can pay monthly over a period of two years. The latter option involves taking out a credit agreement, but often works out cheaper than getting a 24-month contract directly from the mobile networks.
As an example, the iPhone 7 currently costs £599 on Unshackled. You can buy this outright at a competitive price point (this isn't an inflated price like it is with many other services). Alternatively, you can decide to spread out the cost of the handset over 24 months. For instance, you could pay £26.57/month with an upfront payment of £19 (in this case, the total amount payable will be £637.68 over 24 months).
On Unshackled, all handsets are provided unlocked giving you flexibility to change mobile network at any time. This includes iPhones sold by Unshackled (they're permanently unlocked and will not lock themselves to the first mobile network used).
Financing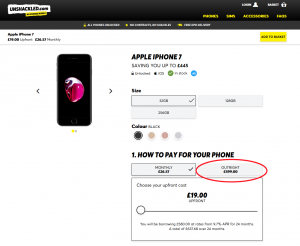 On Unshackled, the cheapest way of buying your handset is with a one-off lump sum payment. You can choose this when ordering your handset by selecting the "Outright" option underneath the heading "how to pay for your phone" (see screenshot).
If you'd like to spread out the cost over 24 months, Unshackled provides a way for you to do this with their pay monthly option. By default, you'll need to make an upfront payment of £19 with the remainder of the cost being split up over 24 months (with interest added to this). If you'd like to save a bit of money, you can increase the upfront payment to reduce the size of your loan (although there is a minimum loan size of £250).
Financing on Unshackled comes from two providers:
Zopa: This is the default finance provider, charging 9.7% APR over 24 months (this is a representative rate so could be higher depending on your credit search status).
Vanquis Bank: This is an alternative finance provider, charging a higher 24.7% APR representative over 24 months (once again, the rate may differ depending on your credit search status).
If you're using Zopa, it's possible to settle your loan early so reducing the total amount of interest you'll need to pay. There are no early repayment charges for using this functionality.
The interest rates on Unshackled.com compare fairly well to those on rival providers. For instance, giffgaff charges 18.9% APR on the giffgaff phone store. Meanwhile, the rates of interest on your credit card are also likely to be higher than on Unshackled. Some rival providers do claim to offer 0% APR (e.g. O2, Tesco Mobile and Virgin Mobile) but the price of the handset is normally inflated to make up for this.
Credit Check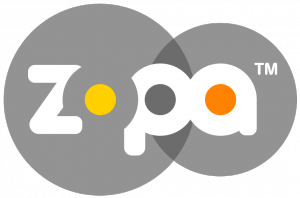 On Unshackled, you'll undergo a credit search if you choose to apply for the handset financing option.
Initially, for your Quick Check price quote, this will be a soft credit search which doesn't leave a note on your file. You'll then receive a full formal credit search if you choose to go ahead with the handset financing option (a full credit search will be visible to others on your credit file).
If you buy a handset outright without financing, it will not be necessary to undergo a credit search.
Comparison to Alternatives
There are multiple other providers with a very similar offering where your handset and tariff are split into two separate plans. These include the giffgaff phone store, O2 Refresh, Tesco Mobile Anytime Upgrade and Virgin Mobile Freestyle.
In the following table, we've compared the 32GB iPhone 7 on Unshackled.com to offerings from rival providers:
As the table above shows, Unshackled.com is the clear winner when it comes to getting an unlocked handset with maximum choice over airtime providers.
In this example shown above for the iPhone 7, they're also the cheapest option despite charging 9.7% APR interest. This is because rival providers claiming to offer 0% APR inflate the one-off cash price to a level where this benefit is cancelled out (the reason for this is because it stops you from receiving a discount if the plan is paid off early).
SIM Cards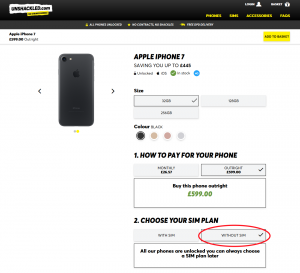 When you buy a handset from Unshackled.com, you'll also be offered the opportunity to get a SIM card at the same time. This isn't compulsory if you already have a phone plan you're happy with (it's possible to buy a SIM card later on at any time). However, if you'd like a new SIM card for your new mobile phone, it can possibly save a bit of time ordering it together with your handset on Unshackled.
At the time of writing, Unshackled is offering SIM-only deals from 16 different mobile networks. They include the four major networks (EE, O2, Three and Vodafone) and 12 virtual network operators (ASDA Mobile, BT Mobile, Candy Telecom, FreedomPop, giffgaff, iD Mobile, Plusnet Mobile, Talkmobile, TalkTalk Mobile, Tesco Mobile, TPO Mobile and Virgin Mobile). For more information about the coverage on each network, please see our guide to mobile phone coverage in the UK.
If you need any help deciding which mobile network to join, you may find it useful to read our mobile network reviews. It's also worth reading our step-by-step guide on transferring your mobile phone number to another network.
Delivery
Handset Delivery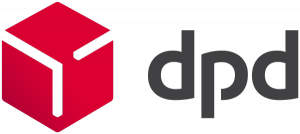 Unshackled provides free delivery for all handsets via DPD. For orders that are placed on a weekday before 5pm, your phone will be delivered on the next working day. For orders placed on a weekday after 5pm, it will take one additional working day for your handset to arrive. And for orders placed over the weekend, your handset will arrive on a Tuesday.
Order Date
Expected Delivery Date*
Orders placed before 5pm
Orders placed after 5pm
Monday
Tuesday
Wednesday
Tuesday
Wednesday
Thursday
Wednesday
Thursday
Friday
Thursday
Friday
Monday
Friday
Monday
Tuesday
Saturday
Tuesday
Sunday
Tuesday
With DPD, you'll be given a one-hour time slot for your delivery. You'll receive a text message on the day of your delivery to confirm this time slot, and you'll also be able to track the status of the delivery through an online map.
SIM Card Delivery
Unshackled doesn't actually sell SIM cards directly. Instead, they pass you through to the mobile network's website where you place a order for the SIM card directly with the mobile network.
For this reason, if you were to order a SIM card through Unshackled, it would be dispatched to you in a separate delivery direct from the mobile network. If there are any problems receiving your SIM card, you should contact the mobile network directly.
Warranty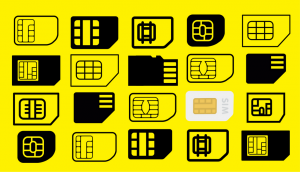 With Unshackled, you'll get the standard manufacturer warranty included on your smartphone:
| Manufacturer | Device Warranty | Accessory Warranty |
| --- | --- | --- |
| Apple | 12 months | 12 months |
| BlackBerry | 12 months | 12 months |
| HTC | 24 months | 12 months |
| Huawei | 24 months | 12 months |
| LG | 24 months | 6 months |
| Motorola | 12 months | 12 months |
| Nokia / Microsoft | 24 months | 12 months |
| Samsung | 24 months | 12 months |
| Sony | 24 months | 12 months |
Accessories refer to additional items that may come with your smartphone like the wall charger, headphones or USB cable. If you buy a refurbished handset (described on the website as "certified pre-owned"), you should double-check the warranty details as they may be different.
Other Services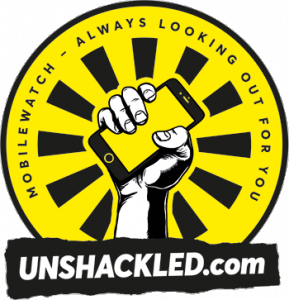 Unshackled also offers the ability for you to trade-in your old handset. You can also buy mobile phone insurance through ClearCover during the checkout process.
MobileWatch is an e-mail newsletter from Unshackled that sends you information about the latest handset and SIM-only deals from Unshackled.
More Information
For more information, please see the Unshackled.com website.