Comment: Ken Lo believes that the smartphone has finally made it as an affordable mass-market device. The game has just changed and you can thank the HTC Desire for that.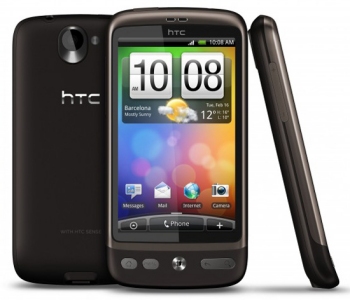 As a mobile technology blogger, I make my way through hundreds of blog posts, emails, press releases, news article and tweets every single day. In the many years of maintaining Ken's Tech Tips, it's been rare that I've been as excited as I was on Tuesday when I read about T-Mobile's sensational £10/mo. HTC Desire tariff. For me (and this is something the vast majority of technology writers would find puzzling as they find the phones more interesting than the tariffs), this was as exciting a moment as the launch of the original iPhone and then subsequently the iPhone App Store. It was exciting enough that I stopped doing my work, got in touch with friends to hear their experiences of T-Mobile reception in the local area and then I spent a good hour or two telling my friends about it.
Why was this so exciting? We've got the irresistible combination of a new and cutting-edge flagship smartphone, running the latest version of the Google Android operating system, on a tariff which would probably beat the socks off the vast majority of Pay As You Go tariffs and even the best SIM only tariffs for smartphones. I wrote in my review of 2009 in December that mass-market adoption of Android could very easily tip the balance of power away from Apple and its iPhone device. The launch of the HTC Desire on the £10 tariff was the first time I genuinely thought to myself: "We finally have a world-class smartphone available on a good value tariff at a price point which will appeal to the mass-market".
Smartphones are current breaking the bank

Until recently, smartphones were just way too expensive for your typical mobile phone user: that is somebody who uses their mobile phone on a daily basis and loves the freedom afforded by a phone but who wouldn't class themselves as a technology enthusiast or a "geek".
The thing is… £35/month (the cost of a typical smartphone contract) is a huge amount of money. Over 2 years, it adds up to £840. Although these tariffs come bundled with a large amount of airtime, the vast majority of those inclusive minutes, unfortunately, are left unused and just become money thrown down the drain. At £840, a smartphone just isn't a cheap or affordable for many people.

photo: William Hook
In my blog posts over the last few months, I have spent a lot of time discussing how to cut the costs of using a smartphone. I genuinely believe that smartphones have the power to revolutionise the lives of its users by opening up a whole world of information wherever you are, by giving you greater freedom away from your desk and by making it possible to communicate with your friends in a whole multitude of new ways.
I believe that everyone should be able to benefit from smartphone technology and to be able to afford it. And over the last months, I've tried to find a way to make smartphones as accessible and understandable as possible to people. I've exposed the real costs of the iPhone, developed a price comparison tool to highlight the best tariffs, mused about DIY-iPhones using a MiFi+iPod, highlighted SIM only alternatives and even uncovered loopholes to get a cheaper iPhone. I was really hoping for a price war when Orange, Tesco Mobile and Vodafone all launched the iPhone earlier this year but we were disappointed in the end.
I suppose the cheapest way we found to grab an iPhone was simply to grab it on Pay As You Go. But still, that would set you back £440 – about the same cost as a laptop (assuming you didn't want to buy the now 2-years out of data iPhone 3G model).
Even once you've got your hands on a smartphone, you'd still have the problem of finding a decent tariff for it with an inclusive data allowance – after all a smartphone is only "smart" with a data connection. And when you'd look for a tariff with a data allowance, you'd find yourself being charged £10/month for a data "bolt on" or something. O2 Text and Web was perhaps the best value and most suitable PAYG tariff we found (which is still available) but it still required a top up of £10 or £15/month.
Once you add the huge upfront cost of the phone to the regular (and still fairly substantial) monthly top ups, it still didn't work out that much cheaper than contract.
Why the game has changed
For the first time, we have an amazing smartphone for a great price, and on a truly amazing tariff.

photo: laihiu
Firstly, the phone itself. HTC have already made a name for themselves manufacturing Android smartphones – Google even asked them to build the Nexus One for them. HTC's previous phone (the HTC Hero) won awards. The HTC Desire is the flagship HTC phone for 2010 and it's been setting the technology press buzzing. This is a smartphone to be reckoned with; this is probably one of the best Android phones, and best smartphones that money can buy. T-Mobile are charging just £164 for one. That's a stunning price. The last two phones I bought on PAYG cost £140 and £110 – and neither one was a smartphone. £164 for a smartphone, let alone the Desire, is sensational. Sure, £164 might seem to be a lot for a contract phone, but it's great value considering the tariff is such good value.
Secondly, the tariff. I'm a huge advocate of SIM only tariffs – low-cost tariffs which don't provide a phone. Amazingly, T-Mobile manage to provide a very good airtime allowance on their HTC Desire tariffs – an allowance which probably beats most SIM only tariffs. In my previous post, I talked about how the tariff offered 100 minutes, unlimited texts and unlimited internet for £10/month (through the choice of suitable flexible boosters). This is something even SIM only tariffs would find it hard to match.
What is the mass market?
Just from experience of speaking to readers and friends, I've found that PAYG customers currently spend about £100 on a new phone and top up around £8-£10 per month. For these customers, the HTC Desire £10/mo. T-Mobile tariff is marginally more expensive.

photo: papalars
On contracts, most people like to currently spend about £20 or £25/month. For these people, I am sure the £10/mo. deal (or maybe £15 or £20 deals for more minutes) would provide cost savings over their current phone as well as a new piece of kit.
The challenge for the iPhone HD has been set…
So the challenge is now on for Apple. It either has to be revolutionary or we're going to have to see a big drop in prices this year. I think we've just seen our first state of the art smartphone priced for the mass-market. The Legend is going to be huge; the game has just changed.
Notes