NOW Broadband are offering Fab Fibre for just £23/month with unlimited downloads and inclusive anytime calls.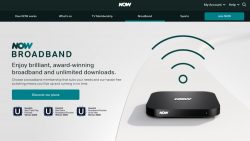 In the UK, NOW Broadband currently offers Fab Fibre Broadband with average download speeds of 36Mbps and inclusive anytime phone calls.
At present, you'll pay £23/month for Fab Fibre on a 12-month plan with no activation fee and only a £5 delivery charge for your NOW Broadband Hub.
In this article, we'll review the Fab Fibre service on NOW Broadband including the plan itself, the download speeds available and the inclusive anytime phone calls. We'll also look at the discounted NOW Entertainment Membership available on Fab Fibre and how you can switch from your current provider to NOW Broadband.
Get Fab Fibre from NOW Broadband →
What is Fab Fibre Broadband?
NOW Fab Fibre Optic Broadband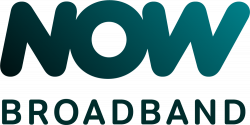 In the UK, Fab Fibre is one of NOW Broadband's fibre broadband services with average download speeds of 36Mbps.
Fab Fibre is currently available for £23/month on a 12-month contract. There's no set-up fee for the service – you'll only pay a £5 upfront fee for the delivery of your new hub:
| Service | Average Speed | Contract Length | Upfront Price | Monthly Price |
| --- | --- | --- | --- | --- |
| Fab Fibre | 36Mbps download | 12 month contract | £5 | £23/month |
You'll get unlimited downloads included in your plan as well as inclusive anytime calls to UK mobiles and landlines.
As part of the Fab Fibre service, you'll be supplied with a NOW Broadband Hub Two router. This hub allows all of your other devices to connect to connect to the internet using wi-fi or using a wired connection. The Hub Two router supports dual-band Wi-Fi 5 technology (802.11b/g/n/ac) with 3×3 MIMO on the 5GHz band and 2×2 MIMO at 2.4GHz. You'll also get 2 Gigabit Ethernet sockets for connecting wired devices to your home network.
As an alternative to Fab Fibre, NOW Broadband also offers the Super Fibre plan with average download speeds of 63Mbps.
36Mbps Average Download Speed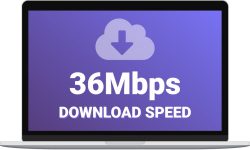 On Fab Fibre, you'll have access to average download speeds of 36Mbps. This should allow you to stream online video in full HD quality on up to 7 devices at the same time. Alternatively, you can download a entire album in about 20 seconds or you can download a HD-quality film in around 15 minutes.
The following table shows the required download speed for a number of online activities. For instance, streaming HD-quality video on iPlayer or Netflix requires 5Mbps per device. You can therefore stream on up to 7 devices at the same time (as 7 x 5Mbps = 35Mbps):
Activity
Required speed
per device
Maximum # of devices
on 36Mbps connection
Web Browsing, Messaging & E-Mail:
General web browsing
0.1-1Mbps
35 devices
Social media, instant messaging & e-mail
<0.1Mbps
100+ devices
Voice & Video Calling:
Skype/WhatsApp phone call
0.1Mbps
100+ devices
Skype/Zoom video call
0.5-0.8Mbps
45 devices
Skype/Zoom video call (HD)
1.5-1.8Mbps
20 devices
Zoom group video call (HD)
2.5-3Mbps
10 devices
Streaming Online Music & Radio:
Listening to online radio
0.2Mbps
100+ devices
Streaming music (Spotify, Apple Music, etc)
0.4Mbps
90 devices
Streaming Online Video:
Watching YouTube videos (basic quality)
0.5Mbps
70 devices
Watching YouTube videos (720p HD quality)
2.5Mbps
10 devices
Watching YouTube videos (1080p HD quality)
4Mbps
9 devices
Watching iPlayer/Netflix (standard definition)
1.5Mbps
20 devices
Watching iPlayer/Netflix (high definition)
5Mbps
7 devices
Online Gaming:
Online Gaming (installed PC/console game)
3Mbps
10 devices
Cloud Gaming (Stadia/PS Now/Xbox Cloud)
10Mbps
3 devices
If you need even faster speeds, you can choose the Super Fibre plan from NOW Broadband which offers average download speeds of 63Mbps.
Inclusive Anytime Calls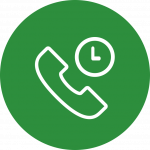 The inclusion of anytime calls for the first 12 months is another notable feature of NOW Broadband's Fab Fibre service. This allows you to call other UK landline and mobile numbers for up to an hour without needing to pay anything more (this includes most phone numbers beginning with 01, 02, 03 and 07, excluding the Channel Islands, indirect access, dial up internet and 070 numbers).
The cost of line rental is included within the cost of your Fab Fibre broadband service. You'll also get inclusive access to the 141 number withheld, 1471 last number recall and caller display features. International calls are also available at discounted rates from 2p/minute and you can keep your current landline number when moving to the service (just let them know you'd like to do this when signing up).
NOW Entertainment Membership Offer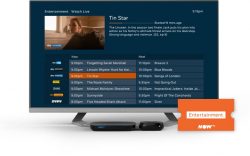 Once you've signed up for NOW Broadband's Fab Fibre offer, there'll be the option to add a discounted NOW Entertainment Membership to your plan. This is available for a discounted price of £5.99/month for the first 12 months, giving you a saving of £4/month over the normal price of £9.99/month.
The NOW Entertainment Membership allows you to watch a variety of live and on-demand entertainment. For instance, you can watch more than 300 box sets on-demand including all 8 seasons of Game of Thrones, classics such as The Sopranos, and multiple Sky Original series. Content is available to stream both live and on-demand from all of the following channels:
Sky Atlantic
Sky One
Sky Witness
Sky Comedy
Sky Documentaries
Sky History
Sky Nature
Gold
Sky Crime
Comedy Central
Sky Arts
Fox
MTV
Nat Geo
Discovery Channel
SyFy
A number of box sets are also available to watch from VICE, Challenge and Pick.
You can access your NOW Entertainment Membership on a variety of devices including your smart TV, laptop and mobile phone. It's all delivered through your NOW Broadband internet connection so there's no need for a satellite dish or cable connection.
For more information about the Entertainment Membership and what you're able to watch, please see NOW's official website.
NOW Broadband Speed & Availability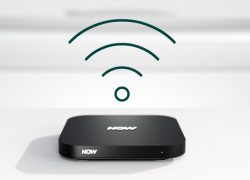 You can access the Fab Fibre optic broadband service in around 91% of all UK households. The service is delivered to your home through an Openreach phone line and uses fibre-to-the-cabinet (FTTC) technology to deliver the 36Mbps average speeds.
You can check the availability of Fab Fibre at your address using the online availability checker on the NOW Broadband website. Simply enter your postcode and address and you'll be told whether Fab Fibre is available where you live:
Check NOW Broadband Availability (nowtv.com) →
In addition to being told whether NOW Broadband is available, you'll also be given an expected download speed and expected upload speed range. On average, most people are able to get download speeds of around 36Mbps on Fab Fibre. However, speeds will sometimes vary based on the distance between your home and the nearest green street cabinet. For this reason, it's worth getting a personalised estimate before you sign up.
In addition to being given an expected download speed, you'll also be given a minimum guaranteed speed when checking your availability online. If NOW Broadband is unable to provide this minimum guaranteed download speed to you, you'll be able to cancel your service without any penalties.
Switching to NOW Broadband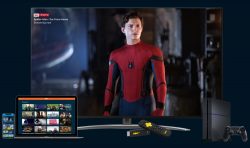 If you're switching from another broadband provider to NOW Broadband, it will normally be possible to do this without speaking to your old provider. Simply order your new Fab Fibre broadband plan online and NOW Broadband will arrange for your service to be moved over. This includes your current landline phone number, as long as you tell them you'd like to keep it.
The main exception to this will be if you're a Virgin Media customer or a full fibre customer. If this is the case, you'll also need to contact your old provider to cancel the service with them at the same time.
Once you've ordered your NOW Broadband Fab Fibre service, you'll be given a date for when the service is set to go live (normally in around two weeks time). You'll be sent a NOW Broadband Hub Two router in advance of this and will need to plug it in on the switchover date to complete the transfer of your service.
For step-by-step instructions on how to switch from your current provider to NOW Broadband, please select your current broadband provider from the dropdown menu below:
Switch to NOW Broadband
Your step-by-step guide to switching
More Information
For more information about the Fab Fibre service, please see the official NOW Broadband website.