Mobile phone price comparison websites are confusing and often suggest totally inappropriate tariffs, argues Ken Lo.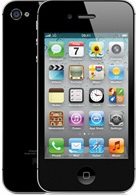 There are a hundred good reasons for why we need to have price comparison websites. There are hundreds of different phones out there, each with many different tariffs, data allowances, flexible boosters, bolt-ons and more. The premise is that a price comparison website, if done correctly, would be able to search through these thousands of permutations to find the tariff that best suits your requirements and provides the best value (nobody wants to pay more than they need to). A turbo-charged price comparison calculator can provide a lot of value in helping to filter thousands of tariffs down to the most suitable ones.
Unfortunately, our analysis has shown that not all mobile phone price comparison websites are up to the scratch. In this article, I want to highlight some of the deficiencies which are common to mobile phone price comparison sites. Some of the key deficiencies we've found include price comparison calculators highlighting blatantly inappropriate tariffs as their top deals (for example smartphone plans with no inclusive data allowance or far too many minutes than is necessary) and the impossibility of comparing based on total cost of ownership. The article then goes on to formulate some suggestions for the "price comparison community": techniques that we believe will help consumers to compare mobile phone contracts.
Full Disclosure: We have developed and currently operate price comparison tools e.g. for the Apple iPhone 4S, Samsung Galaxy S II and SIM-only tariffs. Ken's Tech Tips is due to launch a new price comparison website in the coming weeks. The design of the new website has been informed by our research into the problems that users often face using existing price comparison sites. We hope that the points raised in this article will help to improve the quality of price comparison tools available to British mobile consumers going forward in 2012.

Case Study: uSwitch Price Comparison Website
uSwitch is one of the UK's most popular price comparison websites. It describes itself as "The UK's most trusted comparison website" and "The UK's No. 1 mobile phone comparison website". We performed a price comparison for the Samsung Galaxy S II with the restrictions of at least 300 minutes and 300 texts each month (all other options were left as default). The comparison was carried out on the evening of the 3rd January 2011 and the results were as follows: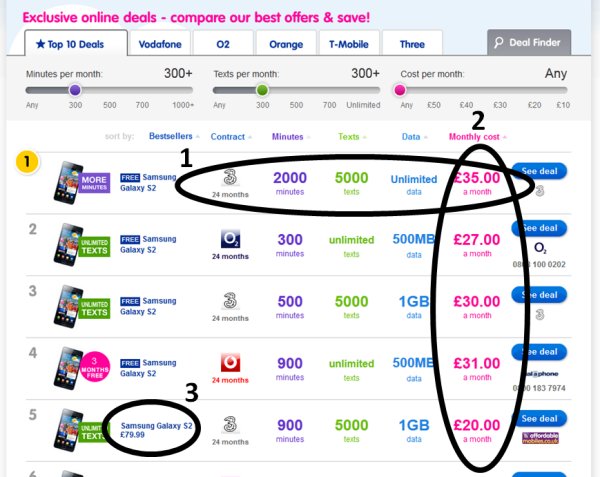 There are 3 key things to note here:
The top result wasn't the cheapest, not by far. The top result was Three's One Plan tariff which costs £35/month and offering a massive 2,000 minutes and 5,000 texts. For somebody using 300 minutes and 300 texts each month, this is probably a little bit excessive. There are much better options: take Three's "Text 500" tariff. It's still the same network but "Text 500" costs £30/month for 500 minutes, 5000 texts and 1GB data. Over 24 months, that's £120 less than "The One Plan" – furthermore a 500 minute tariff is probably much more suitable for somebody using 300 minutes per month.
The results aren't ordered by price. The whole premise of a price comparison website is to get the lowest price so you'd expect tariffs to be ordered cheapest to most expensive. In the results from uCompare, the ranking of the tariffs seems completely all over the place. It is possible to sort the results by "monthly cost" by clicking on the column title, but that causes some additional problems (see figure below).
Is it clear some tariffs have an upfront price? With tariff number 5, there's an upfront price of £79.99. Is this additional upfront cost immediately obvious from the results? The upfront price seems to be hidden away with the device name (not a column we normally check as we expect all the devices in the results to be the same). How does the upfront cost affect the total cost of ownership? Looking at tariffs number 4 and number 5, which one is actually cheaper? Tariff 5 has a lower monthly cost but there's an additional upfront cost: how do these two factors play off against each other? Without pulling out a calculator, it seems difficult to see which tariff is actually cheaper.
Finally, when I've clearly specified I'm looking for approximately 300 minutes per month, why is it that 3 of the 5 "best tariffs" come with either 900 minutes a month or 2,000 minutes a month? Surely that's a bit excessive… where have all the 300 minutes and 600 minutes tariffs disappeared to in these results?
Let's sort by the "monthly cost" column and see whether we get a clearer idea of where to find the best value contract: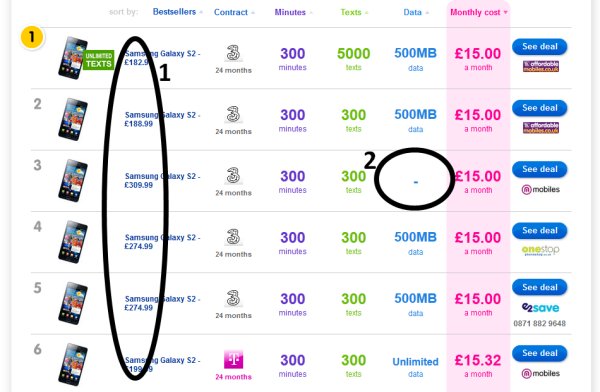 Two things to note here:
The results still aren't ranked from cheapest to most expensive. Tariff 3 and tariff 4 have the same monthly price of £15/month but tariff 4 has a lower upfront cost than tariff 3 (making tariff 4 cheaper than tariff 3). In fact, tariff 3 is clearly inferior to tariff 4 as it also lacks inclusive data. Tariff 4 is clearly better than tariff 3 (in terms of both price and allowances) – yet tariff 3 ranks higher. Why is this?
Tariffs without data are included in the comparison. 99.9% of people who purchase a smartphone such as the Galaxy S II will want an inclusive data package with their tariff. Otherwise, data costs 10p/MB on Three. A typical smartphone user (using around 250MB of data each month) would run up an additional bill of £25/month with this tariff as there's no inclusive data. Costly. This is where price comparison websites should be helping us to avoid unexpected bills: they should be smart and only include tariffs with reasonable data allowances.
Finally, this comparison highlights the problems of sorting results by monthly cost alone. Tariff number 6 costs £15.32/month. That's an additional 32p/month compared to the £15/month tariffs above it but over the 24 months the 32p/month difference only amounts to £8. Meanwhile, the upfront cost in tariff 6 is £200 – substantially less than the upfront cost of tariffs 3, 4 and 5. When we look at the total cost of ownership, it's clear that tariff 6 is actually much better value than tariffs 3, 4 and 5. There's an extra charge of 32p every month but this is more than offset by a saving of between £75 and £110 in the upfront cost. A fair comparison must take into account total cost of ownership and not simply monthly cost.
Case Study: Recombu Price Comparison Website
Recombu is a popular price comparison website for mobile phones in the UK. We asked Recombu to find us the cheapest Galaxy S II tariffs with 300+ minutes and 250+ texts a month. The analysis was carried out on the evening of 3rd January 2012. The results were as follows: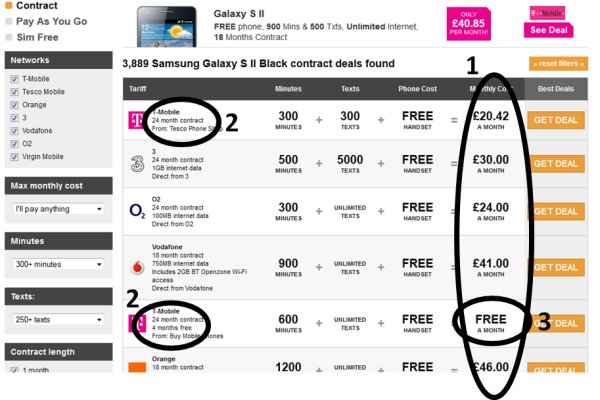 Again, several things to note:
Tariffs aren't sorted in price order. We have no idea how these tariffs are sorted here, though it most certainly isn't from lowest price to highest price. We think it's a serious deficiency when a "price comparison website" doesn't sort by price and when a price comparison website doesn't make it easy for you to find the best value deal.
Tariffs without data are included in the comparison. Like with uCompare, tariffs with no inclusive data are included in the results. The really dangerous thing here is that with the default options, the "best" tariff as suggested by Recombu (top of the results list) has no inclusive data. Same with the 4th result: there is no inclusive data. On the order page for the 4th result, there is the option to switch the "unlimited texts" flexible booster to the "500MB internet" flexible booster – a much more appropriate tariff for Recombu to suggest would be "600 minutes + 500 texts + 500MB data". The price comparison website never makes it clear how important it is to have inclusive data (no inclusive data = additional charge of £1/day). These are the pitfalls that price comparison websites should stop people falling into: never should the "best" and "4th best" tariffs for a smartphone come without inclusive data.
"4 months free" doesn't mean free contract. Tariff number 5 comes with an offer of "4 months free" line rental. Annoyingly, the website then lists the monthly cost of the tariff as "free" and does not state what the line rental is for the other 20 months. When sorting tariffs by "Monthly Cost", Recombu simply lists all of the tariffs with include "4 months free" or "5 months free" as the best results (see below). This makes it a complete waste of time to even sort by monthly cost.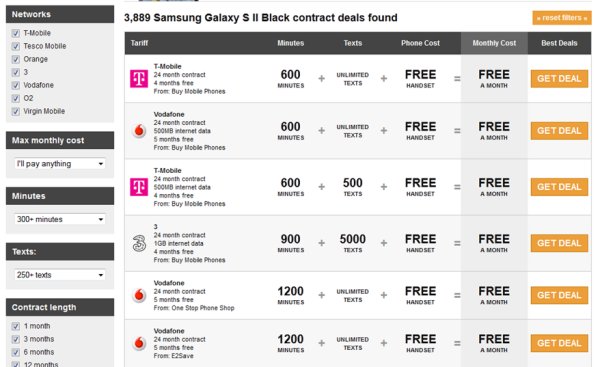 Suggestions to improve uCompare and Recombu's price comparison results
Our suggestions to improve uCompare and Recombu's price comparison results:
uSwitch should suggest sensible tariffs with sensible airtime. When I ask for 300 minutes a month, I want the cheapest tariff which would allow me to talk for 300 minutes a month. A 500 minute per month tariff is most certainly more sensible than a 2,000 minute per month tariff when both tariffs come from the same network and the former costs £120 less.
Comparisons must be based on total cost of ownership. The premise of a "price comparison website" is that I get the deal with the best price. The price that I care about the most is the bottom line: the total amount I pay over the 24 months of the contract. I care about this more than I care about the monthly cost. When we have so many tariffs with different upfront and monthly cost combinations, the only way to carry out a fair comparison is to look at the whole picture. Finally, it's an insult to write "Free Handset + Free A Month". It's not the 4 months of free airtime I'm bothered about: I want to know whether I'm expected to pay £10/month or £60/month for the other 20 months.
Make sensible default choices about data consumption. At no point did I specify on the uSwitch or Recombu websites only to find me tariffs with inclusive data. uSwitch allows the search to be restricted by data allowance through the advanced "Deal Finder" search page, Recombu has a checkbox to restrict the search to "unlimited data" tariffs. Never mind the fact it's difficult to restrict my search by data allowance – the fact is that consumers shouldn't need to do that. 99.9% of consumers who want a Galaxy S II want to be able to use the "smart" features of their smartphone. A price comparison website should be making sensible choices about data which help to protect the consumer. Price comparison websites certainly shouldn't encourage consumers to buy tariffs where they'd be unwittingly charged an extra £1/day.
It's worth finishing this opinion piece by saying that there are some great price comparison websites out there. The guys at billmonitor have done a great job with their price comparison calculator – they work out the effective cost per month on each of the tariffs they track (the 'effective cost per month' is a derivative of the total cost of ownership). Tariffs are sorted from lowest 'effective monthly cost' to highest. The guys at MoneySupermarket also do a good job at sorting tariffs by "effective cost per month", though still occasionally recommend tariffs without inclusive data.