EE is offering 150GB data for £26 per month. You'll get double data, with access to EE's 5G network if you're using a 5G-ready phone.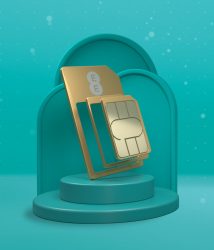 In the UK, EE is currently offering a massive 150GB data for just £26 per month on a SIM-only deal. This includes double data, along with access to EE's 5G network when you sign up on a 24-month plan. You'll also benefit from Stay Connected Data, data gifting on a family plan, and EE's Scam Shield technology.
For Inclusive Extras such as Apple Music, Netflix or BT Sport, you can upgrade to EE's £32 per month SIM card with 150GB data per month. On this plan, you'll get an inclusive subscription for the entire length of your contract (worth up to £25 per month).
In this article, we'll look at EE's latest 250GB SIM-only offer, including what you're able to do with it and how to take advantage of their deals. We'll also look at some of the benefits when you join EE such as their 5G coverage and the range of Inclusive Extras available. We'll also look at how you can transfer your phone number to EE.
EE's 250GB SIM Only Deal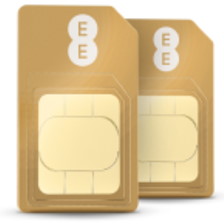 If you're looking for a SIM-only deal with lots of data included, you can currently get a massive 150GB data for £26 per month on EE. You'll get access to EE's 5G network on this deal. It also comes with enough data for almost anything you'd like to do on your phone.
With your 250GB data allowance, you'll be able to stream HD video for 125 hours each month (equivalent to more than 4 hours per day). You can also browse the web and listen to music non-stop using your 250GB data allowance.
At present, there are two different plans that you're able to choose from with the double data offer:
Tariff
Minutes
Texts
Data
Monthly
Cost
No Frills

Unlimited

Unlimited

125GB

£22.00
24 months
Essential

Unlimited

Unlimited

150GB

£26.00


3 months half price


24 months
All Rounder

Unlimited

Unlimited

150GB

£32.00


3 months half price


24 months
The Essential plan gives you 150GB data and "excellent" download speeds (up to 100Mbps) on EE's 5G network. According to EE, that's "enough for almost everything you'd want to do on your smartphone, including Ultra HD streaming, gaming and downloading".
The All Rounder plan gives you 150GB data and EE's fastest available speeds. This can mean even faster download speeds when you're using a 5G-ready device. You'll also get an Inclusive Extra of your choice, which is worth up to £25 per month.
EE SIM Only Features
UK's Best 5G Network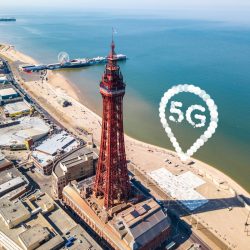 When you get a SIM-only deal from EE, you'll gain access to their award-winning 4G & 5G network.
According to EE, they have "the UK's most reliable network" with the fastest download speeds on average. This is based on an independent analysis from RootMetrics (carried out in H2 2022).
As an EE customer, you'll also have access to Wi-Fi Calling and 4G Calling. In addition, there's the WiFi Coverage Boost feature which gives you seamless and secure access to more than 150,000 BT WiFi hotspots.
Inclusive Extras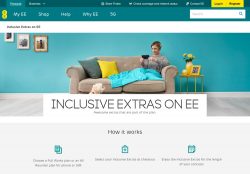 If you choose the £32 All Rounder plan with 150GB data, you'll get an Inclusive Extra with your EE SIM-only deal. This gives you access to inclusive entertainment or productivity features. The Inclusive Extra can be worth up to £25 per month, depending on the option you choose.
At present, you can choose from the following Inclusive Extras on the £32 EE Smart plan:
Apple Music (worth £10.99/month): Stream more than 90 million songs on-demand without any adverts. There are also more than 30,000 pre-built playlists for listening, plus Spatial Audio for a more immersive listening experience.
Netflix (worth £6.99/month): If you choose Netflix Basic as an Inclusive Extra on your plan, you'll be able to stream their entire catalogue of shows, movies, and documentaries on-demand. You can stream as much as you like, on any compatible device such as your smartphone, tablet, laptop and smart TV.
BT Sport (worth £25/month): Get access to all of the BT Sport channels on your phone, allowing you to watch live action from the Premier League, UEFA Champions League, UFC, boxing and more. You'll also get discovery+ Entertainment and Sport included for access to more sports, shows and documentaries.
Roam Abroad Pass (worth £10/month): Use your minutes, texts and data at no extra cost in the EU, the USA, Canada, Mexico, Australia and New Zealand. This is subject to a fair use limit of 50GB data per month.
Xbox Game Pass Ultimate (worth £10.99/month): Play hundreds of high-quality games including Starfield, Forza Horizon 5 and Halo Infinite. You'll be able to play on your console, on your PC or in the cloud. You'll also get Xbox Live Gold for multiplayer gaming and an inclusive EA Play membership.
Entertainment Data Pass (worth £14.98/month): Stream from selected video and music applications without eating into your data allowance.
Microsoft 365 Personal (worth £5.99/month): Get premium Office applications such as Word, Excel, Powerpoint, Outlook and more on up to five devices (including PC, Mac, iPad, iPhone and Android). You'll also get 1TB of inclusive cloud storage which is enough for you to store up to 500,000 photos.
If you choose the £26 EE Essential plan, you won't get an Inclusive Extra. However, you'll still be able to get 6 months of free Apple Music.
Stay Connected Data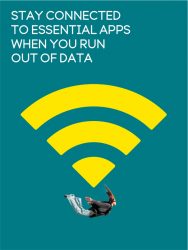 When you run out of data on your EE SIM-only plan, you can stay connected at speeds of up to 0.5Mbps. This gives you the reassurance that you'll always stay connected on-the-go to essential apps like browsing the web and instant messaging with your friends.
Stay Connected Data can also be used for things like listening to music online and using GPS navigation to find your way around. However, large downloads can take a very long time. You may also not be able to stream HD-quality videos with it.
In our opinion, EE's Stay Connected Data is a really beneficial feature as it means you'll never be disconnected in the middle of the month. If you'd like to restore full-speed data at any time (e.g. for watching videos online), there's the option to buy a data add-on.
Data Gifting & Family Plans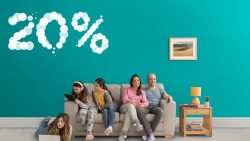 If you add an extra line to your EE account, you'll get a multi-line discount on it. There's a 20% discount on additional SIM-only plans and a 10% discount on additional Pay Monthly phone plans.
On top of the multi-line discount, you'll get an EE family account with the ability to move spare data between all of your family's plans. For instance, you'll be able to share the unused portion of your 250GB data allowance with other members of your family.
You can use the My EE app to manage all of your plans in one place, including seeing how much data is remaining on each plan. You can also change the individual settings for each line, including parental controls and bill caps.
Unlimited Calls & Texts with Scam Shield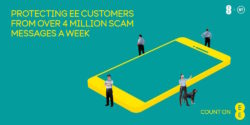 All of EE's SIM-only deals come with unlimited UK minutes and unlimited UK texts.
As an EE customer, you'll also benefit from EE's Scam Shield feature. This is designed to block scam phone calls and text messages before they reach you, meaning you won't be connected to nuisance calls and spammers.
According to EE, more than 4 million scam messages every week are blocked by their Scam Shield feature.
Keeping Your Phone Number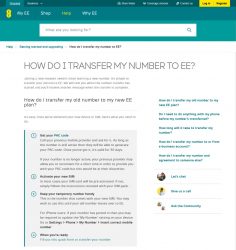 If you're switching to EE from another UK mobile network, it's a straightforward process keeping your current phone number.
Start by ordering your new SIM Only deal from EE's website. Once you've done that, you can request a PAC Code from your old network – either using their app or website, or by texting PAC to 65075.
Once you've activated your new EE SIM card, you'll be able to head over to this online form. Here, you'll be able to submit the PAC Code that has been issued by your old network. Your phone number transfer will then be scheduled by EE, normally for the next working day.
For a step-by-step guide on how to move your phone number to EE, please select your current mobile network from the drop down menu below:
PAC Code Finder: Transfer Your Phone Number to EE
More Information
For more information about the 150GB SIM-only deal, please see EE's official website.