EE has launched the HTC 5G Hub on 5GEE WiFi, their 5G-based mobile broadband service from £50/month.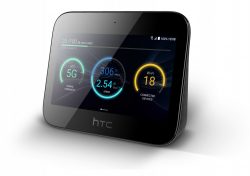 EE has launched the UK's first 5G mobile broadband plan, with the HTC 5G Hub router. Available from £50/month, the 5GEE WiFi service allows you to access 5G broadband on up to 20 devices at one time.
The 5GEE WiFi service can be used as a replacement for your home broadband connection. It can also be used whilst you're on-the-go as a battery-powered mobile wi-fi hotspot device.
In this article, we'll review the 5GEE WiFi service, the price plans available and what you're able to get with it. We'll also look at the HTC 5G Hub router in more detail, before comparing it to alternative offers from other mobile networks. Finally, we'll look at the level of coverage available on EE and on the 5GEE WiFi service.
5GEE WiFi Price Plans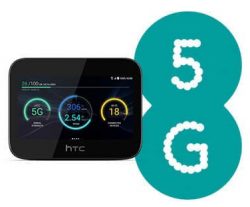 Over the past year, we've seen a rapid explosion in the popularity of mobile home broadband services. This is where you replace your fixed-line home broadband connection with a wireless connection that uses 4G or 5G network technology. Mobile broadband can give comparable or even faster download speeds than a fibre connection, along with greater flexibility on where you can use it and an instant setup process without the need for an engineer.
To date, most mobile home broadband services (including Three's HomeFi, Huawei B535 and AI Cube along with EE's 4GEE Home and Vodafone's GigaCube) have been based around 4G technology. However, this has recently changed with the launch of 5GEE WiFi, the UK's first 5G broadband offering. With prices starting from £50/month, the service promises greater network capacity and faster download speeds compared to 4G.
The 5GEE WiFi service comes with a HTC 5G Hub router, and is currently available on a choice of two 5GEE WiFi price plans:
Data Allowance
Contract Length
Upfront Price
Monthly Price
No price plans could be found matching this criteria.
Unfortunately, it's only possible to get up to 100GB of data per month on a 5GEE WiFi plan at present. If you were to run out of data in the middle of month, you'll need to buy one of EE's data add-ons. Extra data will cost you £1 for 100MB, £5 for 1GB or £15 for 10GB. The data add-on will only be valid for the remainder of the current billing cycle and will be cleared when your allowances next refresh.
Customers with an EE Pay Monthly mobile phone plan will also receive a 20GB data boost on their mobile phone when taking 5GEE WiFi.
HTC 5G Hub Router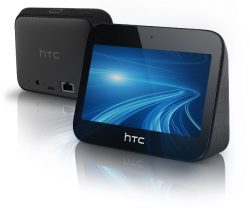 Customers signing up for 5GEE WiFi will receive a HTC 5G Hub router for an upfront cost of £100.
The best way to think about the HTC 5G Hub router is that it's like a normal 5G router but with some of the functionality of a tablet built-in. Because of this, it can be placed fairly centrally in your home and can be used as a hub (e.g. for your family calendar, photos, casting media to other devices, etc).
As a router, you've got 4G and 5G connectivity built in to the Hub. In theory, it supports maximum download speeds of up to 2.63Gbit/s (2,630Mbit/s), though EE's network will cap out at a maximum speed of 980Mbit/s. In practice, download speeds will be more like 150Mbit/s as coverage won't be perfect and capacity will be shared with other users.
The 4G or 5G connection from your Hub can then be shared with up to 20 other devices. It enables this by creating a wi-fi hotspot that your other devices are able to connect to (supporting the latest Wi-Fi 6 technology, with 802.11a/b/g/n/ac/ad connectivity). There's also a Gigabit Ethernet socket for connected a wired device to your Hub. A maximum of 4 devices at any one time can use the fastest 802.11ad Wi-Fi technology.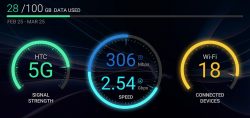 Unfortunately, the HTC 5G Hub lacks support for an external antenna. Therefore, if you're living in an area with poorer mobile coverage, an alternative router with support for an external antenna may prove to be a better option.
In terms of the other capabilities, the HTC 5G Hub also functions like a miniature built-in tablet. It has a 5.0-inch HD display (720p resolution) and runs the latest version of Android 9.0 Pie. You have access to the Google Play Store so you can install all of the normal applications and games that you're used to on your smartphone or tablet. It's also possible to do things like watching videos, listening to music, browsing photos, etc on the Hub. The HTC 5G Hub is powered by a Qualcomm Snapdragon 855 processor and has 32GB of built-in storage (with the ability to add an extra 512GB through the micro-SD card slot).
Most typically, you'll probably use the HTC 5G Hub at home, connected to a mains power supply. However, it's also possible to use it on battery whilst you're out and about. The device has a 7,660mAh battery, which HTC says is enough for "all-day usage". The device is wedge-shaped, measuring 43mm at its thickest and weighing 340g. This means you can easily stick it in a backpack, but it's probably a bit too bulky to carry around in your pocket.
Given the size of the device and the relatively small screen, it's unlikely the 5G Hub will replace your normal smartphone or tablet. It's best to think of it as an additional device that will supplement this for occasional usage in the hallway or whilst you're out and about.
Show full specifications for HTC 5G Hub ↓
5GEE WiFi
(HTC 5G Hub)

Mobile Connectivity
5G Connectivity:
Up to 2630 Mbps download
5G Bands:
5G NR band n78
4G Connectivity:
Category 20 LTE
4G Download Speed:
Up to 2000 Mbps download
4G Upload Speed:
Up to 316 Mbps upload
4G Bands:
LTE bands 1, 3, 7, 8, 32, 38 & 40
External Antenna:
No
Home Network Connectivity
Dual-Band Wi-Fi:
Yes
Wi-Fi Connectivity:
802.11a/b/g/n/ac
Wi-Fi Devices:
Up to 20 devices
Ethernet:
1 Gigabit Ethernet port
Other
Battery:
7,660mAh
Dimensions:
12.9 x 10.0 x 4.3 cm
Weight:
340g
Model:
HTC 5G Hub
Colour:
Black
Other Features:
Hub & tablet functionality
More Information:
See shop.ee.co.uk
Alternatives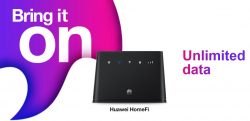 The HTC 5G Hub on 5GEE WiFi is the UK's first mobile broadband service with 5G connectivity. Because of this, it's still priced at a level for early adopters. To give an example, you'll need to pay £75 for just 100GB of data on 5GEE WiFi. Meanwhile, existing 4G-based broadband services will give you unlimited data for as little as £20/month.
The best value 4G home broadband service is Three's 4G home broadband, which starts from only £20/month for an unlimited data allowance:
You'll get Category 7 LTE download speeds (up to 300Mbit/s) on the HomeFi+ router and dual-band wi-fi connectivity on up to 64 devices.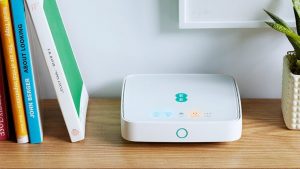 Alternatively, if you'd like a 4G-powered home broadband service from EE, you could look at the 4GEE Home Router instead. Here, you'll get a much larger data allowance for a lower monthly price than on 5GEE WiFi.
The following 4GEE Home price plans are currently available:
Service
Data Allowance
Contract Length
Upfront Price
Monthly Price

4GEE Home

100GB Data

18 month contract

£0

£35/month

4GEE Home

100GB Data

1 month contract

£100

£35/month

4GEE Home

300GB Data

18 month contract

£0

£45/month

4GEE Home

300GB Data

1 month contract

£100

£45/month

4GEE Home

Unlimited Data

18 month contract

£0

£50/month

4GEE Home

Unlimited Data

1 month contract

£100

£50/month
To show you the most relevant plans, 3 similar but more expensive plans have been hidden. Tap here to show them.
Other networks offering a 5G home broadband service include Three's 5G Home Broadband and Vodafone's GigaCube 5G. On Three, you'll pay £35/month for unlimited data at 5G speeds. Meanwhile, Vodafone has a range of price plans (from £30/month for 100GB of data up to £50/month for unlimited data).
For more information, please read our full comparison of 4G & 5G home broadband services.
Coverage
5G Coverage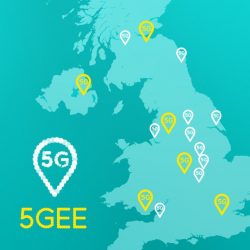 The unique selling point of 5GEE WiFi is its ability to connect to EE's 5G mobile network, which is the first of its kind in the UK.
At launch, EE's 5G service is available in six UK cities. It will then be extended to a total of 16 cities by the end of 2019:
Now Live
160 towns and cities are live on EE 5G (January 2023)
Aberdeen, Aldershot, Aldridge, Alexandria, Altrincham, Ashford Surrey, Ashton-under-Lyne, Aylesbury, Ayr, Barnsley, Barrhead, Bath, Belfast, Belshill, Biggleswade, Birkenhead, Birmingham, Blackburn, Blackpool, Bolton, Borehamwood, Bransholme, Brentwood, Brighton, Bristol, Burton upon Trent, Bury, Cannock, Cardiff, Castleford, Castlereagh, Chatham, Chelmsford, Cheshunt, Chester, Chester-le-Street, Chesterfield, Chorley, Clevedon, Clifton, Clydebank, Colchester, Coventry, Crawley, Cumbernauld, Dartford, Dinnington, Doncaster, Dudley, Dundee, Edinburgh, Epsom, Exeter, Gillingham, Glasgow, Grantham, Gravesend, Grays, Grimsby, Guildford, Halifax, Hamilton, Harlow, Harrogate, Hoddesdon, Huddersfield, Hull, Ilkeston, Inchinnan, Ipswich, Jarrow, Kimberley, Kingston-upon-Thames, Leeds, Leicester, Lichfield, Lincoln, Lisburn, Liverpool, London, Loughborough, Loughton, Maidstone, Manchester, Middlesbrough, Milnrow, Milton Keynes, Minster, Mirfield, Motherwell, Neath, Newcastle, Newton-le-Willows, North Shields, Northampton, Norwich, Nottingham, Nuneaton, Oldham, Oxford, Paignton, Paisley, Plymouth, Pontefract, Poole, Porthcawl, Portishead, Portsmouth, Potters Bar, Rickmansworth, Rochdale, Rochester, Romford, Rotherham, Royal Leamington Spa, Rugeley, Runcorn, Salford, Sheffield, Shipley, Solihull, South Shields, Southend-on-Sea, Southport, St Albans, Stafford, Staines-upon-Thames, Stevenage, Stirling, Stockport, Stockton-on-Tees, Stoke-on-Trent, Stratford-upon-Avon, Sunbury, Sunderland, Sutton Coldfield, Swadlincote, Swansea, Swindon, Swinton, Sydenham, Tamworth, Wakefield, Walsall, Waltham Abbey, Waltham Cross, Walton-on-Thames, Warwick, Washington, Watford, West Bromwich, Westhoughton, Weston-Super-Mare, Weybridge, Wickford, Widnes, Wigan, Wolverhampton, Worcester, York
You can check the 5G coverage in your area by entering your postcode on EE's online coverage map:
Check 5G Coverage (ee.co.uk) →
The average download speeds when connected to EE's 5G network will be around 150Mbit/s. For more information, see our in-depth guide to EE's mobile network and coverage.
4G Coverage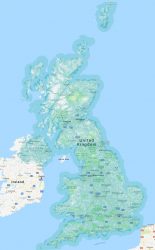 For customers who are living in an area without access to 5G coverage, it's still possible to access 4G coverage on the HTC 5G Hub.
At present, there is 99% population coverage and 90% geographical coverage on EE's 4G network. You can get up to Category 9 LTE download speeds when connected to 4G, with typical speeds of around 90Mbit/s.
Enter your postcode on EE's online coverage map to see the level of 4G coverage available in your area:
Check 4G Coverage (ee.co.uk) →
In our opinion, you're probably best off choosing a 4G-only service if you're unable to get 5G coverage in your area at present. Whilst the HTC 5G Hub gives you some added functionality, the 5GEE WiFi plans are priced at a fairly large premium. Combined with the relatively small amount of data you'll get, this makes it far less attractive than existing 4G services (especially when you can get unlimited data on 4G home broadband for just £21/month).
More Information
For more information on 5GEE WiFi and the HTC 5G Hub router, please see EE's official website.