Moving to the UK: What you need to know about mobiles/cells in the UK, calling home
September 15th, 2010
If you're moving to the UK to live, work or study, Ken's Tech Tips has a guide to everything you need to know about staying in touch in the UK including mobile/cell, landline and broadband.
This guide is designed for anyone coming to the UK to live, work or study. In this article, we will investigate how the UK mobile market works, what companies offer a mobile service and how you can make sure you get the best deal. We'll also investigate the different ways of staying in touch with the folks back home, obtaining a landline telephone connection and broadband internet connection.

photo: Rob Unreall
Firstly, a few notes about terminology. In much of the world, we talk about cellphones. In the UK, a cellphone is called a mobile phones (or mobile for short). You'll also hear the term "mobile operator" (or just operator) in the UK. This is the British term for a wireless carrier/cellular company. For the remainder of this article (and the rest of this website), we use the British terminology.
Can I use my existing mobile phone in the UK?
Yes, providing that you have a GSM or WCDMA/3G phone (but not CDMA). Your phone must also be unlocked. We outlined in a previous article what technologies and frequencies are used in the UK and how to determine whether your phone is compatible for use in the UK.
Note that if your phone is locked, you should unlock it before you arrive in the UK (it will be much cheaper and easier). You'll need to ask your home network for a "subsidy PIN". If you're unsure whether your phone is unlocked, our guide to unlocking mobiles contains some information on what to look out for.
What kinds of calling plans are available for my mobile phone in the UK?

photo: Aitor Escauriaza
In the UK there are two types of call plans for mobile phones: pre-pay (Pay As You Go) and post-pay (Contract).
Pre-pay plans are much easier to obtain. You don't need to provide an address, you don't need a UK bank account and you don't need to pass a UK credit check. With pre-pay plans, you add credit to your phone ("top up") your phone online, in supermarkets or newsagents. When you make calls or send texts, the cost is deducted from your credit. The pre-pay market is incredibly competitive in the UK and almost all operators will send you a free Pay As You Go SIM card in the post if you request it (UK addresses only). Alternatively, you can purchase a Pay As You Go SIM card from a store – however there will normally be a cost for doing so.
Post-pay plans (mobile contracts) require you to be over 18 years of age, to have a UK bank account and a UK address. With a post-pay plan, the operator will send you a bill at the end of the month for the calls and texts you have made. The main providers of post-pay plans in the UK are 3, O2, Orange, T-Mobile and Vodafone. If you've had problems completing a credit check in the UK, you can try a SIM-only tariff. These are post-pay contracts provided without a bundled phone (you may be able to use your existing phone from home). Because there isn't a phone bundled with these contracts, the credit check is less stringent.
What are the best value calling plans in the UK?
Generally post-pay plans provide better value for money (especially if you plan to use your mobile as your primary phone).

photo: René Ehrhardt
If you've got a smartphone (iPhone, Android, Blackberry, Palm, etc.) then you'll need a smartphone tariff with inclusive internet. We recently published a guide to the best value smartphone tariffs in the UK.
If you don't need inclusive internet, tariffs tend to be cheaper by about £5/month. Tesco Mobile offers the cheapest deal at £6/month for 100 minutes and unlimited texts (see our review). If you're looking for more minutes, Vodafone offers 300 minutes and unlimited texts for £10/month. See our guide to the best value SIM-only tariffs.
If you're not planning on using your phone much or you can't get a post-pay calling plan, Pay As You Go could be a good alternative for you. Giffgaff probably offer the best value at 8p/minute for calls and 4p/text (order a free SIM card).
Are there any networks I should avoid? Should I avoid smaller networks?

I'm commonly asked by people whether they should avoid smaller networks due to reception/signal/reliability issues. The answer is: No, not really.
In the UK, we only really have five networks: 3, O2, Orange, T-Mobile and Vodafone. Each of these 5 "real networks" maintains a network of masts and all five provide very good nationwide coverage. All other networks will piggyback on these networks (they are referred to as "virtual operators"). Thus, whoever you get your mobile service from you should get decent nationwide coverage.

photo: markhillary
We previously published a guide on the virtual network arrangements in the UK and how to check coverage maps for each network.
How do I call home? What is the cheapest way of calling home?
You could either call from your landline (see BT landline charges), using your mobile (be careful as charges can be up to £1.50/min) or through the internet using voice-over-IP services such as Skype. In my experience, the cheapest and easiest way of making international calls is to use Skype.
If you want to make an international call from your mobile, check how much it costs and ask your network whether they can offer you a better rate on international calls. You could also look at specialist pre-pay products such as those offered by Lycamobile (see our review) and Lebara Mobile. They'll let you call home from 4p/minute.
How do I dial international numbers from the UK?
When dialling an international number from the UK, you must prefix the phone number by 00 followed by the international dialling code for the country. For example to call a US number (international dialling code +1), you would dial 00 1 followed by the US local number.
How do people call me from abroad?

photo: wit
Replace the 0 at the front of your UK phone number with +44. See our detailed guide on receiving calls from abroad.
How are UK phone numbers organised?
UK phone numbers and hence call rates are dead easy to understand as we have a national numbering scheme. Phone numbers beginning with 01, 02 or 03 are geographical numbers. You'll be charged for a call to a landline. Phone numbers beginning with 07 are mobile numbers (you can even make a guess at the network). These phone numbers are usually included as part of any call time allowance you will have on your mobile contract.
Then we have the special numbers. From a BT landline: 0800 numbers are free, 0845 calls are charged at the local call rate and 0870 at national call rates. Note that mobile phone tariffs do not include these calls in the inclusive airtime (they often charge much more for these calls). Finally, we have the premium rate phone numbers which begin with 09. You would expect to pay at least £1/minute for any phone calls to these numbers.
I'm coming to study in the UK. Are there any special deals for students or any specific advice?
We recently published a guide to mobile for new students.
What about my home landline?
Most landline telephone connections are provided by BT. Virgin Media also provide a landline telephone service (via cable). Your landlord or the previous home owner should have more information on whether your flat/house is currently served by BT/Virgin.
How do I set up broadband internet at home?

You have several options such as ASDL or cable internet. Sites such as ThinkBroadband and BroadbandGenie provide great information on the UK broadband market.
If you're thinking about mobile broadband, see our guide to mobile broadband.
About Ken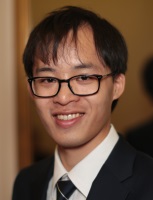 My passion is helping people to get the most out of their mobile phone. I've been blogging at Ken's Tech Tips since 2005.
Aside from writing about mobile technology, my interests are in software development, digital marketing and physics. Outside of the blog, I work with numerous technology companies helping them to explain their product and helping them to market it to consumers. Please get in touch for more information.