The Nexus 6P is Google's latest flagship smartphone. In this article, I review the handset and the best value deals available in the UK.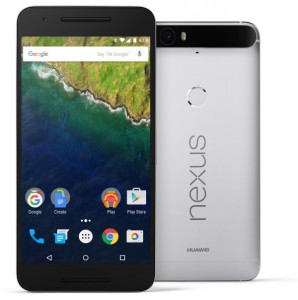 Each year, Google teams up with a major smartphone manufacturer to release an own-brand Android smartphone as part of the Nexus device family. Now in its fifth year, Google has this year chosen to team up with Huawei and LG. There are two new devices including a new flagship smartphone in the form of the Nexus 6P and a new mid-range handset in the form of the Nexus 5X.
I've been trying out the Nexus 6P over the past month and I can confidently say it's my favourite smartphone to date. The Nexus 6P has a really solid aluminium construction and is well-built using the latest technology and components. It also has a fantastic camera and a super-smooth interface. It comes with some highly impressive apps from Google; most notably the Google Photos service. Finally, it's about £250 cheaper than Apple's iPhone 6s Plus. This makes it a really good choice if you want the latest cutting-edge technology at a highly reasonable price point.
In this article, I'll share my experiences of using the Nexus 6P.
Design & Form Factor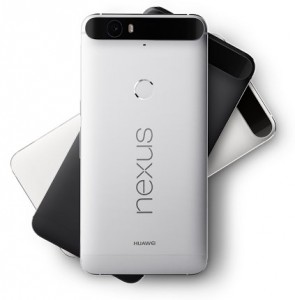 When Google first launched the Nexus device programme in 2010, it was firmly aimed at techies and developers. Over time, the Nexus programme has gradually evolved and it has now gained much more of a mainstream consumer focus. Now, five years later, with the Nexus 6P, Google finally has its own worthy competitor to the iPhone 6s Plus.
From the first time you pick it up in your hand, you can tell the Nexus 6P is a very different device from Nexuses that came before it. This year, with the Nexus 6P, Google has put much more focus on premium materials and premium design. Indeed, the 'P' in 6P actually stands for Premium, showing how much emphasis is now being placed in this area.
With the Nexus 6P, Google has built the handset out of solid aluminium. This is a material that screams out premium from the moment you pick it up: it looks great and feels good in your hand (Apple uses a very similar aluminium construction on the iPhone 6s). The only criticism I have of the materials is it can a little bit slippery when you're holding it in your hand. This can make it well worthwhile to add a case to your handset, to prevent it from accidental drops and falls. I've added a case to mine as there have been several times I've come close to dropping the handset (this is a problem I never had on plastic devices like the Galaxy Note 4).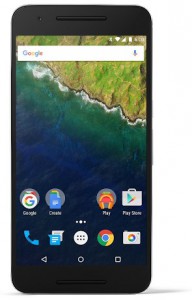 On the front of the handset, you get a 5.7-inch screen with stereo front-facing speakers. The stereo speakers are fantastic for when you're listening to music or watching videos on your phone (this is a fairly unique feature: most other smartphones only have a single speaker which is normally non-ideally positioned either on the side or on the back).
One thing I really like about the front of the handset is the super-clean spartan design. There are no logos or home buttons to spoil the look here. One issue I did experience when using the handset is there's very little on the front of the handset with which to orientate yourself when picking it up from a table (so I frequently pick up the handset upside down and then need to turn it around before using the handset). With other handsets like the iPhone 6s or Galaxy S6, the home button below the screen helps you avoid this problem.
On the rear of the Nexus 6P, you get a clean metallic back with a glass-covered strip at the top of the handset. The glass-covered strip pops out slightly from the handset and is used to house the antenna and camera. This is perhaps the most controversial design feature of the Nexus 6P. Personally, I quite like the glass-covered strip and I think it adds a really nice unique touch to the handset (some people will however disagree with this assessment). The glass-covered strip is fairly subtle on the grey version of the handset but stands out much more on the silver Nexus 6P.
Display
The Nexus 6P can be thought of as Google's alternative to Apple's iPhone 6s Plus and Samsung's Galaxy Note series. As such, it has a relatively large phablet-sized screen, measuring 5.7-inches along the diagonal. The screen is Quad HD resolution (2560×1440 pixels at 518 pixels per inch) giving a super-sharp viewing experience and great quality visuals. For comparison, the iPhone 6s Plus has a 5.5-inch screen at a much lower resolution (1920×1080 pixels at 401 pixels per inch).
With the Nexus 6P, Google has made use of Samsung's trademark Super AMOLED display technology (the same technology which is used by Samsung in their flagship devices like the Galaxy S6). This makes for a great viewing experience with fantastic colours which look true to life. There are also some neat tricks which Google has implemented to take advantage of the technology. For instance, whenever you pick up the phone or whenever you receive notifications, you'll subtly be shown the current time and unread notifications in black and white (this uses a low-power display mode which is made possible only by AMOLED technology).
Camera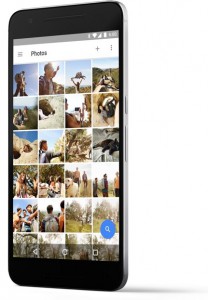 With this year's Nexus devices, Google has made photography one of their top priorities. This year, the Nexus 6P has a 12-megapixel rear-facing camera. It uses a sensor from Sony that has been designed for better low-light photography. Key to this is the 1.55µm pixels and the f/2.0 aperture. Both of these combine to allow the handset to capture much more light. For comparison, the iPhone 6s Plus has 1.22µm pixels and an aperture of f/2.2. The Nexus 6P also has laser auto-focus for faster image capture and a dual-tone LED flash for more natural looking pictures.
In general, I'm pretty satisfied with the photo quality on the Nexus 6P. It gives good-quality images in all manner of different lighting conditions. It also has an easy-to-use interface for capturing photos, though it lacks some of the more advanced features you can normally find on a Samsung. In terms of special shooting modes, there are only three included in the application: panorama, Photosphere and Lens Blur. With Photosphere, you can capture 360° images in the style of Google Street View (this is lots of fun but it's also rather fiddly and fairly time-consuming). With Lens Blur, you can cleverly adjust the depth of field in your images (though again, I found it a little bit fiddly and it didn't always work as intended).
For me, the real eye-opener of using the Nexus 6P is the highly-impressive Google Photos application. In fact, Google Photos is available as a free download on any Android device but it's pre-installed as the default application for viewing photos on the Nexus 6P. If you haven't already tried the Google Photos app, I strongly recommend setting it up and giving it a go. The really impressive thing about Google Photos is it gives you unlimited cloud storage for all of your photos free of charge. Your photos will be uploaded automatically straight to the cloud when you're connected to wi-fi. Once they're there, the photos will be processed through clever image recognition algorithms. They'll be made searchable (so you can enter a keyword such as 'food' to find all of your images relating to food). Your photos will also be organised automatically by location. There's also a handy 'photo assistant' that automatically produces video slideshows, animations and storyboards from your photos. You'll also easily be able to share your images with other people using a hyperlink (no need to use fiddly methods like sharing photos over a Bluetooth connection).
Security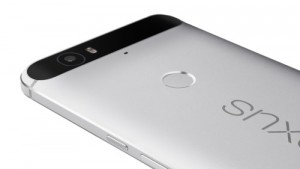 With both of this year's Nexus devices, Google has added a 'Nexus Imprint' fingerprint sensor. The sensor gives you a faster way to unlock your handset: you simply touch your finger on the sensor and your handset will unlock in the flash of an eye. Over the course of a day, this can save you significant amounts of time. It's said that the average person unlocks their handset more than 100 times per day. If just 10 seconds could be saved each time, you would save about 8 hours per month and more than 100 hours over the course of a year.
With both the Nexus 5X and Nexus 6P, Google has chosen to place the fingerprint sensor on the back. This is a radical departure from the front-facing sensors found on the iPhone 6s and Galaxy S6. I'm actually a really big fan of the back-mounted sensor. On the Nexus 6P, it's perfectly positioned for where you'd normally place your index finger anyway. It's also super-fast and generally quite accurate (normally works first time in around 95% of cases). The handset subtly vibrates to let you know your fingerprint has been accepted and will let you on your way to continue using your applications. The only downside of having a back-mounted fingerprint sensor is it requires you to pick up your phone every time you want to unlock it (alternatively, you can just unlock it the traditional way using a PIN code).
The 'Nexus Imprint' fingerprint sensor can also be used to authorise payments in the Google Play. Eventually, it will also be used for contactless in-store payments through the Android Pay service (though so far, Android Pay has only launched for consumers in the US).
Besides the fingerprint security, another significant advance for security on the Nexus 6P is your internal storage will be encrypted by default. It isn't really something you'll ever notice when using the handset but it's a huge boon for data security if your handset ever gets lost or stolen (it means your data is protected from prying eyes and can't be accessed without a PIN code).
Another nice feature for protecting your data is the multi-user support which gives you a 'Guest' mode on the handset. This is great if you're passing your handset to someone else (e.g. to your kids so they can play a game on your smartphone). With the multi-user support, each login has its own separate profile and information is fenced off between the two profiles (so the person you give your handset to won't be able to access to your e-mails and social networks).
Software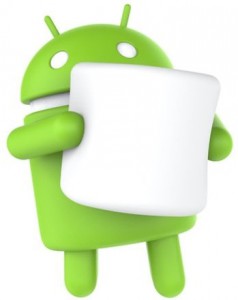 A key selling point of buying Nexus devices is you get the latest version of Android, exactly as Google intended it. There are no ugly third-party skins to slow the handset down and there aren't the normal pre-installed apps from your mobile manufacturer. You simply get a pure Android experience which is delivered by Google and kept constantly up-to-date. With other devices, there'll often be a lengthy wait for the latest version of Android. With the Nexus, you should get it as soon as it's ready.
On the Nexus 6P, Google has included the latest version of their Android 6.0 Marshmallow operating system. It has a super-smooth interface that operates with almost zero lag and there's a bunch of new features such as better permissions, improved battery life and the 'Now on Tap' virtual assistant.
In terms of pre-installed software, you'll get the usual bunch of applications from Google: Gmail, Google Calendar, Google Maps, Google Photos, Google Docs and Google Play to name just a few. The pre-installed applications will pretty much cover all of the basics: from productivity to entertainment, from navigation to communication. If you're someone who's mainly bought in to the Google ecosystem, they're a fantastic bunch of apps to have on your phone. They're all easy-to-use, simple and powerful. They're also superbly integrated with each other. If, to the contrary, however, you mainly use services from Apple or Microsoft, you may find the built-in applications slightly lacking in functionality. When you buy a Nexus 6P, you're in fact buying in to Google's whole ecosystem of products and services.
Battery Life & Charging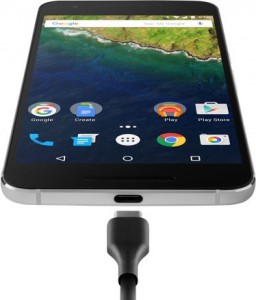 For heavy users, the Nexus 6P stands out for having great battery life. The 3450mAh battery is more than twice the size of that on the iPhone 6s and it's 25% larger than on the iPhone 6s Plus. On a typical day, I normally charge the handset fully in the morning and reach the end of the day with about 50% remaining. In theory, I could probably squeeze two days usage from a single charge of the battery, but this is a little too close to comfort to try out. In practice, you'll get a full day of usage comfortably on the handset.
Like many of the new flagship handsets being released this year, the Nexus 6P has a USB type-C socket for charging.
The main benefit of USB type-C is much faster charging: the Nexus 6P can charge at 15W (older smartphones can only charge at either 5W or 10W). What this means is even 30 minutes using the charger should give you enough power to use the handset for almost a full day (it takes about one and a half hours to charge the handset up to full). This is great news for frequent travellers: you won't need to constant hover around a plug socket at the airport or coffee shop.
Unfortunately, a side-effect of the new USB type-C socket is you'll now need to throw away all of your old chargers that use micro-USB. Like many other people, I've probably amassed more than a dozen micro-USB chargers over the past decade (there's one in my living room, one in my bedroom, one in my backpack and one in my office). With USB type-C, these old chargers have now all been made redundant. That means going back to having to carry a new charger with me everywhere I go. As USB type-C gains in popularity and as it becomes the standard over the next few years, this is an annoyance that should soon go away. In the meantime, however, you'll either need to invest a lot of money in replacing your old chargers or you'll need to put up with this slightly annoying downside of moving to USB type-C.
Conclusions
In conclusion, the Nexus 6P is probably my favourite smartphone to date. I've now used it for more than a month: it has a fantastic design that feels great in your hand and it has a top-notch camera that handles even low-light conditions. Coupled with highly-impressive software like Google Photos and Android 6.0 Marshmallow, this is a great device I'm more than happy to recommend to readers.
In terms of downsides, there's very little to complain about with this handset. The rear-mounted fingerprint sensor is a little troublesome when your phone is lying on a table, but it's possible to side-step this by unlocking through a PIN code. The type-C USB socket means you'll need to replace your existing chargers and cables. Over time, this will gradually improve and the industry as a whole is moving to type-C anyway. Both of these are fairly minor annoyances, and wouldn't put us off recommending the Nexus 6P.
About the Nexus 6P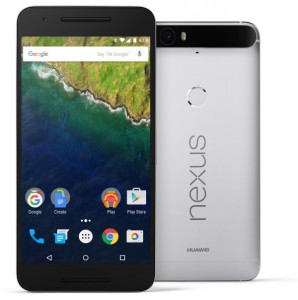 The Nexus 6P is Google's latest flagship smartphone, built in collaboration with Huawei. It has top specifications like a premium metallic design, a 12 megapixel camera optimised for low-light photography and a super-sharp 5.7-inch Quad HD screen.
The Nexus 6P is also the first handset to run on Android 6.0 Marshmallow. Key features include better battery life with Doze, greater control over app permissions and the new 'Now on Tap' virtual assistant. There are also lots of free Google services included with the handset like Google Photos which gives you free unlimited cloud storage for personal photos.
The Nexus 6P compares as follows to the iPhone 6s Plus and Galaxy S6 Edge+:
Nexus 6P

iPhone 6s Plus

Galaxy S6 Edge+

Release Date
2015, Flagship
2015, Flagship
2015, Flagship
Software
Google Android 6.0
Apple iOS 9.0
Google Android 5.1
Display
Size
5.7-inch display
5.5-inch display
5.7-inch display
Type
Organic LED
LCD
Organic LED
Resolution
2560x1440 pixels
1920x1080 pixels
2560x1440 pixels
Pixel Density
518 pixels per inch
401 pixels per inch
518 pixels per inch
Camera
Rear Camera
12 megapixels
12 megapixels
16 megapixels
Auto-Focus

✔

✔

✔

Flash

✔

Dual-LED flash

✔

Dual-LED flash

✔

LED flash
OIS

✘

✔

✔

Front Camera
8.0 megapixels
5.0 megapixels
5.0 megapixels
Internals
Processor
Snapdragon 810
Apple A9
Exynos 7420
Speed
2.0GHz quad-core &
1.6GHz quad-core
1.8GHz dual-core
2.1GHz quad-core &
1.5GHz quad-core
Internal Storage
32/64/128GB
16/64/128GB
32/64GB
External Storage

✘

✘

✘

Handset Weight
178g
192g
153g
Battery
3,450mAh
2,915mAh (24 hours talktime)
3,000mAh
Mobile Networks
3G Networks

✔

Up to 42Mbit/s

✔

Up to 42Mbit/s

✔

Up to 42Mbit/s
4G Networks

✔

✔

✔

SIM Card Type
Nano SIM
Nano SIM
Nano SIM
For more information about the Nexus 6P, please see the official website from Google.
Thank you to the team at Google for providing us with a Nexus 6P to review.