The Maidesite SC2 Pro is a height-adjustable desk, allowing you to switch between sitting and standing at the large desktop (up to 180x80cm).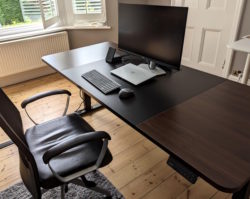 If you're looking for a solid height-adjustable desk that allows you to alternate between sitting and standing, the Maidesite SC2 Pro is an electric sit-stand desk with a large desktop measuring up to 180x80cm. This gives you plenty of space for working and all of the benefits of using a standing desk for work (including better posture, health benefits, and higher productivity levels).
In this article, I'll be reviewing the Maidesite SC2 Pro desk. We'll start by looking at how the standing desk works, before looking at the installation process and how the height adjustment feature works. We'll also look at the cable management features that can help to keep your desk tidy.
Price:
£449 (when reviewed)
Desk Size:
180cm x 80cm
Colour:
Black Walnut
Pros:

A well-built & sturdy desk that looks great in your home office.
Lots of desk space for working (up to 180cm x 80cm desktop).
Smooth & quiet height adjustment (62cm – 127cm) with 4 memory settings.
Competitive price at just £449 including VAT.

Cons:

Requires self-installation (set aside a few hours for this).
Limited space for cable management.
What is the Maidesite SC2 Pro?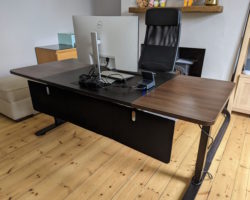 If, like me, you spend the best part of eight hours per day working behind a desk, it's worth looking at your office desk set-up every so often and how you can optimise it for improved health, better comfort, and higher productivity.
Standing desks have been all the rage over the past few years and it's easy to see why given the multiple benefits for your health and productivity. From better posture and reduced back pain, to higher energy levels through the day and better productivity, it's well worth considering a standing desk as part of your home office setup.
Having recently got myself a new home office, I was pretty excited to get an email from the team at Maidesite asking if I'd like to trial out one of their electrically-powered height adjustable sit-stand desks. It's quite different from the standing desk converters that I've used in the past, in that the entire desk surface moves up and down as you require. It's also electrically-powered so you only need to press a button on the control panel to quickly change the height of your desk. You also get all of the desk space for working and everything is on the same level, unlike on the standing desk converters.
For this review, Maidesite sent me one of their SC2 Pro desks (the 180x80cm Black Walnut edition). This is currently their largest standing desk, aimed at customers wanting lots of desk space for creative and management work. The table features a dual-motor lifting mechanism that can handle up to 125kg of weight. The height range is 62cm to 127cm for the desktop. There's also a built-in anti-collision system for safety, along with cable management features to keep your standing desk tidy.
At the time of review, the Maidesite SC2 Pro retails for £449 including VAT.
Installation & Set Up
When you order a desk from Maidesite, it's worth knowing that you're buying it directly from the manufacturer. This means you'll get your standing desk at a pretty competitive price as there are no retailers in the middle taking a chunk of the money. The desk is also delivered directly from Maidesite's UK warehouse direct to your doorstep.
The disadvantage when buying directly from the manufacturer is that they won't offer anything in terms of an installation or home set-up service. With some larger UK furniture retailers, you can have the item delivered to the final room or you can even have the complete item assembled for you (normally at some additional cost). It's therefore necessary that you're happy to set up the desk by yourself.
Once dispatched, my Maidesite SC2 Pro was delivered to my doorstep by DHL on the next working day. It comes in two separate boxes and it's worth noting that it's a pretty hefty delivery (26kg for the box containing the desk frame and another 29kg for the box containing the desktop). Needless to say, these are heavy boxes and I wouldn't recommend trying to carry them up the stairs by yourself.
Therein lies my first tip for anyone who buys this desk: you're probably best off unpacking everything at the doorstep and then bringing all of the individual parts to your final room piece by piece. All of the individual parts are quite manageable in size and weight (with the T-shaped legs being impressively heavy due to the solid steel construction and the 3-stage lifting mechanism).

The second thing to keep in mind before you put this together is that you'll need to clear quite a bit of space in your room before starting the construction. The installation process involves putting together the three-piece desktop first, which measures 180x80cm. Once you've done that, you'll need to put the frame together (which isn't much smaller than the table top). You'll need to construct the two parts side-by-side, before you can put them together to get your finished desk.
The Maidesite SC2 Pro is packaged as lots of small pieces inside the two boxes so you'll need to spend a little bit of time putting it all together yourself. According to Maidesite, the entire set-up should take around 50 minutes in total (about 20 minutes for the desktop and 30 minutes for the frame). Truthfully, I thought that was a bit ambitious: it probably took me more like 2-3 hours in the end.
As flatpack goes, all of the individual pieces are well-labelled and the instructions are also pretty well written in general. Everything you need is provided inside the box, including the screws, Allen keys, fitting plates, and more. Something that I've not seen elsewhere is the fact there's even a screwdriver included in the box. This means, in theory, you can put the whole thing together without having any DIY tools of your own. However, in practice, I did find it much easier to use my own screwdrivers (the one that's included is a little bit basic and struggled with tightening some of the screws).
There was one part that really tripped me up during the assembly process. The desktop for the Maidesite SC2 Pro comes in three parts. There's a 90x80cm piece of wood in the middle (with a black finish), flanked by two 45x80cm pieces of wood on each side (with the walnut finish). Long story short, I managed to get the two side pieces mixed up and this only really becomes apparent when you try to fit the control panel at the end (this is almost the final step once you put everything together). That meant going back and disassembling the whole table, before putting it back together again. Looking back, I don't think the instructions from Maidesite were sufficiently clear about which piece of wood goes on each end (it's illustrated within one of the diagrams but this is a little confusing).
General Thoughts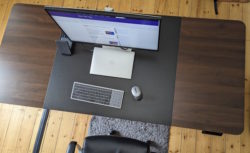 Apart from the slightly frustrating experience having needed to assemble the desk twice over, the desk has performed incredibly and I'm very pleased with it. It's remarkably solid and stable during use so there's no wobbling at all when you tap away on the keyboard. It's also incredibly smooth when you adjust the height.
For me, the other really big selling point of the Maidesite SC2 Pro is the fact you're getting a really large and spacious table with lots of useful desk space. Most other standing desk products have a much smaller desktop and less usable space.
With the 180x80cm desktop, there's enough room on the desk for my laptop, a 27-inch monitor, a wireless phone charger, keyboard, mouse, several cups of tea, documents, notes, speakers, desk lamps, and more. If you're comparing multiple standing desk products, it's worth checking the size of the desk surface available as I think this makes a major difference to how cluttered your desk will become.
Height Adjustment
Given the Maidesite SC2 Pro is a height-adjustable desk, it's worth chatting about the height adjustment functionality in more detail.
With this desk, you can adjust the height of your desktop to be anywhere between 62cm and 127cm in height. To put that in perspective, I normally used a height of 73cm whilst sitting and 104cm whilst standing. It's therefore a very generous range of heights (I thought the maximum height of 127cm was almost comically high).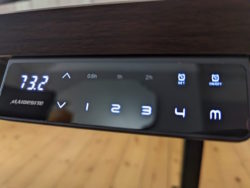 The desk is fitted with a small control panel that allows you to adjust the height of your desktop. You can fit the control panel on either the left-hand side or the right-hand side of the desk (it's up to you as there are pre-drilled holes on both sides of the desk).
Once fitted, you can manually adjust the height of the desk by pressing on the height adjustment arrows. Alternatively, you can store up to 4 favourite heights that you regularly use. For me, I had button '1' saved as my preferred height for sitting (73cm) and button '2' saved as my preferred height for standing (104cm). One tap of the button is all you need to change between the heights. I didn't use the other two memory buttons, but I suppose they could come in handy if there are multiple people sharing the same desk (e.g. kids or other family members with their own standing desk height preferences).
When the height of the desk is being adjusted, the two motors spring into action lifting the three-stage T-shaped legs. There were no worries here about leaving a full cup of tea on the table – the height adjustment happens quietly and smoothly. For me, it takes around 9 seconds for the desk to move between my preferred heights for sitting and standing (Maidesite says the desk can move at a speed of up to 3.5cm per second).
According to Maidesite, the desk is rated for a maximum load capacity of 125kg. I didn't get anywhere close to this limit as all of my items (the monitor, laptop, etc) probably came to around 10kg in total. If you're mainly using your desk for working at a computer, you're probably unlikely to come anywhere close to the 125kg weight limit. However, it's nice to know that the desk can handle it, in case this extra load capacity might be needed in the future.

There are a few other things worth mentioning about the height control panel:
There's a child lock feature that is accessed through a button on the back of the control panel. For me, that was a really important safety feature. My desk also came with smooth rounded corners, unlike the renders on the Maidesite website which show square corners.
On the control panel, you can set a reminder to change the height of your desk at certain intervals (e.g. after 30 minutes, 1 hour or 2 hours). This is a good way to remind yourself to switch between sitting and standing.
There's also a USB charging port on the side of the control panel (of the full sized USB-A variety). You can use this for charging your phone, as well as other mobile devices like your tablet or smartwatch.
Cable Management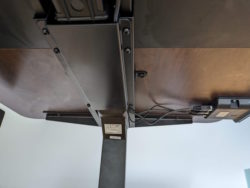 Before concluding this review, it's also worth talking about cable management in more detail. This is an important feature on standing desks as the last thing you'd want is to have lots of cables dangling in the air and moving about as you adjust the height of your desk.
The Maidesite SC2 Pro has built-in cable management in the form of two compartments underneath the desktop (one on the left side of the desk and one on the right side of the desk, each one measuring about 30cm x 10cm x 5cm). There's also a rectangular cable grommet built into the desktop so you can feed through the wires from below to your desktop.
Just to explain how this might typically work: you'd have one extension cable that runs to the underside of your desktop and everything else (your laptop, monitor, etc) will then be plugged into that extension. I purchased this 6-gang extension lead from Amazon in black to match with the colour of the desk frame and situated it underneath the desk in the designated area for cable management.
The great thing about placing your extension lead on the bottom of the desk is that it'll move together with all of the electronic items on the desk at the same time (they move together as one cohesive unit). Because there's a fixed distance between the two, you can tie up excess cable lengths between the extension lead and your devices. There's also no risk of cables being tangled or stretched as your standing desk moves up and down. You just need to make sure there's enough cable length available going from your power socket up to your extension lead, so you can use the desk in any position you like.
For me, the cable management features on the Maidesite SC2 Pro did the job in helping me to keep my desk tidy. My only criticism is that you only get a fairly limited amount of space for it, and one of the two cable management compartments is taken up by a power brick for the desk. That means you only really get 30cm x 10cm x 5cm leftover which is enough for an extension lead but not much else (e.g. you wouldn't be able to fit in a power brick for your laptop).
To be fair to Maidesite, you can just tie more things on to the bottom of the desk using the provided cable clips, or you can buy their optional accessories kit which comes with a larger cable management tray included (e.g. so you can hide away power bricks and other items below the desk). It'll cost you an extra £59 but this can be a worthwhile purchase if you want to keep your desk really tidy.
Conclusion
In my opinion, the Maidesite SC2 Pro is a fantastic desk and a good investment if you're looking to upgrade your home office set-up.
It gives you all of the benefits of using a standing desk for work (including better ergonomics, reduced back pain, and higher productivity), whilst maximising the amount of space available to you due to the large 180x80cm desktop. The price of £449 is also very reasonable, given you're getting a high quality standing desk with lots of space for work.
The main disadvantage of the Maidesite SC2 Pro is that you'll need to be happy to put it together yourself (there's no option to have the desk installed for you). Realistically, you should set aside about 2 hours for this, and you'll need to clear lots of space in your room. The other disadvantage is that you'll only get a limited amount of space for cable management, so consider adding an extra tray if you have lots of cables and want to keep your desk tidy.
More Information
For more information about the Maidesite SC2 Pro, please see Maidesite's official website.