Latamlink offers a low-cost eSIM that works in 19 countries across Latin America. Latamlink plans start from US$15 and are available from Airalo.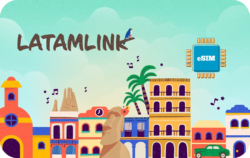 If you're planning a trip to Latin America, one of the easiest ways to use your cellphone whilst you're there is with a Latamlink eSIM.
You can get a Latamlink eSIM from US$15 at Airalo. This will allow you to use your cellphone in Latin America for up to 7 days. The Latamlink eSIM is available on a pre-paid basis for visitors to Latin America and can be used in a total of 19 countries.
In this article, we'll look at the Latamlink service in Latin America, including how you're able to get it and the best Latamlink eSIM deals. We'll also look at the coverage available on a Latamlink eSIM, and the other ways of using your mobile phone in Latin America (e.g. through international roaming).
Plans From:
US$15 for 7 days
Best Deals:
Compatible Devices:

Apple iPhone 11 and newer
Samsung Galaxy S20 and newer
Google Pixel 3 and newer

Coverage:
19 countries across Latin America
Voucher Code:

Save 10% on all Latamlink eSIMs using KEN10 (new customers only)
Save 5% using the KEN5 voucher code (existing Airalo customers)
Latamlink Plans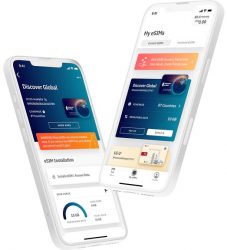 If you're looking for an affordable way to use your cellphone when travelling in Latin America, you can get a Latamlink eSIM from only US$15 for 7 days usage.
To get a Latamlink eSIM, you'll need to have an eSIM-compatible device such as the iPhone 11, Galaxy S20, Pixel 3 or later devices. You can then order your Latamlink eSIM through the Airalo app with instant delivery direct to your phone. There's no need to queue at the airport or to register the Latamlink eSIM with your ID, saving you lots of time.
The following table shows the eSIM plans that are currently available from Latamlink in Latin America:
Network
Minutes
Texts
Data
Plan
Cost

None

None

1GB

US$15.00
valid for 7 days

None

None

2GB

US$28.00
valid for 15 days

None

None

3GB

US$39.00
valid for 30 days

None

None

5GB

US$60.00
valid for 30 days
As a special offer for November 2023, you can get a 10% discount on all Latamlink eSIMs. Simply enter the KEN10 voucher code at checkout. This offer is only available if you're new to Airalo.
If you've already used an Airalo eSIM in the past, you can use the KEN5 voucher code to get a 5% discount on your plan.
See all Latamlink eSIM deals →
Once you've ordered your Latamlink eSIM, it will only activate when your cellphone actually connects to a supported network in Latin America. This means the validity period will only begin when you actually land in Latin America and turn your cellphone on.
Your Latamlink eSIM works with the dual-SIM function on most modern smartphones. This means you can use your regular SIM card alongside the Latamlink eSIM (e.g. to receive incoming phone calls and text messages on your normal phone number).
Latamlink eSIM Destinations
Your Latamlink eSIM from Airalo can be used in the following 19 countries:
Argentina
Belize
Bolivia
Brazil
Chile
Colombia
Costa Rica
Ecuador
El Salvador
French Guiana
Guatemala
Honduras
Mexico
Nicaragua
Panama
Paraguay
Peru
Uruguay
Venezuela
Alternatives to Latamlink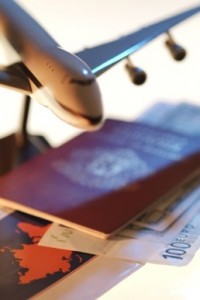 The main disadvantage of Latamlink is the fact you're getting a data-only service on the eSIM. You will not get a local phone number in Latin America when you're using the Latamlink eSIM in your phone.
If you'd like to call or text whilst you're travelling in Latin America, you'll need to use your normal SIM card instead (on which international roaming fees may apply). Alternatively, you can side-step these charges by making your calls through WhatsApp or other similar apps.
If you're looking for a more fully featured SIM card with a local phone number in Latin America, you could consider getting a regular prepaid SIM card upon arrival instead. This will involve some additional hassle (e.g. queuing up at the airport to get your SIM card, a registration process for the SIM card, etc) but it can be preferable and better suited for longer-term use in Latin America.
Latamlink Coverage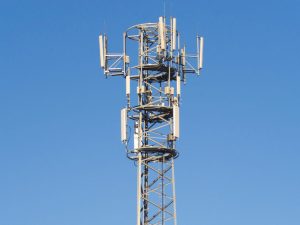 If you're using a Latamlink eSIM, you'll have access to coverage from the partner mobile networks from across Latin America:
| Country | Coverage Provider | Network Type |
| --- | --- | --- |
| Argentina | Movistar | 4G |
| Belize | Belize Telecom Ltd. | 3G |
| Bolivia | VIVA | 4G |
| Brazil | VIVO | 4G |
| Chile | Movistar | 4G |
| Colombia | Movistar | 4G |
| Costa Rica | Liberty | 4G |
| Ecuador | Movistar | 4G |
| El Salvador | Movistar | 4G |
| French Guiana | Digicel | 4G |
| Guatemala | Tigo | 4G |
| Honduras | Claro | 4G |
| Mexico | AT&T | 4G |
| Mexico | Movistar | 4G |
| Mexico | Telcel | 4G |
| Nicaragua | Movistar | 4G |
| Panama | Tigo | 4G |
| Paraguay | Telecel | 4G |
| Peru | Movistar | 4G |
| Uruguay | Abiatar | 4G |
| Venezuela | Movistar | 3G |
If you're only planning to visit one country on your trip, it may be cheaper to get a country-specific eSIM instead. This will normally be available at a slightly lower price than the Latamlink eSIM.
Other Airalo eSIMs
Airalo's Latamlink eSIM can only be used in Latin America.
Regional eSIMs
The following regional eSIMs are also available from Airalo, covering other parts of the world:
Country Specific eSIMs
You can also buy country-specific eSIMs from Airalo, including the following:
For more information, read our Airalo review.
More Information
For more information about Latamlink, please see the Airalo website.