Bug inside LCD Screen
July 14th, 2007
Argh, help! I've got a living bug crawling around inside my LCD computer monitor! It's actually walking around which is quite annoying. I've no idea how it got in there but it's small enough to have fit through the small holes at the back of the monitor.
On the bright side, there only seems to be one so they won't be making babies in there any time soon. Has anyone ever had bugs inside their monitors and how did they get rid of them? The advice I've had so far is to wait for them to die and hope that they die off screen or somewhere where it won't affect the picture too much.
Update (July 2010): Incredibly, this article has had 10,000 hits since it's been published (most of them being in July each year which seems to be peak season). Please read the comments below for tips and discussion. In my case, I found that the bug disappeared after a few days providing that you don't squish it or anything. You don't need to do anything elaborate like taking your screen apart (and would not be advised to). Please do drop a comment below and let us know what's working for you.  – Ken
About Ken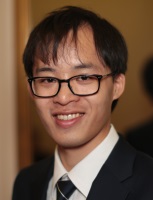 My passion is helping people to get the most out of their mobile phone. I've been blogging at Ken's Tech Tips since 2005.
Aside from writing about mobile technology, my interests are in software development, digital marketing and physics. Outside of the blog, I work with numerous technology companies helping them to explain their product and helping them to market it to consumers. Please get in touch for more information.