Using Your Smartphone in the UK: A Guide For Visitors
February 21st, 2011
Our one-stop guide to using your cellphone in the UK. Find out if your handset is compatible with UK networks and discover the best deals for a short-term visit.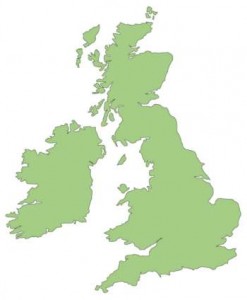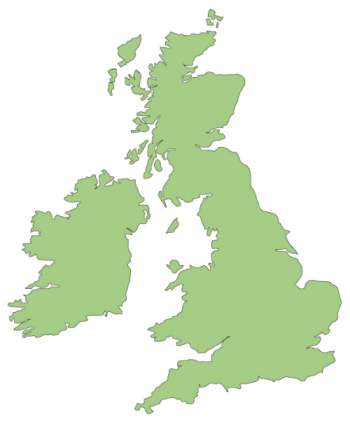 If you're visiting the UK either for business or for leisure, it's easy and cheap to get online with your smartphone. There's no need to buy a SIM card before you arrive and it should only cost about £5 ($8 USD, €6 EUR) to get online for a month. In this guide, we outline everything you need to know to get your smartphone online in the UK.
Note that this guide is aimed at visitors to the UK. If you live in the UK but you're going abroad, you should see our guide to taking your UK phone abroad instead.
Will my cellphone work in the UK?
Most smartphones should work with no problems in the UK providing they use GSM technology. If your home network uses CDMA technology (notably Verizon, Sprint, Virgin Mobile in the USA) then your phone won't work in the UK (either through roaming or with a UK SIM card).
Globally, there are two main technologies for mobile networks – GSM (Global System for Mobile communications), which is used in 80% of the countries across the world, and CDMA (Code Division Multiple Access) which is popular in North America and some countries in Asia.
In the UK, all of our mobile networks use GSM technology. GSM can operate on several frequencies. In the UK, we use GSM900 (GSM at a frequency of 900MHz), GSM1800 (GSM at a frequency of 1800MHz) and 3G 2100 (3G at a frequency of 2100MHz). Your phone will need to support at least one of these technologies.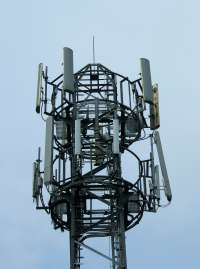 We have five primary networks which support the following technologies:
3 (Three): 3G 2100 (no 2G service!)
Orange: GSM 1800, 3G 2100
O2: GSM 900/1800, 3G 2100
T-Mobile: GSM 1800, 3G 2100
Vodafone: GSM 900/1800, 3G 2100
If the network you are considering is not on this list, it is a mobile virtual network operator (MVNO). This means that it leases network capacity from one of the above networks. For example, Giffgaff is a MVNO on O2. This means it supports the same technologies as O2: GSM 900/1800 and 3G 2100.
How much will it cost to use my smartphone through a roaming service?
Your home network can advise you on the costs associated with using a roaming service in the UK. Whilst we are not experts on mobile phone tariffs outside the UK, chances are you'll almost definitely find it better value to use a UK SIM card rather than to roam on your home SIM card.
Can I use a UK SIM card in my smartphone?
Yes. Providing that your smartphone is unlocked, you'll be able to use a UK SIM card in it. Note that UK networks are treated separately for the purposes of locking – for example a phone locked to Orange France would not work on Orange UK. See our detailed guide to locked handsets for more information.
How easy is it to obtain a Pay As You Go SIM card in the UK?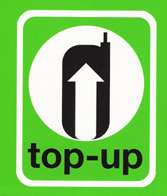 It is incredibly easy to obtain a Pay As You Go SIM card in the UK. There is no need to provide any identification documents or an address and SIM cards are typically freely available from a variety of sources. Expect the SIM card to be provided without charge – although you'll have to top-up by around £10 ($16 USD, €12 EUR). Look out for outlets displaying the "top-up" logo (pictured right) – you'll be able to top-up your phone here.
Where can I obtain a Pay As You Go SIM card?
You can typically obtain a free Pay As You Go SIM card from the local mobile phone retailer. Most will provide you with a free SIM card subject to a £10 in-store top-up. This initial £10 top-up will be more than enough to pay for your data bundle.
Look out for the following stores which should have a presence on most high streets in the UK: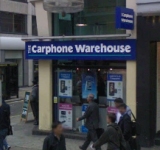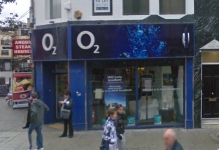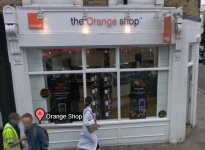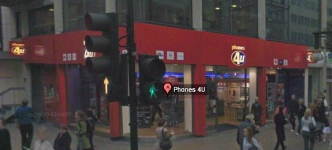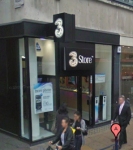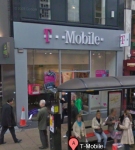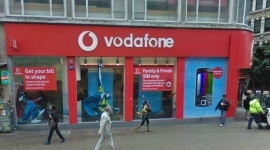 You can also have a look around airport arrival lounges and baggage reclaim areas – some airports have vending machines for UK SIM cards.
For a greater choice of tariffs, you can also order a free Pay As You Go SIM card through the internet before you arrive in the UK. Unfortunately you'll need to provide a UK-based address for the SIM card to be sent to as SIM card providers do not ship abroad.
What are the opening hours of these mobile phone retailers?
The exact opening times will depend on the local store. You can typically rely on the vast majority of stores being open Monday-Saturday between 10am-5pm and Sunday 11am-4pm. Many stores will have longer opening hours.
How do I activate data services on my SIM card?
Once you've topped up, you'll need to activate the data package on your SIM card. The exact procedure depends on your network operator:
3 (Three): Call 444 from your Three SIM card. Select Option 2 and ask for the 500MB add-on. Your allowance lasts for 30 days.
O2: You'll receive a free 500MB allowance on the O2 Text and Web tariff. Otherwise, text WEB to 21300. This will give you a 500MB allowance for £7.50. Your allowance lasts for 30 days.
Orange: Text WEB 5 to 6620. This £5 package will give you an allowance of 250MB which lasts for 1 month.
T-Mobile: Text MONTHWEB to 441 for a 500MB allowance which lasts for 30 days.
Vodafone: You'll receive a 500MB allowance for free on the Freebees tariff. Your allowance lasts for 30 days.
For more information on what 500MB actually means in terms of actual usage, see our detailed guide to mobile data limits.
You'll also need to change the APN (access point) settings on your phone to work with the UK network. These settings will typically be sent to you via text message when you use the SIM card for the first time.
What will my mobile phone number be whilst in the UK?
You'll get a UK-based phone number with your SIM card. This number will begin with 07 and will be 11 digits in length e.g. 07555 555 555. To determine your international phone number, drop the 0 at the start and replace it with +44.
How do I make an international phone call from the UK?
International direct dial (IDD) is enabled in the UK. You can make a call by entering + on your phone keypad (hold down the 0 button until it appears) followed by the country code and then the local phone number. If you can't enter + on your cellphone, it is possible to use two zeros instead. Before making an international call, check the cost first: it could be up to £1.50 per minute on some tariffs.
What is Ken's Tech Tips?
Ken's Tech Tips is an independent mobile technology website based in the UK. We aim to demystify the mobile offering in the UK. Whilst we don't typically write articles for readers outside of the UK, we recently experienced huge difficulties in obtaining a Spanish PAYG SIM card for Mobile World Congress. We hope that this guide will help you to get your UK SIM card up and running as quickly as possible and free up time to do and see the things that really matter to you. The VisitBritain website is a great place to start.
About Ken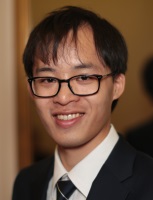 My passion is helping people to get the most out of their mobile phone. I've been blogging at Ken's Tech Tips since 2005.
Aside from writing about mobile technology, my interests are in software development, digital marketing and physics. Outside of the blog, I work with numerous technology companies helping them to explain their product and helping them to market it to consumers. Please get in touch for more information.