Buying Your Mobile Phone & SIM Card Separately: Best Unbundled Deal Providers
January 19th, 2017
Rather than getting a 24-month contract, a better alternative is now buying your mobile phone separately from the tariff. This saves money, increases flexibility and gives greater transparency.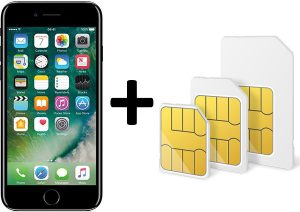 One of the topics we've frequently talked about on this blog is the disadvantages of getting a 24-month contract. From being locked in to the same provider and having the same handset for two years, to having little flexibility on when and how you change these two things, better alternatives now exist to getting a 24-month contract.
For most people, there are now substantial benefits to making an unbundled purchase (or in other words, buying your mobile phone and SIM card on separate agreements). Not only can you save money by side-stepping the hidden APRs on a 24-month contract, you also gain extra flexibility on changing your handset and mobile network, and get greater transparency about how much each one really costs.
In this article, we'll discuss the benefits of buying your mobile phone and SIM card on separate agreements (this is sometimes known as an 'unbundled deal'). We'll then compare the best ways of getting an unbundled deal, including from retailers like Unshackled, directly from the mobile network and by doing-it-yourself.
Buying Your Mobile Phone Unbundled
24-Month Contracts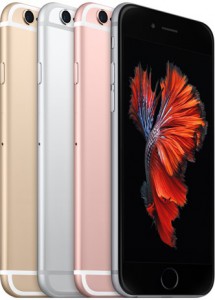 Traditionally, lots of UK consumers have bought their smartphones on a 24-month contract.
On a 24-month contract, you'll normally get a brand new smartphone for a reduced upfront price (sometimes, you may not even need to pay anything upfront for the handset). In exchange, you'll need to pay higher monthly line rental, every month for the next 24 months.
In effect, a 24-month contract is like borrowing from your mobile network the upfront amount to buy a new handset. You'll then pay back the cost of the handset in monthly instalments over 24 months. Although 24-month contracts are not explicitly advertised as a loan, you'll still need to undergo a credit check and will often pay hidden APRs of around 30%.
Not only that, you'll be locked in to one mobile network and one handset for a period of 2 years with punitive exit fees for changing either one too early. There's also very little transparency about how much you're paying for your handset and for your airtime (the two things are bundled together into a single monthly price).
Benefits of Unbundled
By buying your mobile phone separately from your airtime tariff, you'll be taking something that's known as an "unbundled" deal. There are three key benefits to doing this:
You can save money compared to a 24-month contract. With a 24-month contract, you'll often need to pay hidden APRs of about 30%. By buying separately, you're able to avoid this, often saving you hundreds of pounds in the process.
You'll have more flexibility to change your handset or tariff. You'll be able to change your handset or mobile network separately and independently from each other. This can be useful, for instance, if your old phone gets lost or stolen. Alternatively, if your old smartphone stops working, if you'd like to upgrade to a newer model or if you'd like to change mobile networks to benefit from better coverage or lower prices. With a 24-month contract, you'll need to change both at the same time (meaning a larger early termination fee if you change during the minimum term).
You'll have greater transparency about how much your handset & tariff are really costing. You'll know exactly how much you're paying for your handset, and how much you're paying for your airtime. This makes it easier to compare against other handsets and mobile networks.
For more information about how an unbundled deal compares to a 24-month contract, please see our article on hidden APRs.
Unbundled Phone Providers
There are three ways of buying your next mobile phone on an unbundled basis. You can either go to a retailer like Unshackled that specialises in unbundled phone deals, you can go to a mobile network that offers unbundled deals directly, or you can do-it-yourself by buying a handset and SIM card from two different retailers.
Unshackled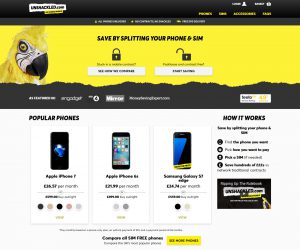 Unshackled.com is a new online retailer, from the executive team previously behind Phones4u. The retailer allows you to buy an unlocked smartphone, which you can pay for either outright or on a 24-month payment plan. Handsets available from Unshackled include the latest iPhone and Samsung Galaxy smartphones.
At Unshackled, the cheapest thing to do is to buy the handset outright by making a one-off lump sum payment. Anyone wanting to use the pay monthly option will need to pay a bit of interest, but should still save money compared to getting a traditional 24-month contract. Unshackled has clear APRs (from 9.7% APR representative over 24 months) and you can normally settle your loan early to reduce the amount of interest that's paid.
After you choose your handset, a SIM-only deal can then be purchased separately on the website. There are tariffs from 16 different mobile networks currently offered. This will be on a totally separate agreement to your handset, so you'll be able to change either one independently in the future.
Mobile Networks
There are several mobile networks who currently offer an unbundled deal directly to the consumer. These are the giffgaff phone store, O2 Refresh, Tesco Mobile Anytime Upgrade and Virgin Mobile Freestyle.
With these unbundled deals, you'll have a separate payment plan for your handset and tariff. This means you can upgrade your handset at any time, by paying off your handset plan and getting a new one. Often, you can also change your tariff but with a couple of restrictions (for instance, if you're moving to another network, you may also need to pay off the remainder of your handset plan).
The following table shows a side-by-side comparison of how much it would cost to buy the 32GB iPhone 7 from Unshackled and directly from each mobile networks:
Comparison of handset financing options for the 32GB Apple iPhone 7. Prices were correct on the 18th January 2017. * With Unshackled.com and giffgaff, you can reduce the total amount payable either by increasing your upfront payment or by paying off your loan early.
Do It Yourself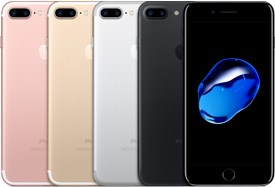 Finally, as an alternative to the above, you can always do-it-yourself by buying an unlocked handset and then getting the best value SIM-only deal.
Good retailers for buying an unlocked handset off-contract include John Lewis, Unshackled, Amazon and Argos. Sometimes, you can also buy directly from the manufacturer (e.g. from the Apple, HTC, Motorola, Samsung or Sony websites). There's more information in our guide about buying an unlocked smartphone.
Once you've bought an unlocked handset, you can then choose from one of the best value SIM-only deals available on the market. With an unlocked handset, you'll be able to use any UK mobile network and you'll also be able to change mobile networks whenever you like.
More Information
For more information, please see our in-depth guide to buying an unlocked smartphone and getting a SIM-only tariff for it.
About Ken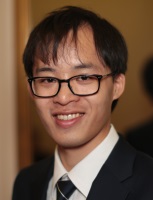 My passion is helping people to get the most out of their mobile phone. I've been blogging at Ken's Tech Tips since 2005.
Aside from writing about mobile technology, my interests are in software development, digital marketing and physics. Outside of the blog, I work with numerous technology companies helping them to explain their product and helping them to market it to consumers. Please get in touch for more information.